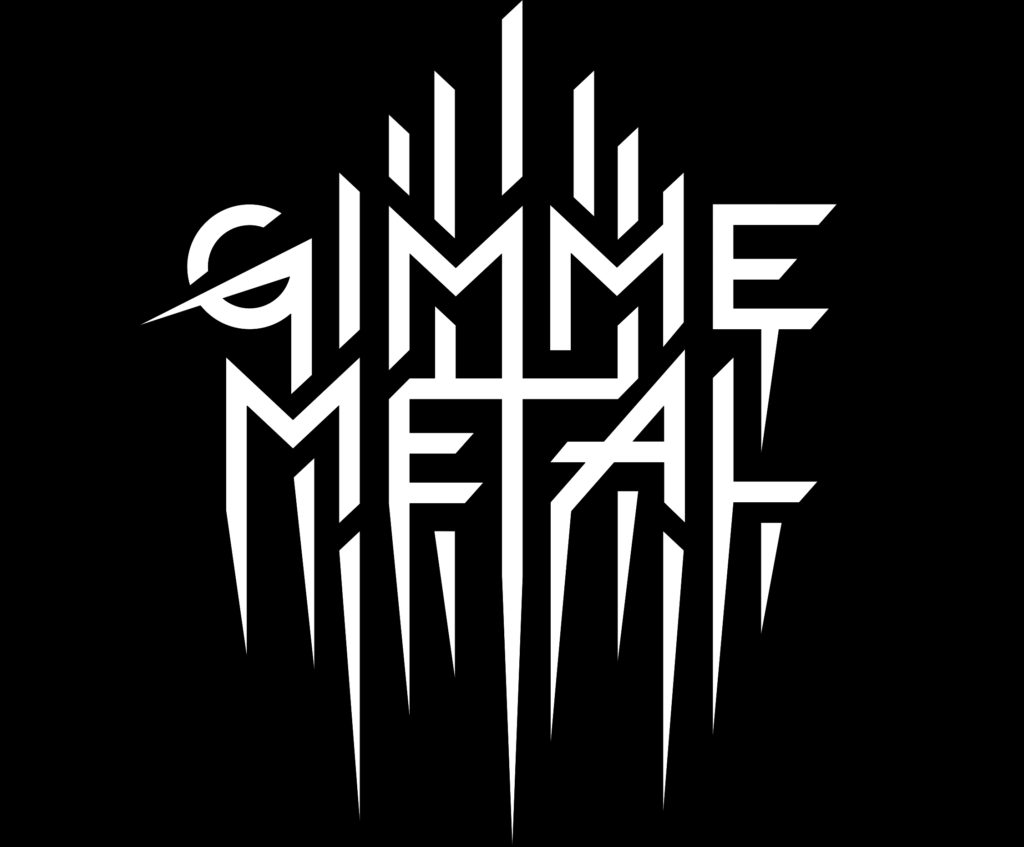 Each week GIMME METAL publishes its radio chart listing the top 40 tracks played on the station for the week. Already the best metal discovery service online, the GIMME METAL chart is a powerful tool for listeners, labels, and artists for staying up to date on the best new metal released by established greats and up-and-coming underdogs, all handpicked by GIMME's knowledgeable DJ roster and editorial team.
GIMME METAL Chart – June 19th, 2020:
Ulthar – "Furnace Hibernation"
Ingested – "Dead Seraphic Forms"
Behold…The Arctopus – "Blessing In Disgust"
Tithe – "Scum"
Grave Digger – "Lions Of The Sea"
Pigs Pigs Pigs Pigs Pigs Pigs Pigs – "Crazy In Blood"
Xibalba – "Años En Infierno"
Ysengrin – "Potencée d'Or"
Necrot – "Stench Of Decay"
Lamb Of God – "Routes"
Click HERE for the full Top 40 List.
Upcoming Shows on GIMME METAL: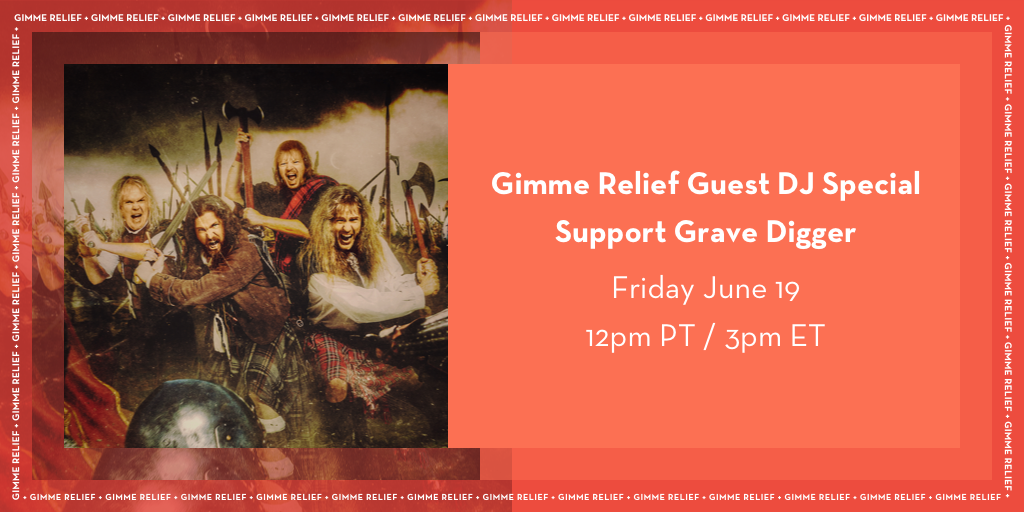 Grave Digger: Gimme Relief Guest DJ Special Premieres Friday 6/19 at 3:00pm EST / 12:00pm PST – With metal anthems like "Heavy Metal Breakdown," Grave Digger stands among the most influential and pioneering bands of the German heavy metal scene since the early '80s. 2020 ushers in the 40th anniversary of these Teutonic metal masters! The ethos of the band has not changed, and yet Grave Digger sounds modern and timeless like never before. On their 20th studio album, Fields Of Blood (Napalm Records) the band continues their epic Highlands story, a trip into the vastness of Scotland on a journey through explosive sound landscapes. Join frontman Chris Boltendahl TODAY for a guest DJ special on GIMME!
Tony Foresta: Radioactive Force (New Show!) – Founder of Municipal Waste in 2001 and Iron Reagan in 2012, Tony Foresta has fronted crazy thrash bands like no other human! Foresta's show "Radioactive Force" is a new GIMME METAL monthly event that airs on the third Wednesday of each month. If you missed Wednesday's show, tune in for encore airings this Saturday at 9:00pm EST/6:00pm PST and Monday at 3:00pm EST/12:00pm PST.
Unspeakable Axe Records' Eric Musall: Guest DJ Special Premieres Monday at 6/22 11:00am EST/8:00am PST – Founded in 2013 under the Dark Descent umbrella, Athens, Georgia-based Unspeakable Axe has been a GIMME METAL favorite for serving up some of the best of the thrash, black, and death metal underground. Suppression, Temple Of Void, Scorched, Sewercide, and Trenchrot among others have all offered up recordings, and most recently they've been on a tear with releases from Hemotoxin, Cemetery Filth, the great 4 Doors To Death Vol. II comp, and recent GIMME METAL #1 chart entrants Shards Of Humanity. Unspeakable Axe's Eric Musall checks in with a tour of their vaults in a guest DJ special. If you miss the premiere, tune in for the re-airings Friday, June 26th at 1:00pm EST/10:00pm PST and Sunday, June 28th at 1:00pm EST/10:00am PST.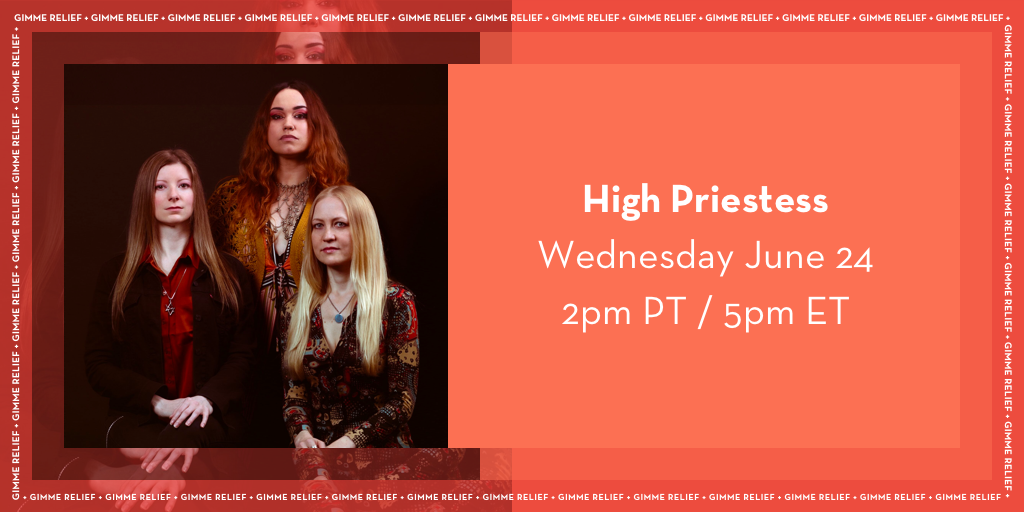 High Priestess: Gimme Relief Series Guest DJ Special Premieres Wednesday 6/24 at 5:00pm EST/2:00pm PST – Formed in 2016, Los Angeles' High Priestess features bassist/vocalist Mariana Fiel, drummer Megan Mullins, and vocalist/guitarist/organist Katie Gilchrest. The trio self-released a five-song demo in July 2017 that, through sheer word-of-mouth, gained high critical praise and earned the band a growing fanbase due to its tonally rich riffs, perfectly pacing, meditative moods, metallic noise, underlying command, and the intertwining vocal melodies of Gilchrest and Fiel atop Mullins' drums. Their most recent release, Casting The Circle, is out now on Ripple Music, and all three members join in for a DJ special with tipjar proceeds to benefit Mothers Of Police Brutality.
Brian Slagel, Founder And CEO Of Metal Blade Records: Airs Wednesday 6/24 at 7:00pm EST/4:00pm PST – Metal Blade's Brian Slagel takes control of our DJ booth to talk about the history of the legendary metal label. Tune in every fourth Wednesday of the month for a new episode!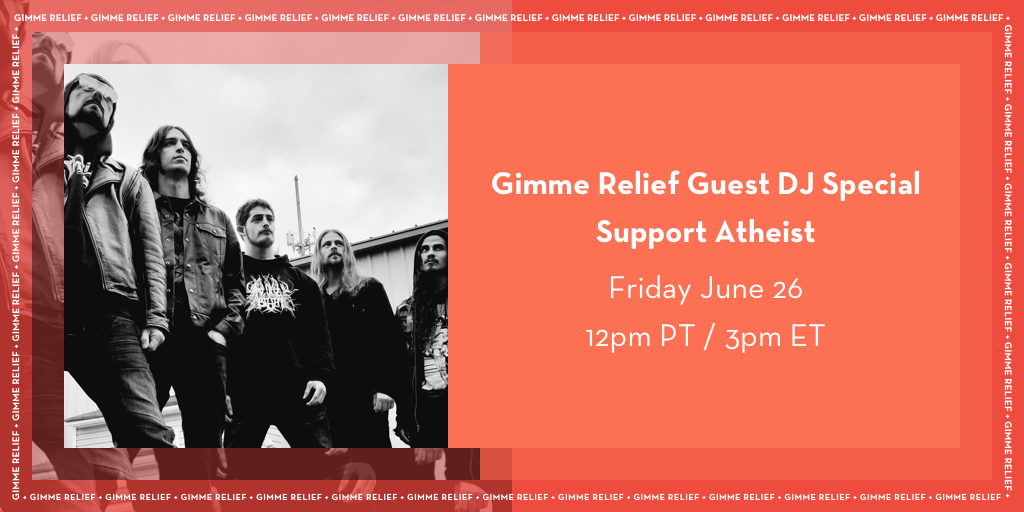 Atheist: Gimme Relief Series Guest DJ Special Premieres Friday 6/26 at 3:00pm EST/12:00pm PST – Atheist co-founding guitarist/vocalist Kelly Shaefer hits GIMME METAL with a guest DJ special next Friday! For the uninitiated, Atheist were founded in 1984, spearheading Florida's legendary death metal scene and creating '90s metal classics: Piece Of Time, Unquestionable Presence, and Elements. Their unique style of technical death metal with funk smatterings helped build a solid following both stateside and abroad. The band is currently working on a new release. If you miss the premiere, tune in for the re-airings Tuesday, June 30th at 7:00pm EST/4:00pm PST and Wednesday, July 8th at 9:00pm EST/6:00pm PST!
Upcoming Shows On GIMME METAL:
Necrot show #2 6/29
Bell Witch/Aerial Ruin split show 6/30
Behold…The Arctopus 7/1
Sodom 7/03
YOB 7/08
16 7/09
Inter Arma 7/10
Exciter 7/15
Khthoniik Cerviiks 7/17
Temple Of Void 7/22
Necrot show #3 7/29
Chepang 7/30
Pallbearer 7/31
Imperial Triumphant 8/07
Visit GIMME METAL at http://gimmeradio.com.
About GIMME METAL:
Founded by digital music veterans from Apple Music, Google Play, Beats Music and Napster, GIMME METAL is a highly engaged community for passionate metal fans. The service launched in June of 2017 and is the world's first 24/7 metal-focused service. Fans tune in to hear world class DJs playing metal they can't hear anywhere else – for free. And GIMME METAL allows the fans and the DJs/artists to communicate directly with one another in a live feed, real time, as the music is being played. Its roster of 70-plus DJs includes Dave Mustaine of Megadeth, Jessica Pimentel, star of Orange Is The New Black, and Randy Blythe of Lamb Of God among many others.
http://gimmemetal.com
http://www.facebook.com/gimmemetal
http://twitter.com/gimmeradio
http://www.instagram.com/gimmeradio