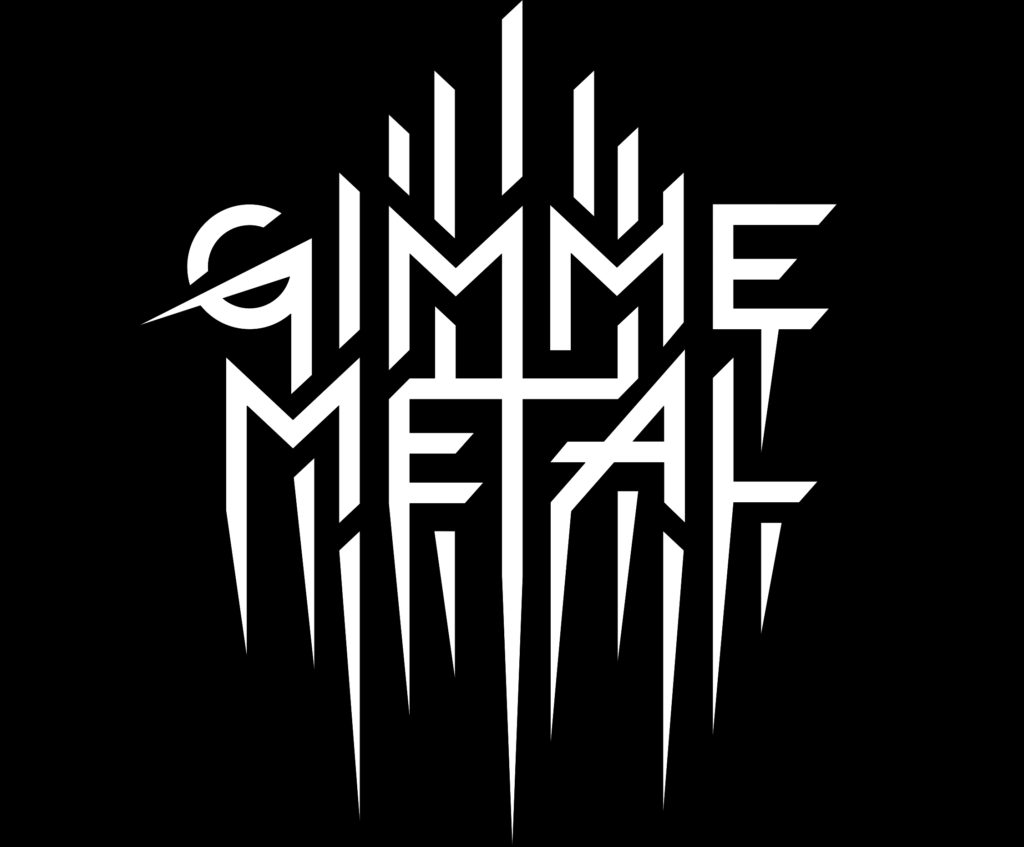 Each week, GIMME METAL publishes its radio chart listing the top 40 tracks played on the station. Already the best metal discovery service online, the GIMME METAL chart is a powerful tool for listeners, labels, and artists for staying up to date on the best new metal released by established greats and up-and-coming underdogs, all handpicked by GIMME's knowledgeable DJ roster and editorial team.
GIMME METAL Chart – June 1st, 2021:
Red Fang – "Funeral Coach"
Cerebral Rot – "Bowels of Decrepitude"
At The Gates – "Spectre Of Extinction"
Withered – "Casting In Wait"
Vexed – "Misery"
Big | Brave – "Of This Ilk"
Burning Witches – "The Witch Of The North"
Phantom Fire – "Return Of The Goat"
Cirith Ungol – "Route 666"
Dawn Ray'd – "Wild Fire, Pt. I"
Click HERE for the full Top 40 List.
GIMME METAL Vinyl Club:
Skeletonwitch – Beyond The Permafrost – GIMME METAL's Vinyl Club July pick is a reissue of Skeletonwitch's second full-length, Beyond The Permafrost. The exclusive GIMME edition is pressed on Winter Wind wax! Released in 2007, Beyond The Permafrost set the tone of what Skeletonwitch would deliver for years to come. Fusing high tempo, melodic riffing, pummeling drums, and dynamic harsh vocals, this sonic assault boasts twelve tracks that get in, rip your face off, and get out in less than forty minutes. A truly perfect blackened thrash offering. Worship at the altar of the Witch!
This week on GIMME METAL:
Skeletal Remains Guest DJ Special – Inspired by the likes of Pestilence, early Gorguts, Death, Obituary, Morbid Angel, Sepultura, Disincarnate, Cannibal Corpse, and Monstrosity, Skeletal Remains have created their own vicious and powerful sound, as evidenced in full force on their newest Desolate And Isolation out now on Century Media. Welcome the band for an all new guest DJ special this Tuesday!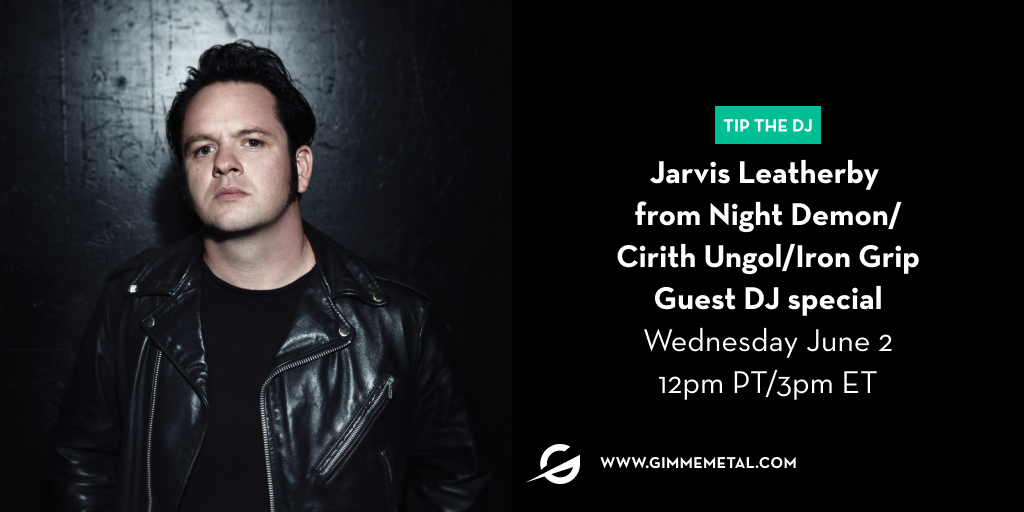 Cirith Ungol Guest DJ Special – Formed in California in 1971, Cirith Ungol emerged as a furious, progrock-fueled unit who inspired legions of power metal fans while also having some doom in their DNA. Albums like Frost And Fire and Kingdom Of The Dead cemented them as legends and this year's Half Past Human EP, released last week via Metal Blade Records, carries on tradition. Join bassist Jarvis Leatherby (also of Night Demon, Iron Grip label, and producer of the Frost And Fire festival) at the GIMME console where he'll spin some tunes and let listeners in on the inner workings of the Iron Grip imprint. Tune in and hang in the Live Chat!
Senyawa Indonesian Metal Special – Senyawa are an Indonesian experimental music duo made up of Rully Shabara and Wukir Suryadi. The music that they create is a combination of extended vocal technique and a homemade instrument, which is handcrafted by Suryadi out of one long piece of bamboo, stringed, amplified, and processed through several effects pedals but is sometimes played as an acoustic instrument, percussion, and string instrument. The special will deliberately focus on unknown artists from Indonesia (even to the metalheads there) and explore religion, Javanese culture, traditional music, politics, pop culture, and social commentary. Don't miss it!
Vulture Guest DJ Special – When it comes to contemporary thrash, there are few bands that can stand toe-to-toe with Germany's Vulture. Establishing their status with 2016's Victim To The Blade EP, they now return with Dealin' Death, recently released on Metal Blade Records and already garnering high praise from metalheads worldwide. Tune in for their first ever guest DJ special with guitarist Stefan Castevet, who will also be available in the Live Chat!
Burning Witches Guest DJ Special – Kick off your Saturday with a powerful guest DJ special from the killer heavy/power metal crew known as Burning Witches. Their fourth full-length, The Witch Of The North, just dropped on Nuclear Blast! An album forged in the fires of a pandemic, created with patience, finesse, and pitch-black lifeblood during a time in which even the Swiss/Dutch coven had to retreat into the isolation and quietness of the dark woods. Right there they hatched new spells and new ways of weaving their potent magic into the world. For Freya, for the druidesses, for the witches as past, present, and future. Join the band in a high-spirited conversation in the Live Chat!
This week on GIMME METAL TV: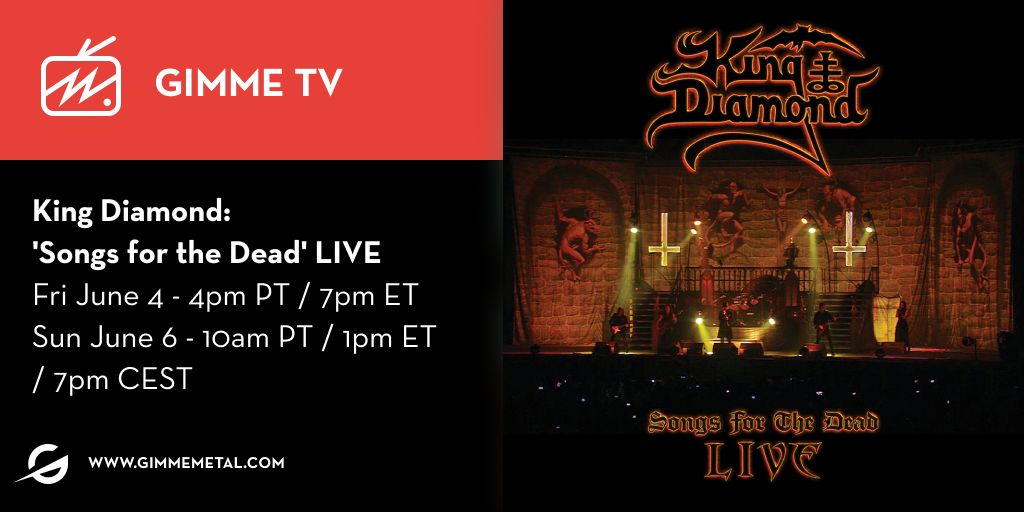 King Diamond: Songs For The Dead Live – Back by popular Demand! There is only one King Diamond, and for more than three decades the great Dane has been dropping classic albums and putting on shows fans remember for the rest of their lives. Perhaps the only downside to having such a formidable catalog is that there are just too many great songs to fit into a single set. However, you would be hard-pressed to find a fan who wouldn't want to hear 1987's seminal Abigail in its entirety, and Songs For The Dead Live captures this, twice, and in very different locales. Boasting eighteen songs per set, each of the two shows – Belgium's Graspop Metal Meeting in June 2016 and Philadelphia's Fillmore in November 2015 – feature a brace of classic King Diamond and Mercyful Fate tracks including "Welcome Home," "Halloween," and "Eye Of The Witch" before launching into Abigail. Tune in to GIMME METAL TV for King Diamond's Songs For The Dead Live from Metal Blade Records! This show features King's entrancing stage antics and backgrounds while showcasing a history of King Diamond songs played, as usual, to perfection! Download the GIMME METAL app today!
Hier Kommt Alex – Episode 1: Road Trip – GIMME METAL staffer and heavy metal guitarist Alex Langill brings us a newly-named show with the classic, loveable, goofball charm only the first GIMME METAL TV VJ could possibly bring! On episode 1, titled Road Trip, Langill takes us on a trip to the beautiful landscapes of Southwest Alberta, Canada while also taking the viewers across the metal world spotlighting GIMME's various label partners at Metal Blade, Season Of Mist, Napalm Records, and more. Be sure to tune in and join Langill in the Live Chat!
Upcoming on GIMME METAL:
6/07 Red Fang
6/09 Yautja
6/11 Slam Spectacular w/ Andee Connors and Anthony Bartkewicz
6/14 Michael Alago
6/16 Blazon Rite
6/18 Frozen Soul
6/22 Alustrium
6/23 Cerebral Rot
6/25 Thy Catafalque
6/30 Withered
7/02 Pestilence
7/07 Autopsy
7/13 Powerwolf
7/13 The Lion's Daughter
7/16 Amenra
7/19 Fulci
7/21 Memoriam
7/23 Tee Pee Records
7/28 Ingested
7/30 No Clean Singing
8/18 Hooded Menace
8/27 Wormwitch
Don't miss it! Visit GIMME METAL: http://gimmemetal.com.
About GIMME METAL:
Founded by digital music veterans from Apple Music, Google Play, Beats Music, and Napster, parent company GIMME Radio builds highly engaged communities for the passionate fan on a genre-by-genre basis. The company launched its first community in June of 2017: the world's first 24/7 metal-focused service. Fans tune in to hear world class DJs playing metal they can't hear anywhere else – for free. The GIMME METAL app and streaming radio service allows the fans and the DJs/artists to communicate directly with one another in a live feed, in real-time, while they listen. Its roster of 70-plus DJs includes Dave Mustaine of Megadeth, Jessica Pimentel, star of Orange Is The New Black, Brian Posehn, and Randy Blythe of Lamb Of God, among many others.
http://gimmemetal.com
http://www.facebook.com/gimmemetal
http://twitter.com/gimmeradio
http://www.instagram.com/gimmeradio