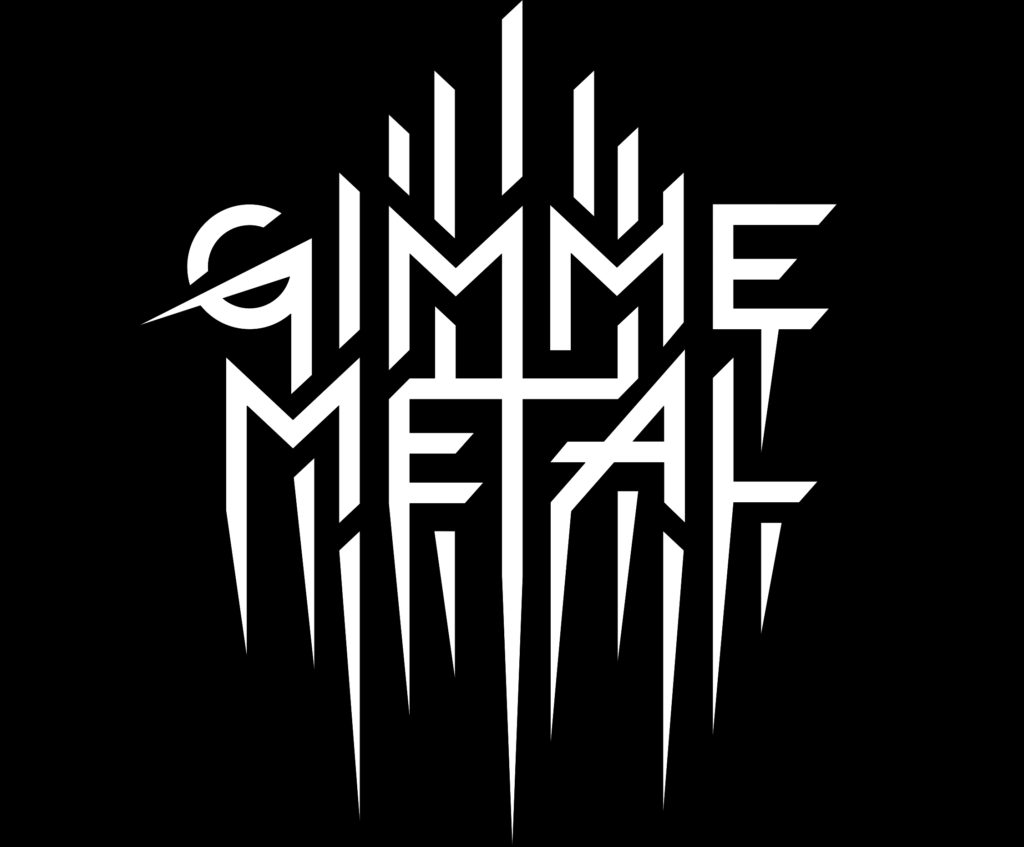 Each week, GIMME METAL publishes its radio chart listing the top 40 tracks played on the station. Already the best metal discovery service online, the GIMME METAL chart is a powerful tool for listeners, labels, and artists for staying up to date on the best new metal released by established greats and up-and-coming underdogs, all handpicked by GIMME's knowledgeable DJ roster and editorial team.
GIMME METAL Chart – August 14th, 2020:
1. Pig Destroyer – "The Cavalry"
2. Pallbearer – "Forgotten Days"
3. In Flames – "Clayman 2020"
4. The Atomic Bitchwax – "Scorpio"
5. Vampire – "Rex"
6. Necrot – "Your Hell"
7. Khthoniik Cerviiks – "Odyssey 3000"
8. Sumac – "The Iron Chair"
9. Mastodon – "Fallen Torches"
10. Ensiferum – Run From The Crushing Tide"
Click HERE for the full Top 40 List.
Upcoming Shows on GIMME METAL:
Psycho Forever – Psycho Las Vegas 2019 Revisited Specials With Interviews: Two Back-To-Back Episodes on Saturday 8/15 (Metal 1) and Sunday 8/16 (Metal 2) at 5:00pm EST / 2:00pm PST and 7:00pm EST / 4:00pm PST – Psycho Las Vegas is the ultimate vacation-destination music festival in North America for all those who worship at the altar of the almighty riff. After four award-winning years (2019's finally making it onto the strip at Mandalay Bay), America's premier rock 'n' roll bacchanal got sidelined this year by COVID-19, but will make its triumphant return in 2021 with a lineup featuring Danzig, Mercyful Fate, Emperor, Down, and more! On the weekend 2020's event was initially scheduled, GIMME METAL will take a look back at the 2019 gala, with music and interviews from Goatwhore, Royal Thunder, Tomb Mold, Warhorse, 1349, Fu Manchu, and Mark Lanegan, conducted by our own Diane Farris and Dave Catching! Other acts that performed included Electric Wizard, Opeth, The Original Misfits, Carcass, High On Fire, Power Trip, Corrosion Of Conformity, Primitive Man, YOB, Clutch, Kadavar, The Faint, Bad Religion, Graveyard, and many many more. During this program, GIMME will have a tip jar, with the availability of a Psycho t-shirt + sweatshirt (in multiple colors). 100% of proceeds after expenses will be donated to MusiCares. 50% of proceeds from other items purchased in the vivapsycho.com store will go to MusiCares for the entire month of August!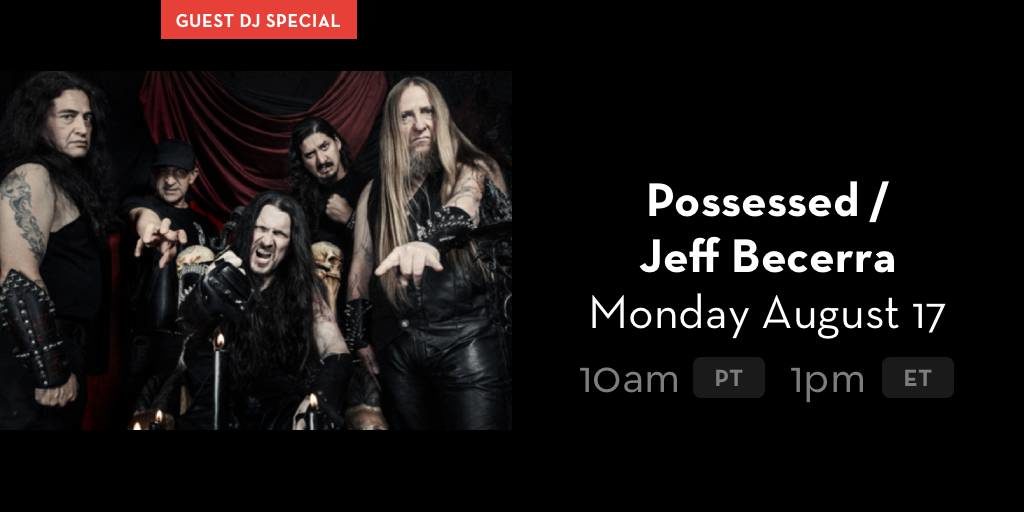 Possessed Guest DJ Special: Monday, 8/17 at 1:00pm EST / 10:00am PST – Possessed's Seven Churches debut was unleashed in 1985, and not only opened the gates for death metal (singer Jeff Becerra coined the term itself in 1983), but weighed in with profound impact on legions of forward-thinking musicians for decades to follow. Recorded during the band's junior high school spring break (!), Seven Churches opens with a lift from the version of "Tubular Bells," famously used in The Exorcist blasting into the track of the same name. From then on, the world is greeted with one of the most relentless, maniacal metal records of the 1980s — one that has rightly earned classic status. Via GIMME METAL's subscription series, fans now have the opportunity to own this masterwork on exclusive red vinyl (plus a collectable pin)! To further celebrate, Becerra himself will take listeners on a tour of his record parlor with an exclusive DJ session and live chat this Monday! Dig in, get Possessed, and discover this amazing band's entire discography if you have yet to do so.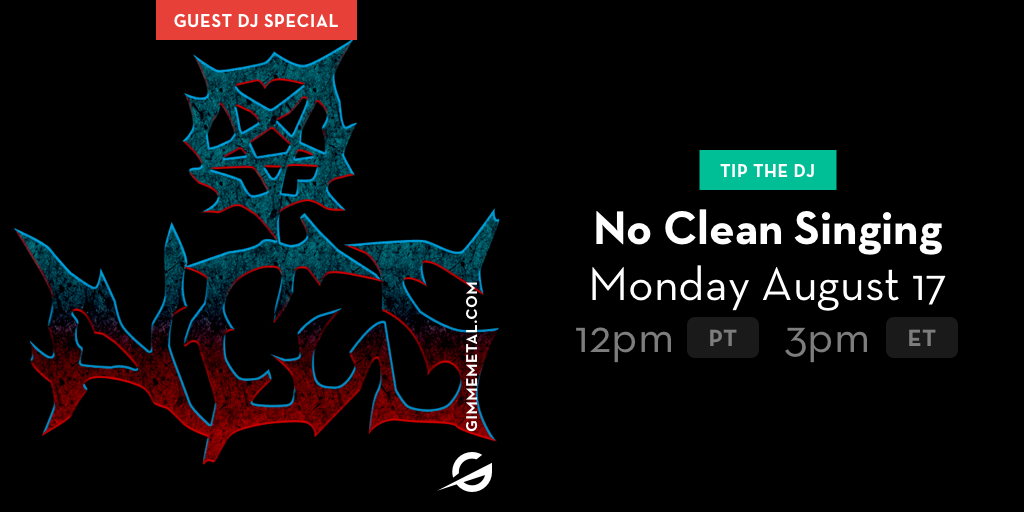 No Clean Singing Staff Guest DJ Special: Monday, 8/17 at 3:00pm EST / 12:00pm PST – Since 2009, the No Clean Singing site has been an invaluable source for all your extreme metal needs. Ad-free and focused on positive reviews with a special ear towards the international scenes, the site brings together the extreme metal community with vanguard taste and style. GIMME METAL welcomes founder Islander plus staffers Andy Synn and DGR who will offer up some of their favorite sounds. Check the calendar for reruns and be sure to visit nocleansinging.com.
Primitive Man Guest DJ Special: Tuesday, 8/18 at 7:00pm EST / 4:00pm PST – Primitive Man has returned with their most extreme, terrifying, and confrontational full-length to date in Immersion. Out now on Relapse Records, Immersion stays true to the band's ethos with every moment of its runtime proving overwhelming. From the sonic pummeling of album opener "The Lifer," to the brooding, unnerving guitars whirring throughout "Entity," Immersion builds and builds. The tension throughout the record is palpable. Tracks push and pull constantly, shifting from passages of harsh doom to an endless corridor of horrid screaming, blast beats, and a formidable low end. This is sure to be a special, not to be missed.
Radioactive Force With Tony Foresta: Wednesday, 8/19 at 3:00pm EST / 12:00pm PST – Founder of Municipal Waste in 2001 and Iron Reagan in 2012, Tony Foresta has fronted crazy thrash bands like no other human! Sidelined from touring, please feel free to hit the tip jar button to help out our musical friends directly. Foresta's show hits GIMME METAL on every third Wednesday of the month.
Dirk's Exteme Blast: Wednesday, 8/19 at 11:00am EST / 8:00am PST – Dirk Verbeuren will host a Napalm Death special, featuring exclusive interviews with the band's Shane Embury and Mitch Harris. During the episode, Verbeuren will dissect the band's long history and play songs by many of the members' other musical endeavors.
Don't miss it! Visit http://www.gimmemetal.com.
Coming Soon On GIMME METAL:
Trial 8/24
Pyrrhon 8/26
Knucklebonz 8/27
Moon Destroys 8/29
Carach Angren 8/31
Metal Detektor site 9/03
King Fowley 9/04
Glassing 9/05
Atomic Bitchwax 9/08
Death 9/09
Intoxicated 9/09
Expander 9/11
Cult Of Lilith 9/14
Obsidian Kingdom 9/16
Raven 9/18
Transcending Records 9/22
Exciter 9/24
Anaal Nathrakh 9/25
Michael Alago 9/28
Undeath 9/28
Venom Prison 10/02
Hellripper 10/09
Geld 10/15
GWAR 10/16
About GIMME METAL:
Founded by digital music veterans from Apple Music, Google Play, Beats Music, and Napster, parent company Gimme Radio builds highly engaged communities for the passionate fan on a genre-by-genre basis. The company launched its first community in June of 2017: the world's first 24/7 metal-focused service. Fans tune in to hear world class DJs playing metal they can't hear anywhere else – for free. The GIMME METAL app and streaming radio service allows the fans and the DJs/artists to communicate directly with one another in a live feed, in real-time, while they listen. Its roster of 70-plus DJs includes Dave Mustaine of Megadeth, Jessica Pimentel, star of Orange Is The New Black, Brian Posehn, and Randy Blythe of Lamb Of God among many others.
http://gimmemetal.com
http://www.facebook.com/gimmemetal
http://twitter.com/gimmeradio
http://www.instagram.com/gimmeradio