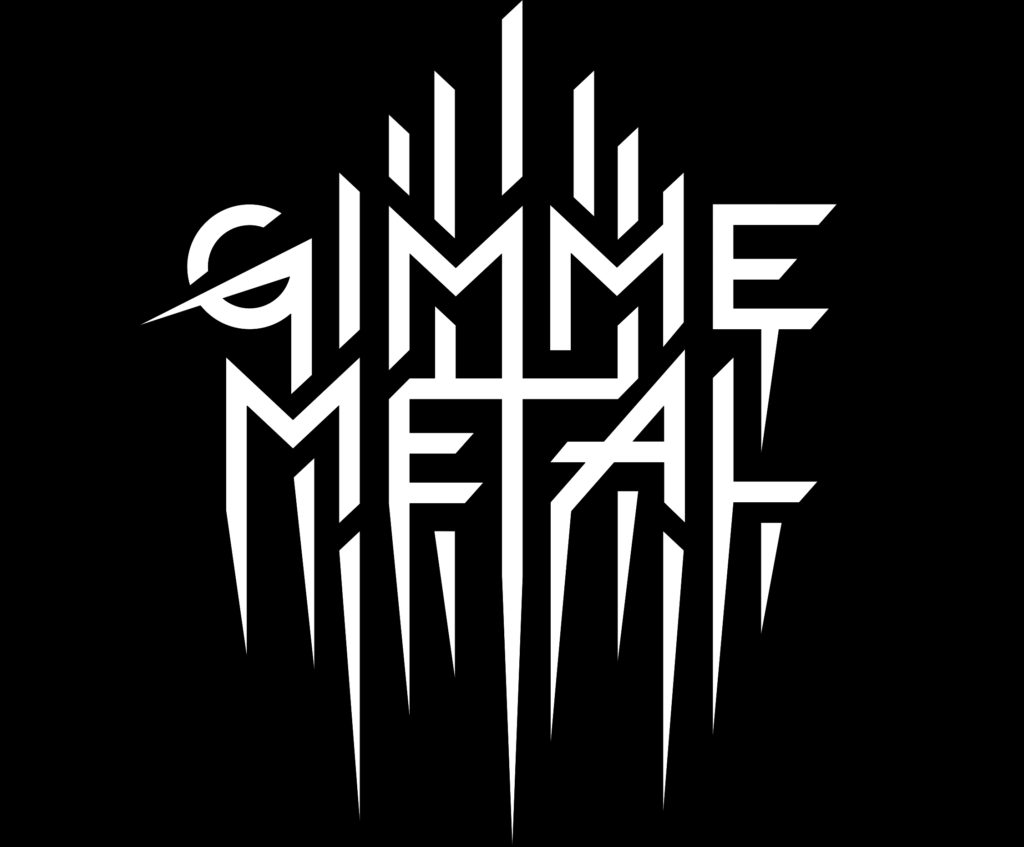 Each week, GIMME METAL publishes its radio chart listing the top 40 tracks played on the station. Already the best metal discovery service online, the GIMME METAL chart is a powerful tool for listeners, labels, and artists for staying up to date on the best new metal released by established greats and up-and-coming underdogs, all handpicked by GIMME's knowledgeable DJ roster and editorial team.
GIMME METAL Chart – October 4th, 2021:
1. Exodus – "Clickbait"
2. Enslaved – "Caravans To The Outer Worlds"
3. Mastodon- "Pushing The Tides"
4. Monolord – "The Weary"
5. Green Lung – "Graveyard Sun"
6. Rivers Of Nihil – "Focus"
7. Cognizance – "Oneiric"
8. Blood Red Throne – "6:7"
9. God Damn – "Radiation Acid Queen"
10. Antichrist Siege Machine – "Unleashed Hostility"
11. Scarecrow – "Raise The Death's Head"
12. Saudade – "Day Of The Lords"
13. Witchcryer – "Hellmouth"
14. Criminal – "Zona De Sacrificio"
15. Feed The Corpses To The Pigs – "Ghost Of Winter"
16. Cradle Of Filth – "Necromantic Fantasies"
17. Atræ Bilis – "To Entomb The Aetherworld"
18. Full Of Hell – "Eroding Shell"
19. Creeping Death – "The Edge Of Existence"
20. Carcass – "The Devil Rides Out"
Click HERE for the full Top 40 List.
This week on GIMME METAL Radio: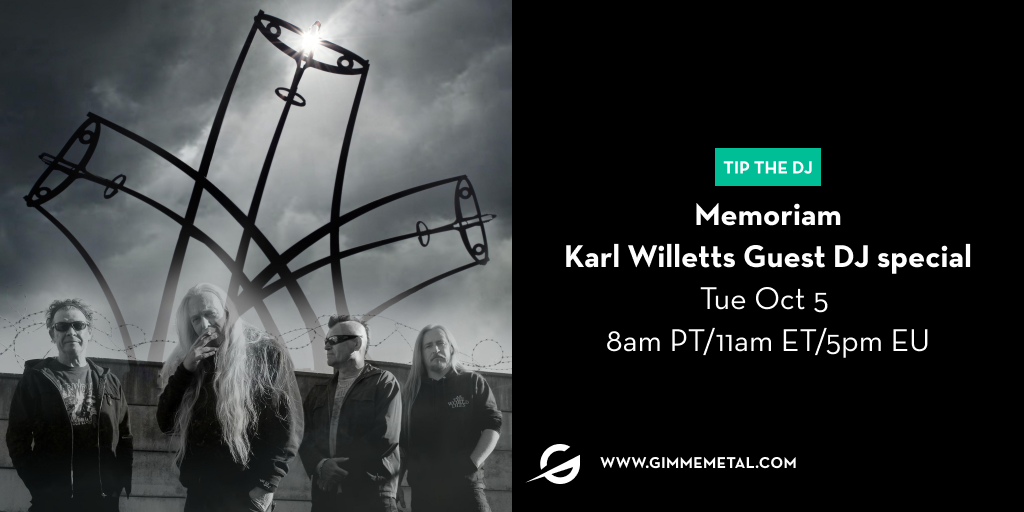 Karl Willetts (Memoriam/Bolt Thrower) Guest DJ Special: New episode! To celebrate the release of Memoriam's fourth LP To The End, out now on Reaper Entertainment, GIMME METAL welcomes the one and only Karl Willetts to another guest DJ special! Legendary throat shredder for Bolt Thrower from 1988-1994 and 2004-2016, Willetts' influence on UK and international metal can not go understated. After founding Memoriam with Benediction bassist Frank Healy, the band has torn it up at full throttle with its inimitable style of death metal, releasing a stream of LPs culminating with this latest blaster. Welcome Willetts to GIMME METAL and get in on the chat as he takes us through part two of a tour of his own catalog!
Full Of Hell Guest DJ Special: GIMME METAL is supremely stoked for the return of Full Of Hell! Back for another show celebrating the release of their latest LP, Garden Of Burning Apparitions, out now on Relapse Records, this Maryland/Pennsylvania combo continues to build on its metal/hardcore foundation utilizing primitive, d-beat and blast ridden hardcore punk with spats of noise and caustic rhythm, black/death metal, and grindcore peppered with flecks of electronics and industrial doom. Produced by Seth Manchester at Machines With Magnets, Garden Of Burning Apparitions also sees Full Of Hell adding new dimensions to their warp-speed hellscape. Guitarist Spencer Hazard and bassist Sam DiGristine's monstrous riffs now have an added noise-rock influence, while drummer Dave Bland commands the rhythm section at blazing speeds. GIMME welcomes frontman Dylan Walker back to the guest DJ hotseat. Tipjar proceeds will benefit the mission of The Trevor Project, out to end suicide among gay, lesbian, bisexual, transgender, and questioning young people.
Enslaved Guest DJ Special: Enslaved return to the DJ console for their fourth guest DJ special, this time with Ivar Bjørnson taking the helm. Titans of Norwegian progressive black/Viking metal movement, Enslaved are celebrating their latest EP Caravans To The Outer Worlds, released October 1st via Nuclear Blast. Caravans To The Outer Worlds is a tale of departure, of leaving behind a barren and desolate world, travelling boldly into the future. There are outer worlds to go to and new havens to rebuild in, to invoke a new dawn and to defend the new world for those of Sense and Earth. Join Bjørnson in the live chat for this very special show.
Order Guest DJ Special: Founded in 2013 Order features Anders Odden (Cadaver) and Kjetil Manheim (ex Mayhem). Both have had a heavy hand in sculpting the paths of Scandinavian death and black metal, and after four long years, their second full-length The Gospel is finally here. Rounded out by Billy Messiah (ex Mayhem) and Stu Manx (Gluecifer member who replaced Rene Jansen who sadly passed away in 2014), the band is a true blood-blast of the highest order. "This time we have arrived at a place where the creative flow truly feels unique and to the core of Order," said Manheim. "In The Gospel you will meet us on a very personal level. In this record we open ourselves and invite you into our innermost, both musically and through the lyrics. If you ever wondered who we are, and where we come from musically this album is an answer." Don't miss it and join Kjetil and Stu in the chat!
Upcoming on GIMME METAL Radio:
10/12 Possessed
10/13 Exhumed Tour Preview on Malpractice
10/13 Blood Red Throne
10/13 Creeping Death
10/15 Witchcryer
10/19 Bastarður
10/20 Cradle Of Filth
10/20 Alcatrazz
10/22 Robots Of The Ancient World
10/25 The Agonist
10/26 Twelve Foot Ninja
10/27 Archspire
10/29 Armored Saint
10/30-31 Halloween DJ specials!
11/03 Lucifer
11/05 Khemmis
11/08 Hate
11/09 Ghost Cult
11/10 Necrofier
11/12 Musk Ox
11/15 Michael Alago
11/16 Rockhammer Radio special
11/17 Monolord
12/03 Imperial Triumphant
Don't miss it! Visit GIMME METAL: http://gimmemetal.com.
About GIMME METAL:
Founded by digital music veterans from Apple Music, Google Play, Beats Music, and Napster, parent company GIMME Radio builds highly engaged communities for the passionate fan on a genre-by-genre basis. The company launched its first community in June of 2017: the world's first 24/7 metal-focused service. Fans tune in to hear world class DJs playing metal they can't hear anywhere else – for free. The GIMME METAL app and streaming radio service allows the fans and the DJs/artists to communicate directly with one another in a live feed, in real-time, while they listen. Its roster of 70-plus DJs includes Dave Mustaine of Megadeth, Jessica Pimentel, star of Orange Is The New Black, Brian Posehn, and Randy Blythe of Lamb Of God, among many others.
http://gimmemetal.com
http://www.facebook.com/gimmemetal
http://twitter.com/gimmeradio
http://www.instagram.com/gimmeradio