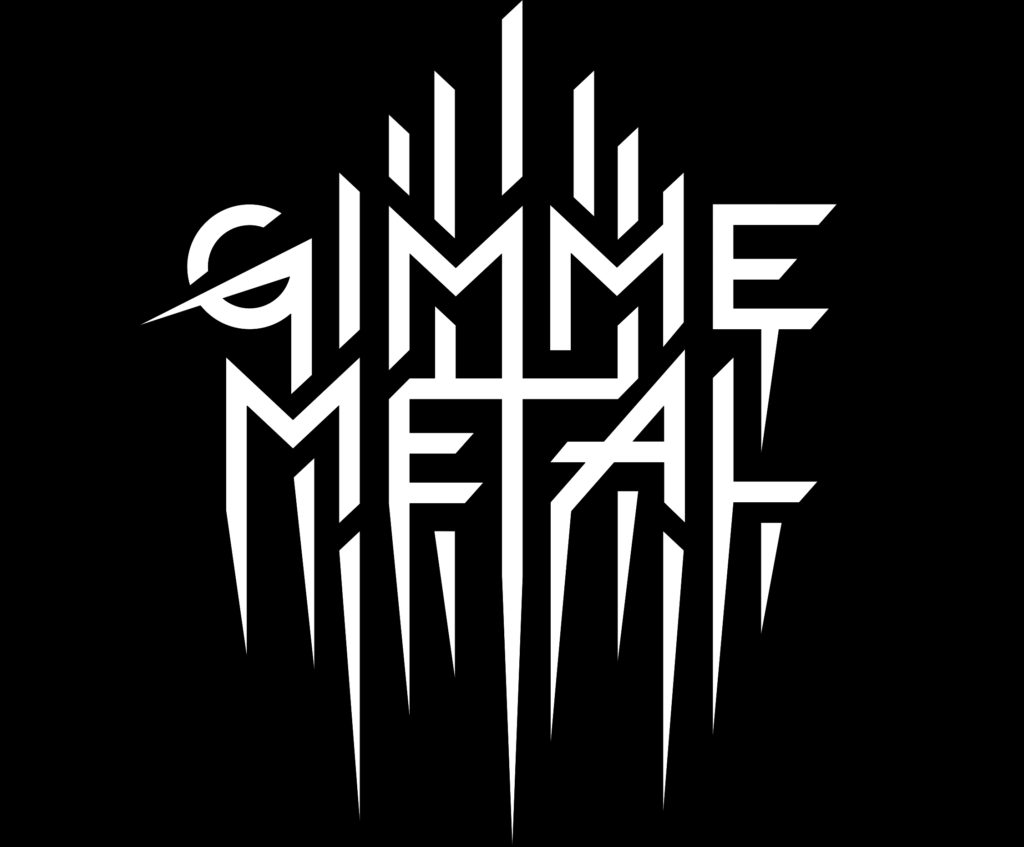 Each week, GIMME METAL publishes its radio chart listing the top 40 tracks played on the station. Already the best metal discovery service online, the GIMME METAL chart is a powerful tool for listeners, labels, and artists for staying up to date on the best new metal released by established greats and up-and-coming underdogs, all handpicked by GIMME's knowledgeable DJ roster and editorial team.
GIMME METAL Chart – August 21st, 2020:
Mastodon – "Fallen Torches"
Ingested – "Another Breath"
Sumac – "The Iron Chair"
The Atomic Bitchwax – "You Got It"
Primitive Man – "Menacing"
Onslaught – "Generation Antichrist"
Possessed – "Evil Warriors"
Incantation – "Entrails Of The Hag Queen"
Necrot – "Your Hell"
Realize – "Disappear"
Click HERE for the full Top 40 List.
Upcoming Shows on GIMME METAL: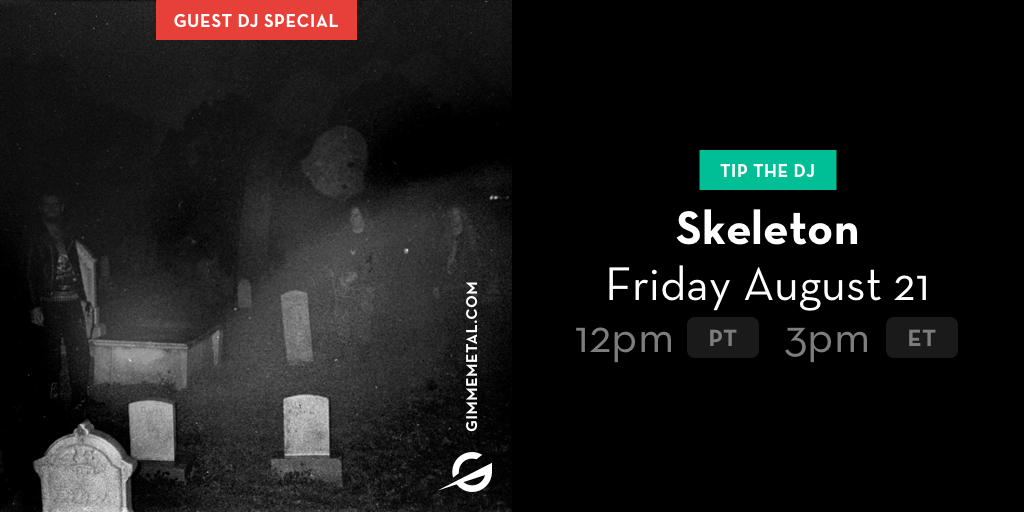 Skeleton Guest DJ Special: Friday, 8/21 at 3:00pm EST / 12:00pm PST – Ripping forth like a dagger from the flesh of Austin, Texas comes the self-titled debut LP from the new wreckers of civilization Skeleton. Having plied their black market trade for several years in grime infested underground dungeons and sub-basements, 20 Buck Spin was called forth to issue Skeleton's first LP, a cataclysmic expansion of the band's unhallowed vision venturing well beyond its earlier borders. Don't miss Skeleton as they patrol the DJ seat this afternoon.
Trial Guest DJ Special: Monday, 8/24 at 3:00pm EST / 12:00pm PST – Trial was formed in the UK through a shared vision forged under cold, acidic grey metallic skies, with sunlit plains now distant memories. Both members are from seasoned UK acts Khost and Primitive Knot, who, in the context of Trial are known as INTERIM_VOID and DEMÖNIAC. The band is forged from thrash of the mid-1980s which is then further refined by unstable, industrial forces and influences. Latest release, 1, is a willful, monolithic statement of ongoing intent: five short, destructive bursts, forged from the stinging, acrid, particulate storms that batter their plane of existence. On the heels of its July release, GIMME METAL is pleased to welcome the band to the console.
Pyrrhon Guest DJ Special: Wednesday 8/26 at 1:00pm EST / 10:00am PST – Hailing from New York City, Pyrrhon crushes and hisses along with the finest moments of Swans and early Godflesh, no-wave guitar scrape battles, fucked up vocals, and batches of silent space that crush all the oxygen in the room. We're not sure why New York in particular holds a choke-hold over experimental metal, but whatever's in the Gowanus Canal seems to be creeping out in great musical form time and time again.
Knucklebonz Guest DJ Special + Giveaway: Thursday 8/27 at 11:00am EST / 8:00am PST – Knucklebonz was established in 2003 with a focus on music collectibles. They take great pride in their authenticity. Fans first, the team started Knucklebonz because they wanted to create something for other music fans that would honor the musicians and rock/metal music legends they admire. GIMME METAL is thrilled to team up with Knucklebonz for a guest DJ special featuring all their favorite bands PLUS an exclusive giveaway. Head to GIMME METAL's socials to find out how to enter and "see" you in the live chat!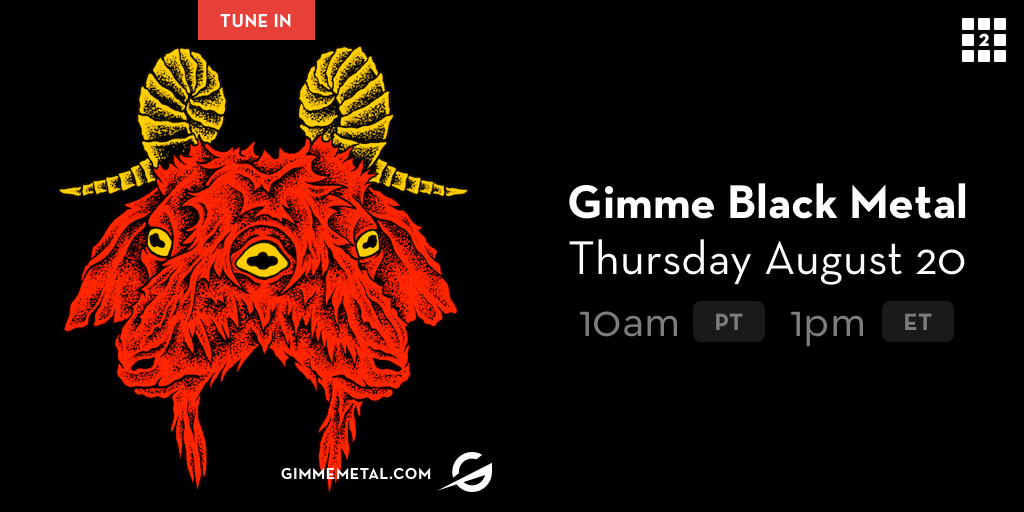 GIMME Black Metal on Metal 2: Thursdays at 1:00pm EST / 10:00am PST – Just launched on GIMME METAL's Metal 2 channel, GIMME's Black Metal Legion Department is a weekly blitz of black metal mayhem curated by programming staff, DJs, and listener Brian "Bredward" Rapheal. Resisting the void is futile. Bask in a rancid vat of rotational rot for your midweek maladies. Open your GIMME app and switch to the second channel to listen every week with other black metal diehards.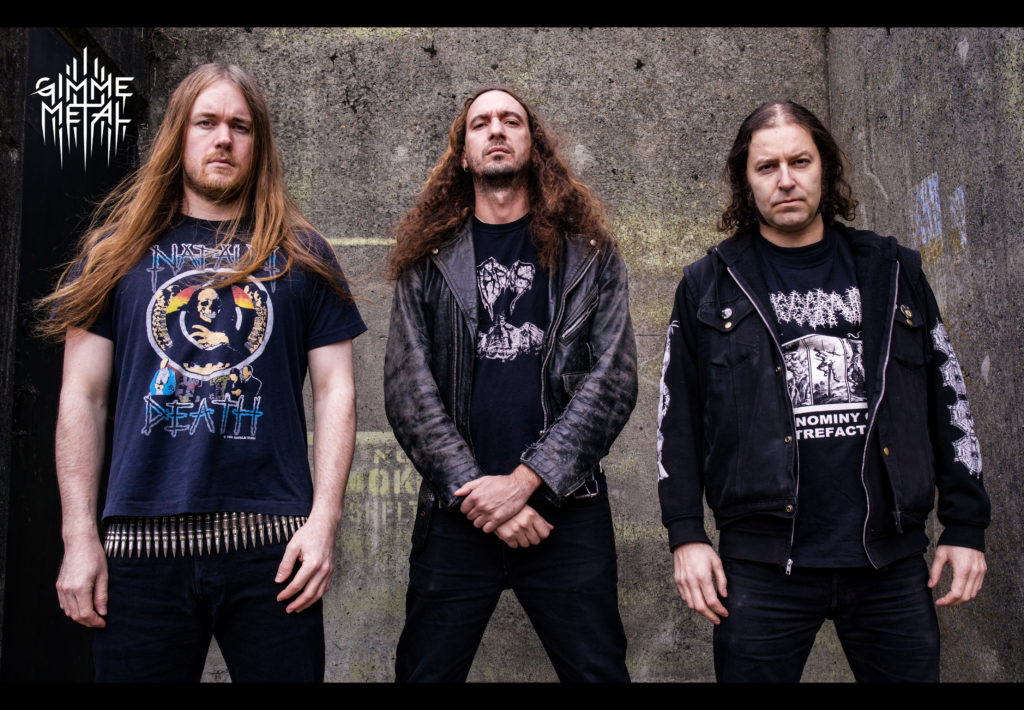 Necrot Triple Takeover Reairings: Friday 8/28 at 2:00pm EST / 11:00am PST – It's been a Necrot Summer over on GIMME while the band hosted three guest DJ specials in conjunction with the roll-out of their three singles off their upcoming new album Mortal, set to drop via Tankcrimes August 28! To celebrate the release, revisit all three Necrot specials hosted by each of the trio's members for six straight hours!
Moon Destroys Guest DJ Special: Saturday 8/29 at 1:00pm EST / 10:00am PST – Moon Destroys is the brainchild of guitarist Juan Montoya (ex-Torche) and drummer Evan Diprima (Brother Hawk, ex-Royal Thunder). Having written together in various configurations for over a decade, they now come together under the auspices of celestial forces with a new project to unveil their mesmerizing debut EP, Maiden Voyage. An experiment of truly galactic proportions, Moon Destroys blend heavy riffage with psychedelic flourishes and vivid imagery. Maiden Voyage is an absorbing, dynamic and forward-thinking debut that explores the new frontiers of heavy music in the 21st century.
Coming Soon On GIMME METAL:
Carach Angren 8/31
Metal Detektor site 9/03
King Fowley 9/04
Glassing 9/05
Atomic Bitchwax 9/08
Death 9/09
Intoxicated 9/09
Expander 9/11
Cult Of Lilith 9/14
Obsidian Kingdom 9/16
Raven 9/18
Transcending Records 9/22
Exciter 9/24
Anaal Nathrakh 9/25
Michael Alago 9/28
Undeath 9/28
Venom Prison 10/02
Hellripper 10/09
Geld 10/15
GWAR 10/16
Enterprise Earth 10/19
About GIMME METAL:
Founded by digital music veterans from Apple Music, Google Play, Beats Music, and Napster, parent company Gimme Radio builds highly engaged communities for the passionate fan on a genre-by-genre basis. The company launched its first community in June of 2017: the world's first 24/7 metal-focused service. Fans tune in to hear world class DJs playing metal they can't hear anywhere else – for free. The GIMME METAL app and streaming radio service allows the fans and the DJs/artists to communicate directly with one another in a live feed, in real-time, while they listen. Its roster of 70-plus DJs includes Dave Mustaine of Megadeth, Jessica Pimentel, star of Orange Is The New Black, Brian Posehn, and Randy Blythe of Lamb Of God among many others.
http://gimmemetal.com
http://www.facebook.com/gimmemetal
http://twitter.com/gimmeradio
http://www.instagram.com/gimmeradio