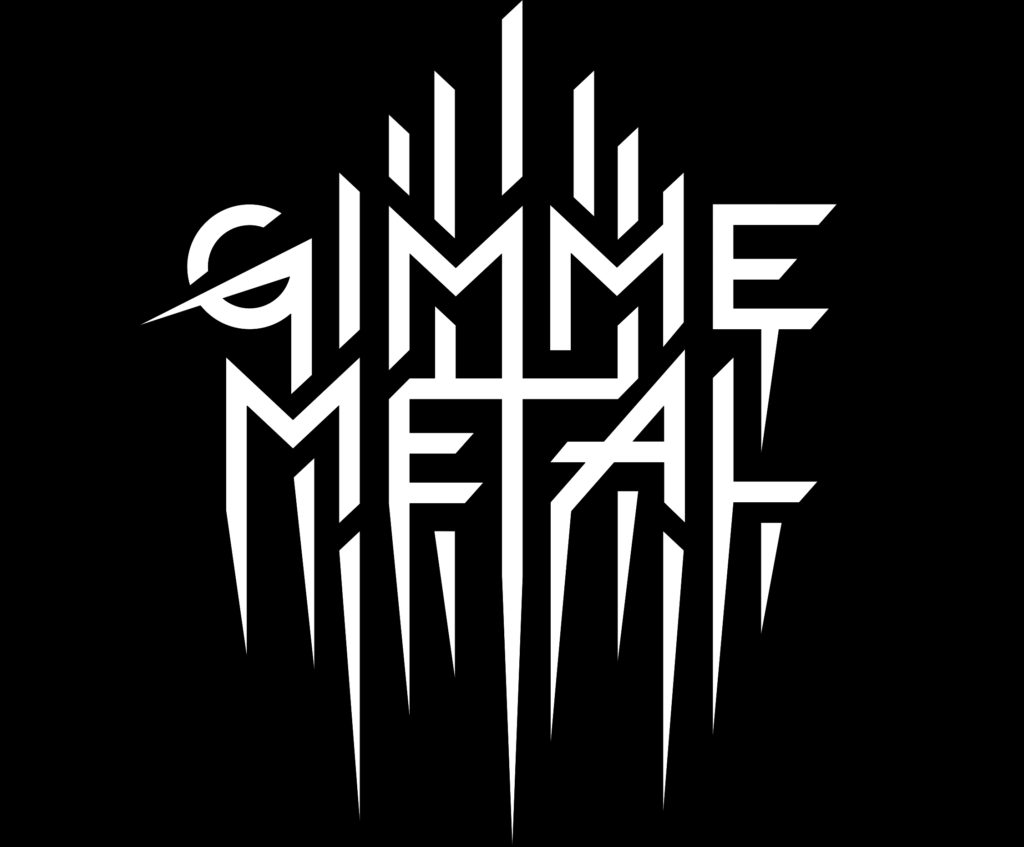 Each week, GIMME METAL publishes its radio chart listing the top 40 tracks played on the station. Already the best metal discovery service online, the GIMME METAL chart is a powerful tool for listeners, labels, and artists for staying up to date on the best new metal released by established greats and up-and-coming underdogs, all handpicked by GIMME's knowledgeable DJ roster and editorial team.
GIMME METAL Chart – October 23rd, 2020:
Hellripper – "The Affair Of The Poisons"
Ilsa – "Poor Devil"
Tombs – "Bone Furnace"
Armored Saint – "Standing On The Shoulders Of Giants"
Six Feet Under – "Blood Of The Zombie"
Spirit Adrift – "Astral Levitation"
Eyes – "Underperformer"
Sarcator – "The Hour Of Torment"
Geld – "Trench"
Cadaver – "Morgue Ritual"
Click HERE for the full Top 40 List.
Upcoming Shows on GIMME METAL: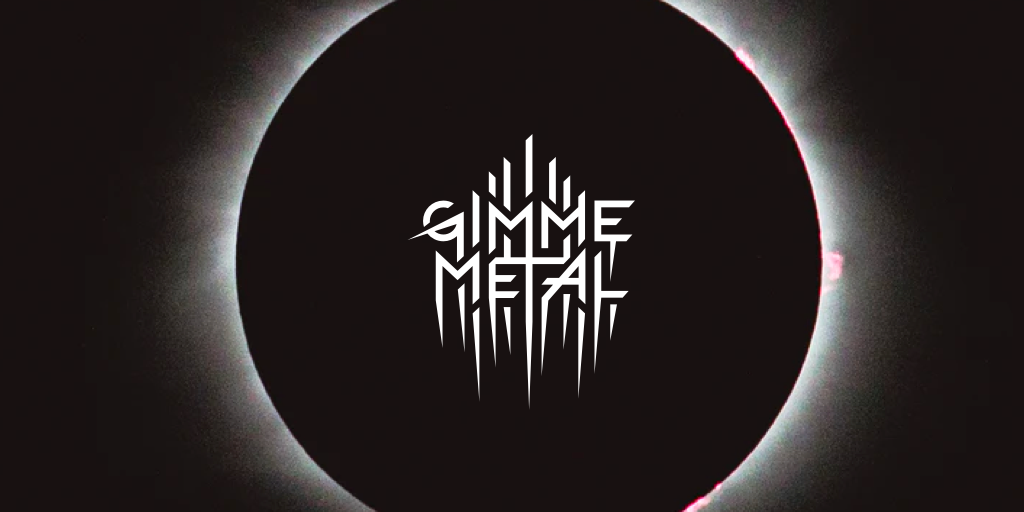 GIMME Global Metal Day on GIMME METAL 2 – Saturday on the GIMME METAL 2 channel, it's GIMME Global Metal Day! Metalheads from around the world unite as one! GIMME METAL has a lineup of shows pulled from The Vault from various DJs from all over this tiny blue dot. Tune in to GIMME METAL 2 all day to listen to metal out of Australia, Argentina, Canada, Finland, Greece, Iran, and India as well as GIMME METAL's own Bozz who will be showcasing the United Kingdom. Visit GIMME METAL 2 for the full schedule and details.
Rivers Of Nihil Guest DJ Special – GIMME METAL welcomes Rivers Of Nihil drummer Jared Klein for a guest DJ special. Rivers Of Nihil stormed out of Reading, Pennsylvania immediately slaughtering spectators with their specialized brand of technical death metal on bills with the likes of Misery Index, Suffocation, and Dying Fetus. They've remained true to form through their career. GIMME METAL will be celebrating the recent re-release of their excellent Monarchy LP available in stunning color variants via Metal Blade Records.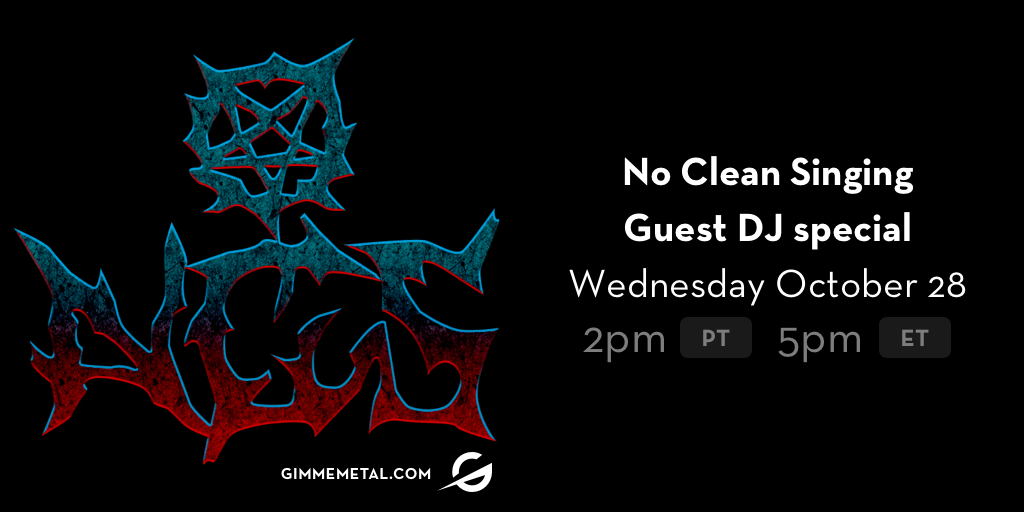 No Clean Singing Site Guest DJ Special – Since 2009, the No Clean Singing site has been an invaluable source for your extreme metal needs. Ad-free, focused on positive reviews with a special ear towards the international scenes, the site brings together the extreme metal community with vanguard taste and style. Welcome founder Islander plus staffers Andy Synn and DGR who will offer up some of their favorite sounds on GIMME METAL this Wednesday. Check out nocleansinging.com in the meantime!
Armored Saint Guest DJ Special – Legendary heavy metal trailblazers Armored Saint are taking over GIMME METAL! Their eighth full-length, Punching The Sky, is out October 23rd via Metal Blade Records. Staring down a four-decade anniversary, the band's place in the metal scene is again firmly reestablished with their 2020 return, and you can join Joey Vera and John Bush for a very special guest DJ special. All tipjar proceeds go to benefit Crew Nation, Live Nation's fund for sidelined concert workers.
Trivium Guest DJ Special – Trivium's Matt Heafy will be hosting a black metal themed show. Formed in Orlando in 1999, Trivium's inimitable hybrid of melodic death, metalcore, and thrash quickly gained a reputation on the world stage. The band toured with heroes like Metallica and Iron Maiden, created an immense cache of international fandom and powered their way through nine studio albums, the latest being What The Dead Men Say. During lockdown, they've continued their mastery of live streaming events, and we're extremely excited that frontman Matt Heafy has taken the mic for a guest special at GIMME, where he'll be socking us with an aggressive playlist of underground and known faves. Don't miss this special event! Heafy will be in the chat for the second hour.
Enslaved Guest DJ Special – GIMME METAL honors Enslaved's third return to the guest DJ console, this time with Grutle Kjellson. Enslaved are titans of Norwegian progressive black/viking metal celebrating the October release of their fifteenth album, Utgard, on Nuclear Blast. It's been three years since the band released their critically-lauded E full-length which earned a Grammy equivalent Spellemann Award in Norway and high praise around the world. Utgard is, without a doubt, one of the year's most anticipated metal records by fans and critics alike. Welcome Kjellson and welcome back, Enslaved!
GIMME Hardcore – Join No Echo's Carlos Ramirez for his GIMME Hardcore show every Wednesday on GIMME METAL 2. Ramirez, host of GIMME's regular show Street Ready, curates the GIMME Hardcore channel with a fresh batch of weekly hardcore selections from past, present and future!
GIMME Black Metal – Don't miss this weekly blitz of black metal mayhem every Thursday on GIMME METAL 2! Resisting the void is useless! A rancid vat of rotational rot awaits to cure your midweek maladies. Curators include our programming department, DJs, and Listener Bredward.
Upcoming Guest Specials on GIMME METAL:
10/31 – Halloween specials with Witch Taint plus MT Casket 10/30 + 10/31
10/31 – Day-long Halloween shows on Metal 2 starting 11:00am EST / 8:00am PST
11/02 – Spirit Adrift (on both GIMME METAL and Gimme Country)
11/05 – Ghost Cult Magazine
11/06 – GWAR
11/09 – Sarcator
11/10 – Abbadon
11/13 – Fates Warning
11/14 – Deluge
11/17 – Realize
11/18 – Megaton Sword
11/20 – Skelethal
11/20 – Possessed
11/23 – Serpent Omega
11/24 – Agalloch
12/02 – My Dying Bride
12/04 – Raven
12/11 – Tombs
Don't miss it! Visit GIMME METAL: http://gimmemetal.com.
About GIMME METAL:
Founded by digital music veterans from Apple Music, Google Play, Beats Music, and Napster, parent company Gimme Radio builds highly engaged communities for the passionate fan on a genre-by-genre basis. The company launched its first community in June of 2017: the world's first 24/7 metal-focused service. Fans tune in to hear world class DJs playing metal they can't hear anywhere else – for free. The GIMME METAL app and streaming radio service allows the fans and the DJs/artists to communicate directly with one another in a live feed, in real-time, while they listen. Its roster of 70-plus DJs includes Dave Mustaine of Megadeth, Jessica Pimentel, star of Orange Is The New Black, Brian Posehn, and Randy Blythe of Lamb Of God among many others.
http://gimmemetal.com
http://www.facebook.com/gimmemetal
http://twitter.com/gimmeradio
http://www.instagram.com/gimmeradio