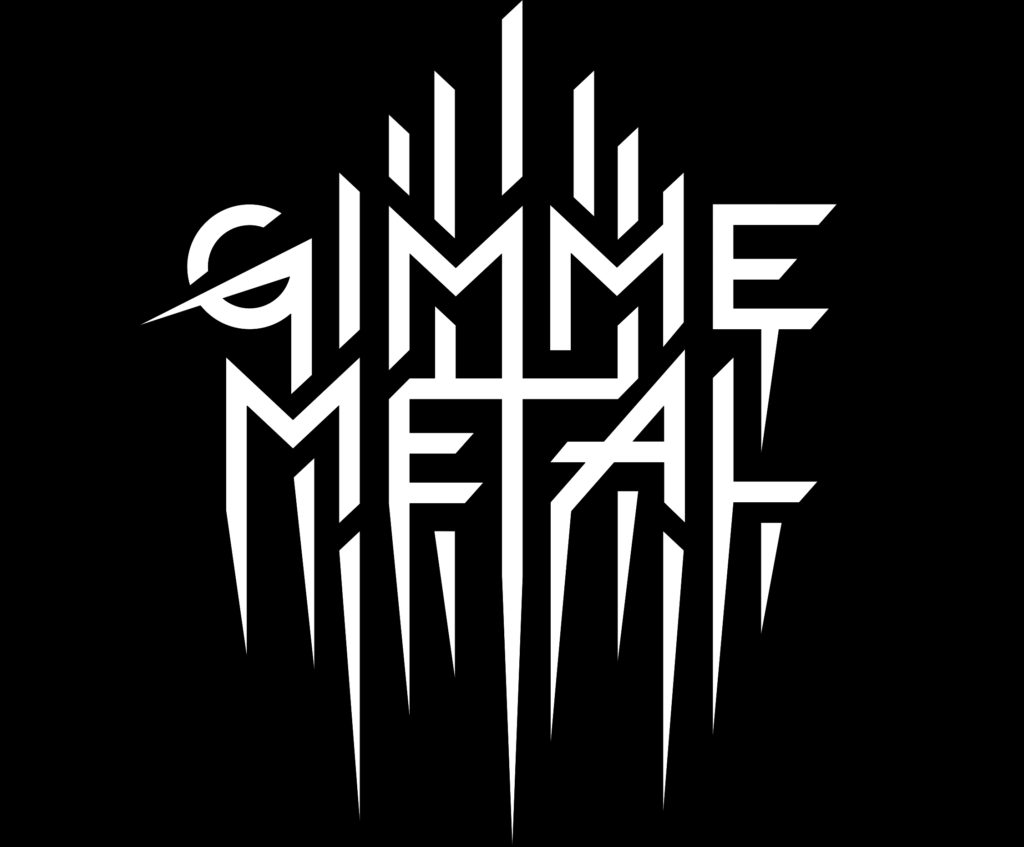 Each week, GIMME METAL publishes its radio chart listing the top 40 tracks played on the station. Already the best metal discovery service online, the GIMME METAL chart is a powerful tool for listeners, labels, and artists for staying up to date on the best new metal released by established greats and up-and-coming underdogs, all handpicked by GIMME's knowledgeable DJ roster and editorial team.
GIMME METAL Chart – August 28th, 2020:
Spirit Adrift – "Harmony Of The Spheres"
Plague Years – "Incantation"
Mr. Bungle – "Raping Your Mind"
Incantation – "Entrails of the Hag Queen"
Duma – "Lionsblood"
Intoxicated – "Walled"
Napalm Death – "Backlash Just Because"
Idle Hands – "It Doesn't Really Matter"
Necrot – "Your Hell"
UADA – "No Place Here"
Click HERE for the full Top 40 List.
Upcoming Shows on GIMME METAL: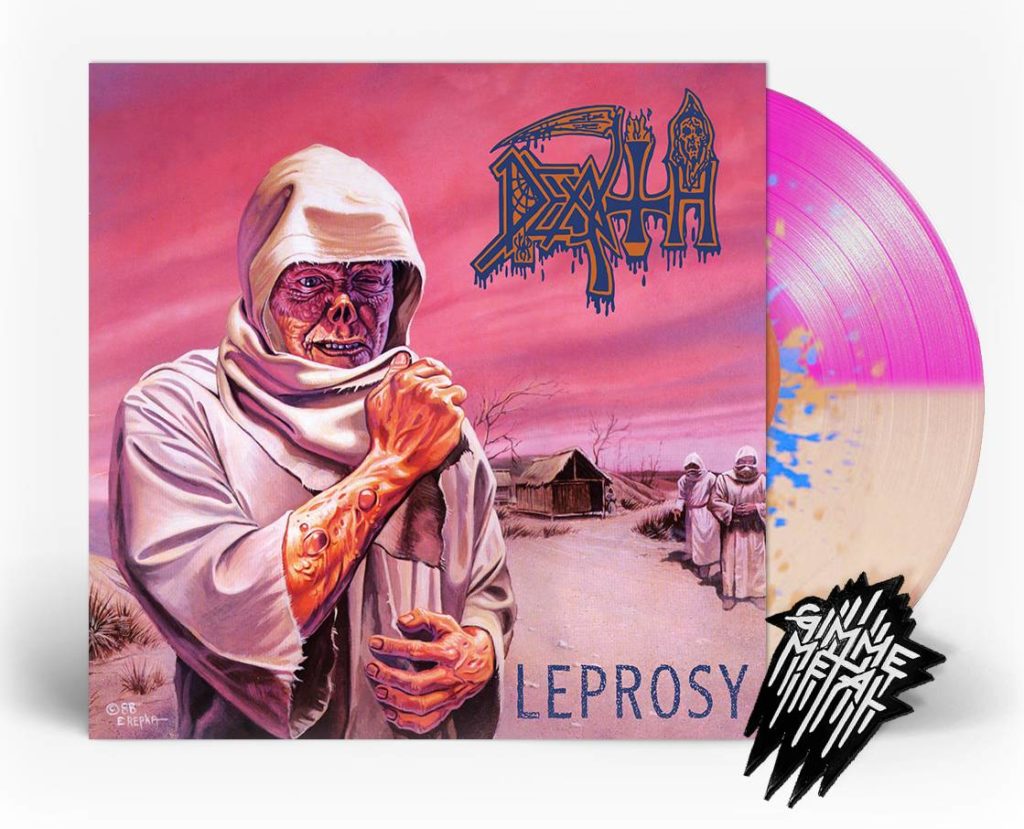 GIMME METAL Vinyl Club: October Selection – The October selection of GIMME METAL's Vinyl Club is Death's iconic Leprosy full-length along with a limited collectible GIMME METAL enamel pin. Released in 1988, Death's Leprosy cemented the band's role as progenitors of the death metal genre, their ripples to be felt for decades to come. Now-late founder Chuck Schuldiner migrated coasts and back during the early days of the band, regrouping after the first album with former guitarist Rick Rozz and several members of his own band Massacre to advance ideas laid out on their impressive debut Scream Bloody Gore. It would be Rozz's only record with Death, full of blazing fury and total destruction, and was voted #1 of the 25 Most Important Death Metal Releases by Germany's Hard Rock Magazine. The GIMME METAL Vinyl Club proudly offers a limited-to-300 edition pressing of the record on neon magenta and bone white half and half with gold and aqua blue splatter vinyl. Snap it up while you can! Monthly Fee: $25.99. Only a few spots remain. Learn more here: https://found.ee/GimmeMetalVinylClub.
Upcoming Shows on GIMME METAL: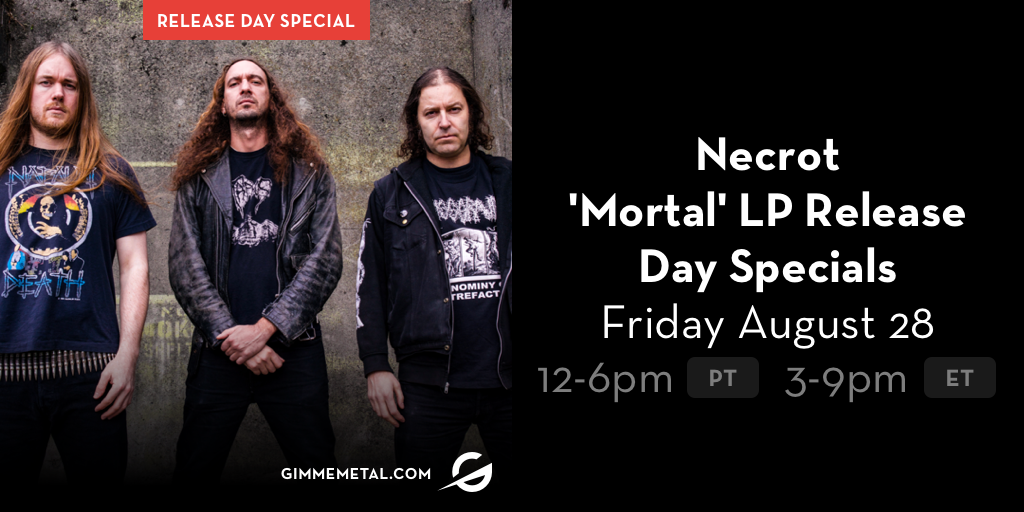 Necrot Triple Takeover Reairings + GIVEAWAY: Friday 8/28 at 3:00pm EST / 12:00pm PST – It's been a Necrot Summer over on GIMME while the band hosted three guest DJ specials in conjunction with the roll-out of three singles from their upcoming new album Mortal, out TODAY via Tankcrimes! To celebrate the release, revisit all three Necrot specials hosted by each of the trio's members for six straight hours! PLUS, listeners can enter to win a clear with Splatter vinyl variant of the new album by dropping #GimmeMortal in the Live Chat!
Moon Destroys Guest DJ Special: Saturday 8/29 at 1:00pm EST / 10:00am PST – Moon Destroys is the brainchild of guitarist Juan Montoya (ex-Torche) and drummer Evan Diprima (Brother Hawk, ex-Royal Thunder). Having written together in various configurations for over a decade, they now come together under the auspices of celestial forces with a new project to unveil their mesmerizing debut EP, Maiden Voyage. An experiment of truly galactic proportions, Moon Destroys blend heavy riffage with psychedelic flourishes and vivid imagery. Maiden Voyage is an absorbing, dynamic and forward-thinking debut that explores the new frontiers of heavy music in the 21st century.
Carach Angren Guest DJ Special: Monday 8/31 at 11:00am EST / 8:00am PST – The Dutch masters of horror are back with their most flamboyant album so far. On Franckensteina Strataemontanus, Carach Angren resurrected the gruesome story of the troubled soul Conrad Dippel, the inspiration of Mary Shelly's novel Frankenstein. Here, they've extended all the sonic colors on their established palette to dazzling effect: trademark whipping guitars weave harsh melodies and sinister soundscapes, beautifully contrasted by opulent keyboards and majestic orchestrations. We welcome Carach Angren to the guest DJ booth on GIMME!
Metal Detektor Site Guest DJ Special: Thursday 9/3 at 11:00am EST / 8:00pm PST – The Metal Detektor launched in 2011 with the goal of helping metal fans find physical pressings of the releases that they're looking to add to their collections. In these recent times of disconnectivity, the site reinforces the concept of community by helping drive fans of all levels to retail stores and label/distribution outlets to support. The Metal Detektor is all about discovery, alignment, and accessibility on a true fan level. GIMME METAL is pleased to welcome them for a guest DJ special with a varied mix of overlooked gems from past to present.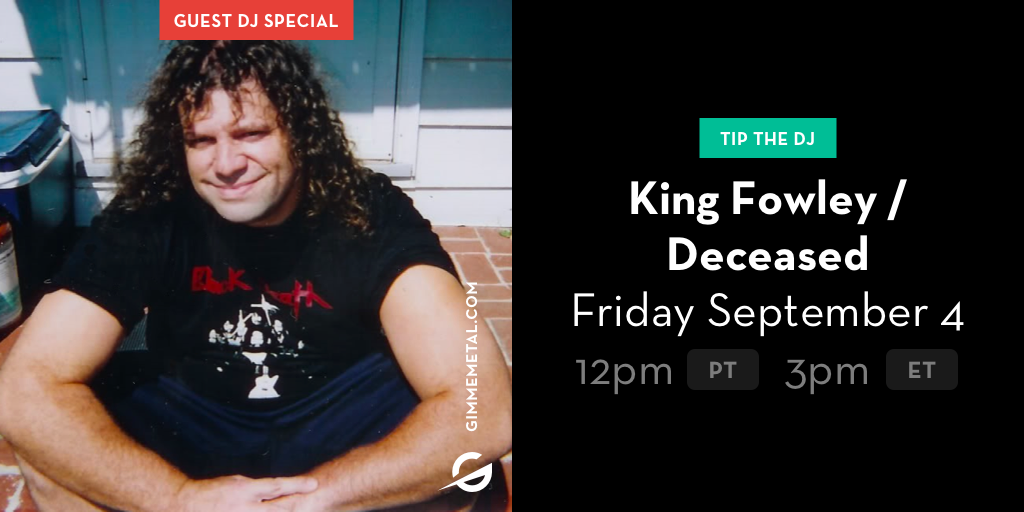 King Fowley Guest DJ Special: Friday, 9/4 at 3:00pm EST / 12:00pm PST – Deceased's founding mainman King Fowley is a metal lifer, and one who's escaped death on multiple occasions (see his autobiography Stay Ugly for one rollercoaster ride of rock history). A truly respected warrior in the world of metal and a larger-than-life character, GIMME METAL is honored to have Fowley host his own episode. The show comes on the heels of an all-covers Deceased release called Rotten To The Core 2 (The Nightmare Continues). Hear the band's take on everything from the Buzzcocks to Cryptic Slaughter to Die Kreuzen. All hail King Fowley! And please utilize the tip jar to help all our musical friends sidelined from touring activity.
Coming Soon On GIMME METAL:
The Atomic Bitchwax 9/08
Death 9/09
Intoxicated 9/09
Expander 9/11
Cult Of Lilith 9/14
Will Carroll All-Death Show 9/14
Obsidian Kingdom 9/16
Raven 9/18
Witching 9/19
Uniform 9/21
Transcending Records 9/22
Exciter 9/24
Anaal Nathrakh 9/25
Michael Alago 9/28
Undeath 9/28
Incantation 9/30
Venom Prison 10/02
Hellripper 10/09
Geld 10/15
GWAR 10/16
Enterprise Earth 10/19
No Clean Singing site 10/28
Enslaved 10/30
Possessed 11/6
Don't miss it! Visit http://gimmemetal.com.
About GIMME METAL:
Founded by digital music veterans from Apple Music, Google Play, Beats Music, and Napster, parent company Gimme Radio builds highly engaged communities for the passionate fan on a genre-by-genre basis. The company launched its first community in June of 2017: the world's first 24/7 metal-focused service. Fans tune in to hear world class DJs playing metal they can't hear anywhere else – for free. The GIMME METAL app and streaming radio service allows the fans and the DJs/artists to communicate directly with one another in a live feed, in real-time, while they listen. Its roster of 70-plus DJs includes Dave Mustaine of Megadeth, Jessica Pimentel, star of Orange Is The New Black, Brian Posehn, and Randy Blythe of Lamb Of God among many others.
http://gimmemetal.com
http://www.facebook.com/gimmemetal
http://twitter.com/gimmeradio
http://www.instagram.com/gimmeradio