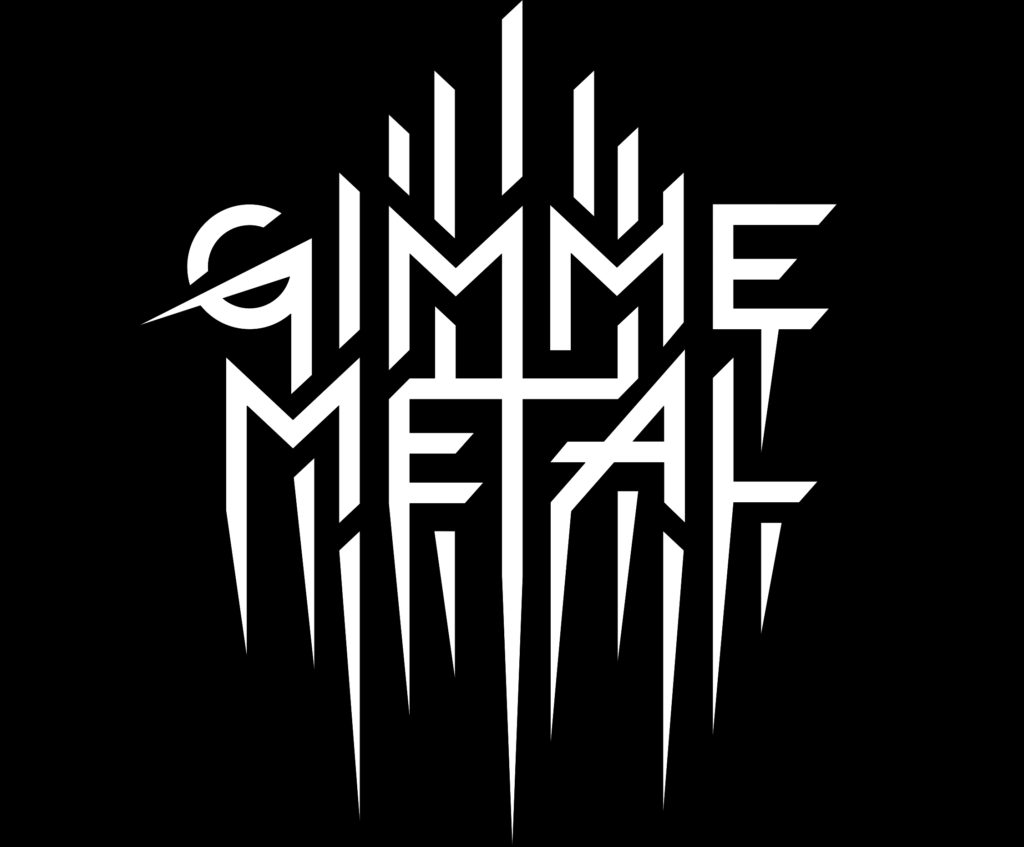 Each week, GIMME METAL publishes its radio chart listing the top 40 tracks played on the station. Already the best metal discovery service online, the GIMME METAL chart is a powerful tool for listeners, labels, and artists for staying up to date on the best new metal released by established greats and up-and-coming underdogs, all handpicked by GIMME's knowledgeable DJ roster and editorial team.
GIMME METAL Chart – March 22nd, 2021:
Gojira – "Born For One Thing"
Eyehategod – "Circle Of Nerves"
The Crown – "We Drift On"
Pupil Slicer – "Interlocutor"
Wolf King – "Holy Serpent"
Wode – "Fire In The Hills"
Coffin Mulch – "Black Liquefaction"
Fuoco Fatuo – "Obsidian Bulwark (Creation Of The Absurd)"
Vreid – "Wild North West"
Genghis Tron – "Ritual Circle"
Click HERE for the full Top 40 List.
This week on GIMME METAL:
Fuath Guest DJ Special – Translated as "hatred" in Gaelic, Scotland's Fuath is the atmospheric black metal offshoot of Saor's Andy Marshall. Taking inspiration from what is arguably black metal's most fertile and explosive period – the early to mid-1990s – the music channels the unrelenting tenor and iciness of forebears Darkthrone and Mayhem, as well as the mystery and atmosphere of bands like Windir. Ripe with crisp energy, rawness, and melodicism, Fuath's second LP II is out now on Season Of Mist. Be sure to join Marshall in the Live Chat for his debut guest DJ special.
Amon Acid Guest DJ Special – Hailing from Leeds, Amon Acid was forged in 2018 to make psychedelic doom metal. It started as a bit of fun between two people, jamming at home, but after self-releasing their first EP, which received a positive response, it became a serious mission. Indeed, the core duo of Sarantis (originally from Athens) and Briony (from the UK) are serious, and one listen to their debut album, Paradigm Shift, out now on Helter Skelter / Regain Records, is enough to convert nonbelievers into fanatics, so hypnotically addicting is their sonic drug. Calling them "psychedelic doom metal" is a misnomer, for the duo's interests and ethnic backgrounds bring together a swirling soup of unique sensibilities. Across Paradigm Shift, one can hear trace elements of space rock, doom, psych, rebetiko, and Anatolian music as well as their love of horror and sci-fi. In this way, they fuse together a world of sounds which is at once consistent and unpredictable. GIMME METAL welcomes Amon Acid for their guest DJ debut.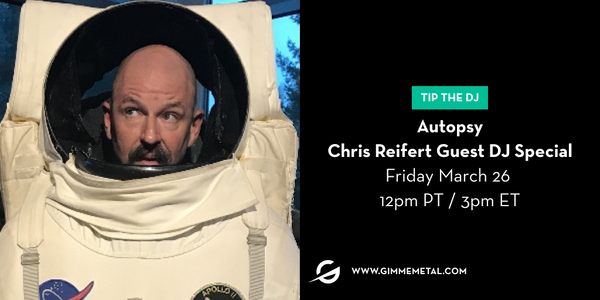 Autopsy Guest DJ Special – Autopsy formed in 1987 in San Francisco, and was among the early breed of death metal bands to emerge, releasing four albums on Peaceville before disbanding in 1995. After a fifteen-year hiatus, Autopsy officially returned from the grave with the 2010's The Tomb Within EP. This was followed by the release of the band's fifth studio album, Macabre Eternal one year later, spearheading a resurgence of the legends with multiple subsequent albums and EPs. Autopsy recently released Live In Chicago, their first ever official live album. Recorded at Reggie's Rock Club March 7th, 2020, the record boasts 66 minutes of classics spanning the band's 30+ year career. Live In Chicago also includes brand new track "Maggots In The Mirror," giving fans something to chew on while the impending next studio release takes shape. In the meantime, GIMME welcomes co-founding vocalist/drummer Chris Reifert for a guest DJ takeover!
GIMME Global International Metal Day #2 on GIMME METAL 2 – Tune into the GIMME METAL 2 station on the GIMME METAL app anytime Saturday to catch a new flavor of metal from a different part of the world! Be it Cadaver's all-Norwegian special, Primordial's all-Irish special, or for any of the Indian, Iranian, and South American shows (and so much more), you're in for a cultural metal treat! And be sure to join Ján Lončík (Hrom, Radyator, ex-Traveler) in the Live Chat for the debut airing of his all-Slavic show at 3:00pm ET /12:00pm PT among all the other amazing segments!
Coming soon to GIMME METAL TV:
Iron Maiden And The New Wave Of British Heavy Metal – Iron Maiden stands at the forefront of this examination of 1976's NWOBHM (New Wave Of British Heavy Metal) movement, in which a new generation of musicians ushered in a sound and culture previously uninhabited by the metal scene. Other bands included are Samson, Praying Mantis, Saxon, Diamond Head, Tygers Of Pan Tang, and many others. This is an in-depth look at not only the music but also at the series of unconnected events that shaped this lasting musical form–as well as the larger media and cultural reaction.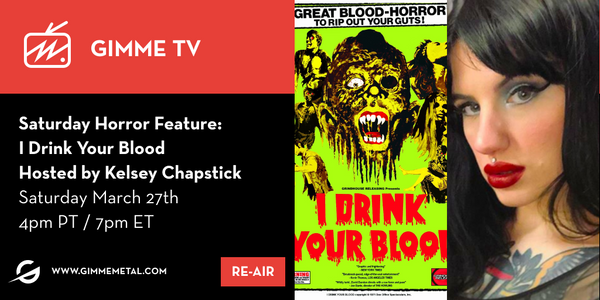 Saturday Horror Feature: I Drink Your Blood Re-airing Hosted by Kelsey Chapstick – A 1970s b-rated horror classic, in I Drink Your Blood a group of satanic hippies become rabid and cannibalistic after being fed meat pies injected with dog blood and they kill and infect everyone on their path. Once again, GIMME horror hostess Kelsey Chapstick will kick off the festivities and hang out post flick to talk about THAT ending.
The Ball Hosted by Riki Rachtman – GIMME METAL TV is very pleased to welcome the debut episode of The Ball this Saturday. Hosted by MTV VJ alumnus Riki Rachtman and presented by Knotfest.com, The Ball will find the former Headbangers Ball host reviving that classic heavy metal music video show feel in an episode that will feature videos from the likes of Megadeth, Metallica, Power Trip, and so much more. The Ball will premiere on GIMME METAL TV March 27th at 9:00pm EDT / 6:00pm PDT. The event is FREE. To watch, download the GIMME METAL app for free at: gimmemetal.app.link/GimmeTheBall and be sure to catch up with Rachtman in the Live Chat! View a recent interview with Rachtman, conducted by Knotfest's Ryan J. Downey HERE.
GIMME METAL TV runs 24/7 giving you unlimited music videos, interviews, live performances, and other amazing clips and shows from Metal Injection as well as your favorite metal bands and artists! With Apple Airplay and Google Chromecast features, you can cast it to your TV or laptop! Tune into GIMME METAL TV HERE!
Upcoming on GIMME METAL:
3/29 Michael Alago
3/29 No Clean Singing Site Special
3/30 GIMME 5 with Empyrium, The Crown, Cannibal Corpse, Memoriam, and Enforcer
3/30 My Dying Bride
3/31 Decibel Finnish Death Special
3/31 Genghis Tron
4/01 Wode
4/02 eOne Heavy Label Special
4/06 Memoriam
4/07 Horndal
4/09 The Lion's Daughter
4/13 Akiavel
4/14 Small Stone Label Special
4/14 Metal Sydney
4/16 Exciter
4/20 Bongzilla 420 Special
4/23 Tank Crimes Label Special
4/26 Celestial Sanctuary special
4/27 Vreid
4/28 Carbonized Label Special
4/30 Unique Leader Label Special
4/30 King Fowley
5/01 Capra
5/05 Evile
5/07 Molten
5/12 Funeral Leech
5/24 Possessed
5/28 Autumn For Crippled Children
Don't miss it! Visit GIMME METAL: http://gimmemetal.com.
About GIMME METAL:
Founded by digital music veterans from Apple Music, Google Play, Beats Music, and Napster, parent company GIMME Radio builds highly engaged communities for the passionate fan on a genre-by-genre basis. The company launched its first community in June of 2017: the world's first 24/7 metal-focused service. Fans tune in to hear world class DJs playing metal they can't hear anywhere else – for free. The GIMME METAL app and streaming radio service allows the fans and the DJs/artists to communicate directly with one another in a live feed, in real-time, while they listen. Its roster of 70-plus DJs includes Dave Mustaine of Megadeth, Jessica Pimentel, star of Orange Is The New Black, Brian Posehn, and Randy Blythe of Lamb Of God, among many others.
http://gimmemetal.com
http://www.facebook.com/gimmemetal
http://twitter.com/gimmeradio
http://www.instagram.com/gimmeradio