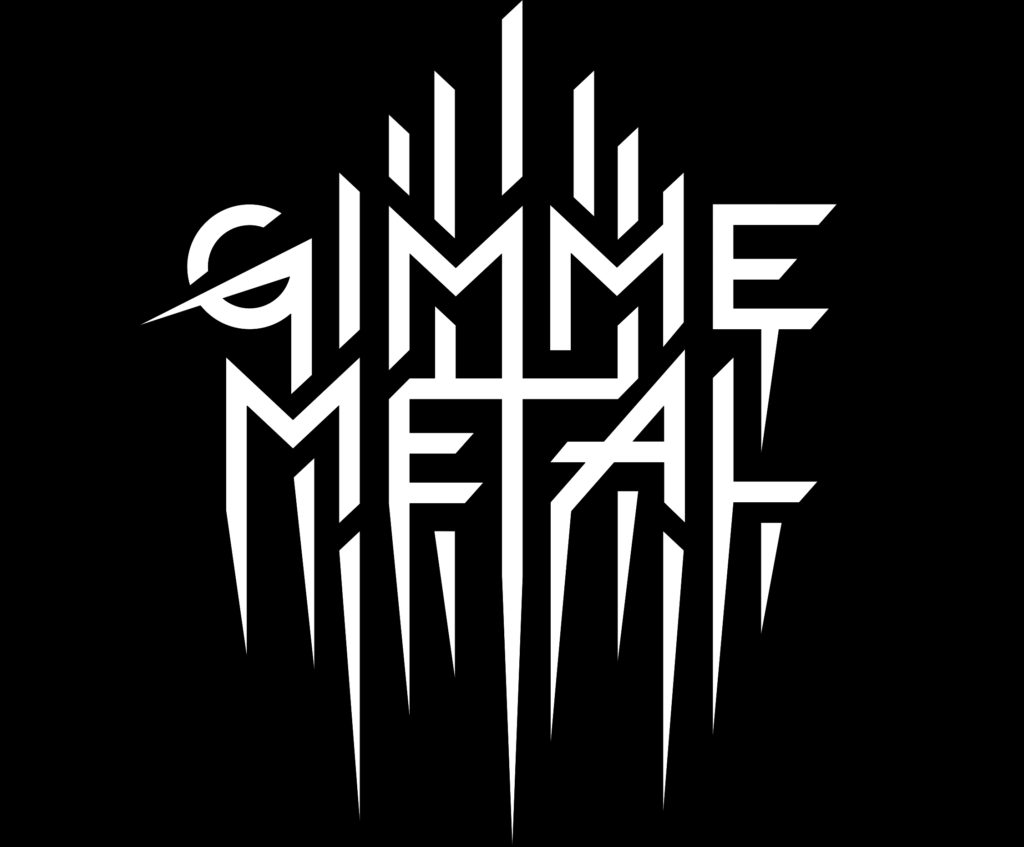 Each week, GIMME METAL publishes its radio chart listing the top 40 tracks played on the station. Already the best metal discovery service online, the GIMME METAL chart is a powerful tool for listeners, labels, and artists for staying up to date on the best new metal released by established greats and up-and-coming underdogs, all handpicked by GIMME's knowledgeable DJ roster and editorial team.
GIMME METAL Chart – March 8th, 2021:
1. Autarkh – "Lost To Sight"
2. Terminal Bliss – "Small One Time Fee"
3. Gojira – "Born For One Thing"
4. Wolf King – "Holy Serpent"
5. Accept – "Too Mean To Die"
6. The Crown – "We Drift On"
7. Gatecreeper – "Starved"
8. Culted – "Black Bird"
9. Cadaver – "Reborn"
10. Serotonin Leakage – "II"
Click HERE for the full Top 40 List.
This week on GIMME METAL:
International Women's Day On GIMME METAL 2 – Monday, March 8th is International Women's Day and GIMME METAL is excited to take this opportunity to focus on all their killer metal DJ maidens, guest and regular, as well as femme fatale themed episodes! Tune in for re-airing of guest DJ specials by Nervosa, Smoulder, High Priestess and others as well as some themed shows like Jeremy Saffer's Daughters Of Darkness or Into The Fire: Women Who F**kin' Shred! Download the app to stream the GIMME METAL 2 station!
The Crown Guest DJ Special – Having celebrated their thirtieth anniversary in 2020 with their first eight years spent as Crown Of Thorns, The Crown has proven themselves one of the most enduring forces in death metal. In 2021, they further up the ante with Royal Destroyer. Setting a new standard for the genre, the record will be released this Friday via Metal Blade Records. In celebration of its official unveiling, GIMME METAL is pleased to welcome guitarist Marko Tervonen to the guest DJ ranks.
Wolf King Guest DJ Special – The Bay Area punk-infused, blackened metal crew known as Wolf King has returned with their latest release, The Path Of Wrath, out now on Prosthetic Records. Recorded at both Prairie Sun Recordings and Rapture Recordings in California by Cody Fuentes, with mixing and mastering handled by Jack Shirley at The Atomic Garden, on The Path Of Wrath, Wolf King's distinct sound is captured at its most captivatingly unrestrained. GIMME METAL welcomes the band to their first guest DJ special.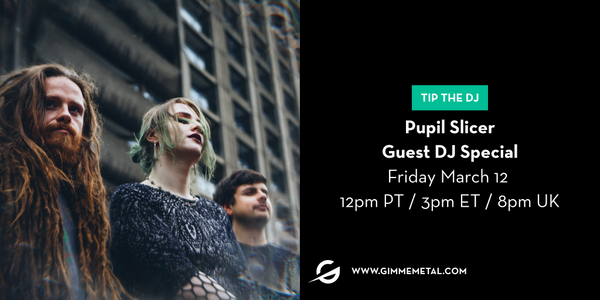 Pupil Slicer Guest DJ Special – London, UK mathcore trio will unleash their Mirrors full-length via Prosthetic Records this Friday! Mirrors captures the frenetic energy that propels Pupil Slicer forward, making their snarling blend of mathcore, grindcore, death metal and more a truly essential listen. Don't miss the band take over the guest DJ console to celebrate the record's release!
Coming soon to GIMME METAL TV: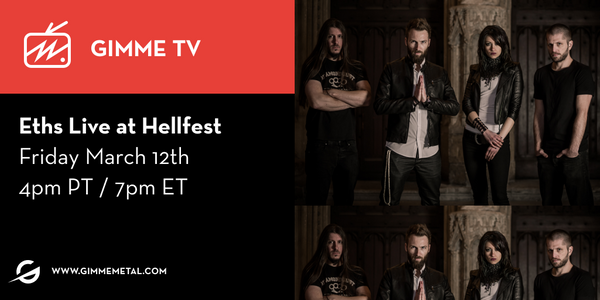 Eths: Live At Hellfest – Friday! From the Season Of Mist library comes French extreme metallers Eths and set at Hellfest in 2015! This is a truly fiery performance from the now defunct outfit and a rare one fronted by Rachel Aspe. Stream it on GIMME METAL TV to get your spot in the front row!
Brutal Truth: For The Ugly And Unwanted; This Is Grindcore – Enjoy your Saturday with grindcore legends Brutal Truth and their phenomenal performance from their prime live album/DVD released by Season Of Mist! When Brutal Truth announced their comeback at the end of 2006 a collective sigh of relief swept through the grindcore community. The legend was back. Founded by prolific ex-Anthrax, S.O.D., and Nuclear Assault bassist Danny Lilker in 1990, the New York extremists quickly gained recognition worldwide and a large following within the grindcore and metal scenes alike. Several tours around the globe helped the band to establish an even larger fanbase, one that continues to expand to this day… For The Ugly And Unwanted: This Is Grindcore features a five-camera captured, career-spanning live performance. Catch "Stench Of Profit," "Foolish Bastard," "God Player," and twenty-three other tunes live on GIMME METAL TV for a pure, brutal grind experience!
Saturday Horror Feature: Bad Magic Reairing with Kelsey Chapstick – Back by popular demand, this Saturday's horror feature is a re-airing of the intoxicatingly terrible B-horror movie Bad Magic guided by our amazing dark hostess, Kelsey Chapstick. 1998's Bad Magic was directed by John Polonia and Mark Polonia. Synopsis: "After Renny's brother Amos is killed in a robbery gone bad, the only thing left to do is seek revenge on the vicious gang he belonged to: The Red Claws… except this isn't going to be an ordinary vigilante score. Renny seeks the aid of a renown witch doctor in the West Indies to invoke terror and bloodshed through means of voodoo. Renny must cross into a nightmare world and learn the Black Arts. But this knowledge comes with a cost, and the price is blood!" Join the chat and watch how Renny avenges his murdered brothers and get lost in the mesmerizing soundtrack!
GIMME METAL TV runs 24/7 giving you unlimited music videos, interviews, live performances, and other amazing clips and shows from Metal Injection as well as your favorite metal bands and artists! With Apple Airplay and Google Chromecast features, you can cast it to your TV or laptop! Tune into GIMME METAL TV HERE!
Upcoming on GIMME METAL:
3/15 Autarkh
3/16 Conan
3/17 Primordial St. Patrick's Day All-Irish Metal Show
3/19 Eyehategod
3/23 Fuath
3/24 Amon Acid
3/26 Autopsy
3/27 GIMME Global Metal Day #2 on GIMME METAL 2 (International Specials)
3/29 Michael Alago
3/29 No Clean Singing Site Special
3/30 My Dying Bride
3/31 Decibel Finnish Death Metal Special
3/31 Genghis Tron
4/01 Wode
4/02 eOne Heavy Label Special
4/06 Memoriam
4/07 Horndal
4/09 The Lion's Daughter
4/13 Akiavel
4/14 Small Stone Label Special
4/14 Metal Sydney
4/16 Exciter
4/20 Bongzilla 420 Special
4/23 Tank Crimes Label Special
4/27 Vreid
4/28 Carbonized Label Special
4/30 Unique Leader Label Special
5/01 Capra
5/05 Evile
5/07 Molten
Don't miss it! Visit GIMME METAL: http://gimmemetal.com.
About GIMME METAL:
Founded by digital music veterans from Apple Music, Google Play, Beats Music, and Napster, parent company GIMME Radio builds highly engaged communities for the passionate fan on a genre-by-genre basis. The company launched its first community in June of 2017: the world's first 24/7 metal-focused service. Fans tune in to hear world class DJs playing metal they can't hear anywhere else – for free. The GIMME METAL app and streaming radio service allows the fans and the DJs/artists to communicate directly with one another in a live feed, in real-time, while they listen. Its roster of 70-plus DJs includes Dave Mustaine of Megadeth, Jessica Pimentel, star of Orange Is The New Black, Brian Posehn, and Randy Blythe of Lamb Of God, among many others.
http://gimmemetal.com
http://www.facebook.com/gimmemetal
http://twitter.com/gimmeradio