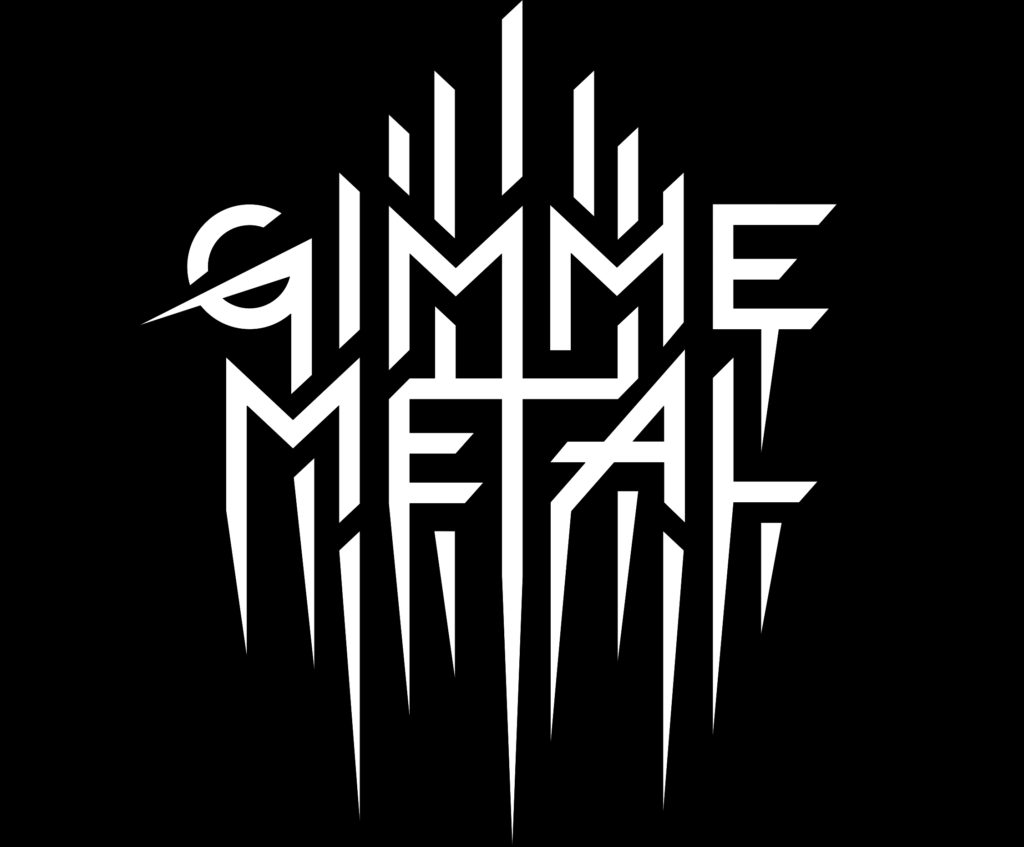 Each week, GIMME METAL publishes its radio chart listing the top 40 tracks played on the station. Already the best metal discovery service online, the GIMME METAL chart is a powerful tool for listeners, labels, and artists for staying up to date on the best new metal released by established greats and up-and-coming underdogs, all handpicked by GIMME's knowledgeable DJ roster and editorial team.
GIMME METAL Chart – October 9th, 2020:
Plague Years – "Paradox Of Death"
Armored Saint – "Standing On The Shoulders Of Giants"
DevilDriver – "Nest Of Vipers"
Hellripper – "Vampire's Grave"
Hinayana – "Death Of The Cosmic"
Carcass – "The Long And Winding Bier Road"
Griiim – "Nymphe Décharnée"
Uada – "The Great Mirage"
Benediction – "Stormcrow"
Spirit Adrift – "Astral Levitation"
Click HERE for the full Top 40 List.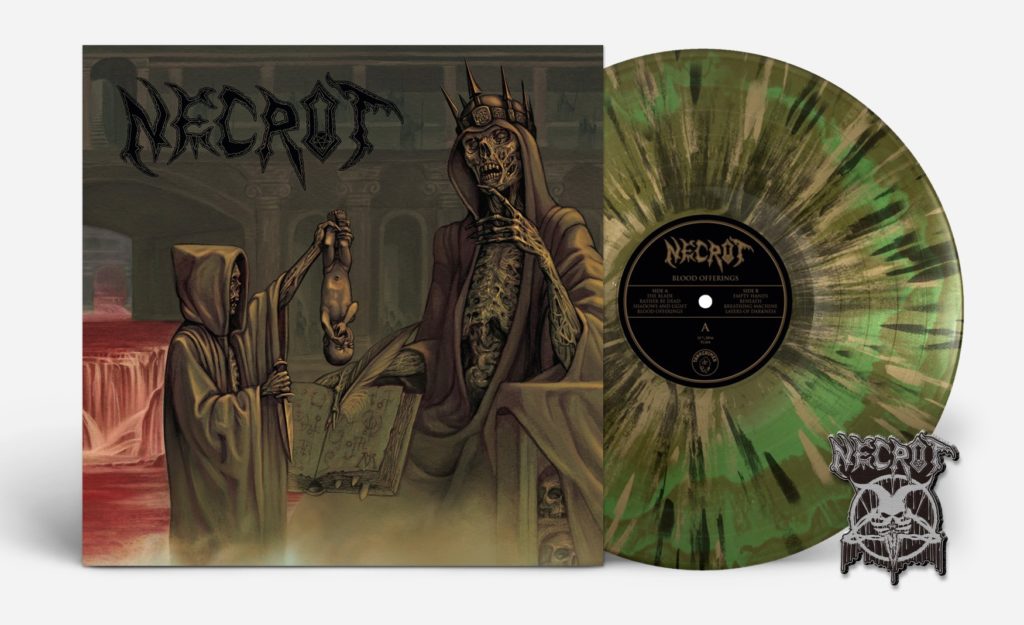 GIMME METAL Vinyl Club: November Selection – In case you missed it, the November GIMME METAL Vinyl Club selection has been announced! Grab the reissue of Blood Offerings, the debut full-length from death metal practitioners Necrot, along with a limited collectible Necrot enamel pin. Forged in 2011, Necrot shares current and former members of Acephalix, Vastum, Saviours, and Mortuous, and are among the most respected bands of the current Bay Area death metal scene. Following three demos and a demo compilation LP, The Labyrinth, Necrot unveiled their debut full-length, Blood Offerings, in 2017. The record, which earned the #29 spot on Billboard's Hard Rock Chart and #52 on Billboard's New Artist Chart upon its first week of release in addition to earning year-end praise from the likes of Decibel Magazine and Revolver, continues to reap the acclaim of fans and critics both Stateside and abroad. GIMME METAL's exclusive edition of Blood Offerings is pressed in swamp and olive green mash with gold and black splatter. Limited to 500 units, get on the list before they're gone. Visit https://found.ee/GimmeMetalVinylClub.
Upcoming Shows on GIMME METAL:
Hellripper Guest DJ Special – Hellripper is a one-man black/speed metal band from Scotland very much in the vein of old-school bands such as Venom, Kreator, Sodom, etc. With a steady stream of releases since forming in 2014, Hellripper's intentions are clear: Total fucking mayhem! Hails to the encore return of James McBain to rip it up on his second DJ special, celebrating the release of his new album, The Affair Of The Poisons, out October 9th on Peaceville Records.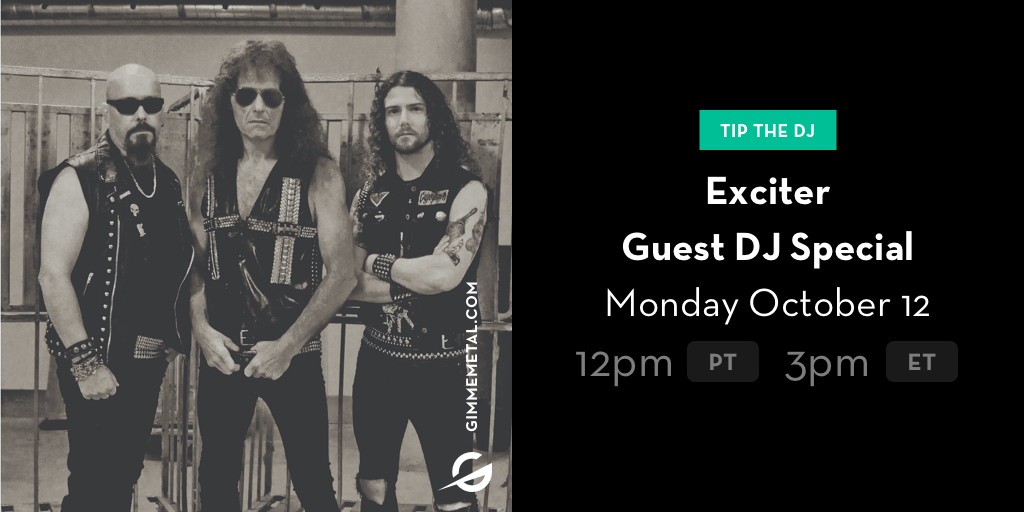 Exciter Guest DJ Special – Formed in Ottawa, Ontario, Canada in 1978, Exciter have staked their claim as true godfathers of speed and thrash metal. They've evolved through many phases over the years yet are still actively ruling with a dedicated foundation of fans. Founding bassist Allan Johnson and guitarist Daniel Dekay take over the GIMME DJ console with a killer selection of songs in tow.
Brian Posehn Grandpa's Metal Stash: Van Halen Special – Infamous actor/comedian Brian Posehn has a new spin on his reoccurring show on GIMME METAL. This week, Posehn celebrates the work of late guitar legend Eddie Van Halen. Brendon Small (Dethklok), Alex Skolnick (Testament), and Scott Ian (Anthrax) all check in to talk about their introductions to Van Halen's music, and pick an essential cut. Don't miss this very special show.
Plague Years Guest DJ Special – Mining the subterranean depths once unearthed on classic Sepultura albums like Beneath The Remains and Arise, with the vicious bite of Germanic slabs like In The Sign Of Evil by Sodom and the Hall of Fame '80s output of Slayer, the devilish and down-tuned death worship within Detroit-based crossover death thrashers Plague Years serves as a demonic calling card for the foursome; a brutal counterbalance to their otherwise like minded thrash revivalists. On Circle Of Darkness, the band's full-length debut out now on eOne, Plague Years reunites with engineer Arthur Rizk, whose work with Power Trip, Tomb Mold, Candy, and Cavalera Conspiracy has propelled him to the front of the horde amidst the resurgence of crossover thrash. Don't miss the band's guest DJ special on GIMME this Tuesday!
Geld Guest DJ Special – Melbourne's Geld are characterized by raging incendiary hardcore collisions with nightmarish bad trip wanderings in a swirling maelstrom of tightly marshalled chaos. Their latest offering Beyond The Floor (Iron Lung) is injected with a metallic/hardcore destructo bend of paranoia and psychological dissolution. Purportedly undertaken as something of an exorcism, the writing and recording of Beyond The Floor was characterized by "pills, meth, booze, weed, DMT, hate, betrayal, fear, love, depression, addiction, denial and broken bones."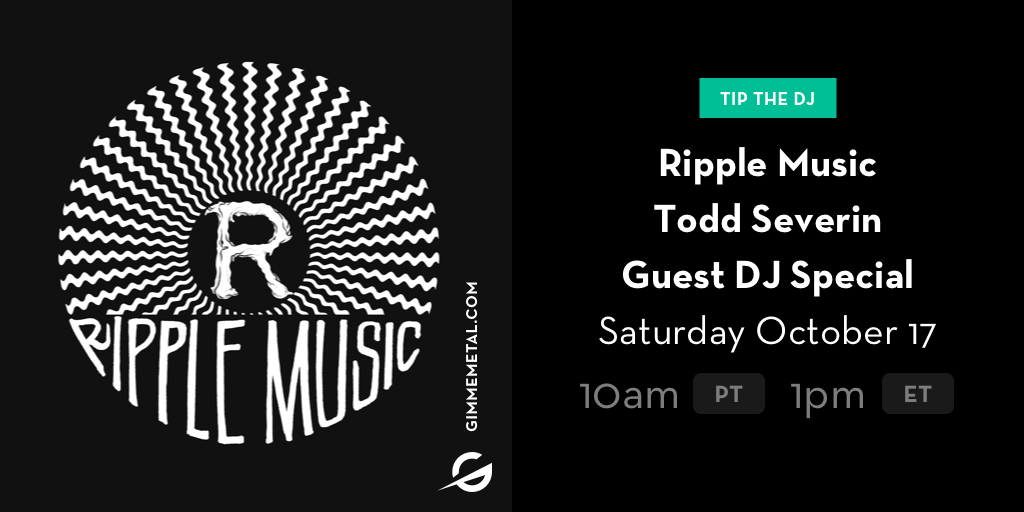 Ripple Music Label Guest DJ Special – After launching the great Ripple Effect blog and radio show in 2007, Ripple Music inevitably became a label and go-to destination for the rise of great proto-metal reissues from the likes of the JPT Scare Band and Poobah. Today, the California label thrives with a slew of heavy/stoner/doom releases in its stable, including Warcloud, Cortez, High Priestess, Stonebirds, Wino, and more. Label co-founder Todd Severin takes over for a special on GIMME to show off his wares and play some other faves of the genre.
Upcoming Guest Specials on GIMME METAL:
Enterprise Earth 10/19
DevilDriver 10/20
Heggvegr (new Johan and Maria Hegg episode) 10/20
Thou 10/21
Trivium 10/23
GIMME Global Metal Day on Metal 2 10/24
Rivers Of Nihil 10/26
No Clean Singing site 10/28
Armored Saint 10/29
Enslaved 10/30
Halloweens with Witch Taint + MT Casket 10/31
Sarcator 11/2
Spirit Adrift 11/02
Ghost Cult Magazine Special 11/5
Possessed 11/6
Sarcator 11/9
Fates Warning 11/13
Deluge 11/14
Megaton Sword 11/18
Skelethal 11/20
Agalloch 11/24
Raven 12/4
Don't miss it! Visit GIMME METAL: http://gimmemetal.com.
About GIMME METAL:
Founded by digital music veterans from Apple Music, Google Play, Beats Music, and Napster, parent company Gimme Radio builds highly engaged communities for the passionate fan on a genre-by-genre basis. The company launched its first community in June of 2017: the world's first 24/7 metal-focused service. Fans tune in to hear world class DJs playing metal they can't hear anywhere else – for free. The GIMME METAL app and streaming radio service allows the fans and the DJs/artists to communicate directly with one another in a live feed, in real-time, while they listen. Its roster of 70-plus DJs includes Dave Mustaine of Megadeth, Jessica Pimentel, star of Orange Is The New Black, Brian Posehn, and Randy Blythe of Lamb Of God among many others.
http://gimmemetal.com
http://www.facebook.com/gimmemetal
http://twitter.com/gimmeradio
http://www.instagram.com/gimmeradio