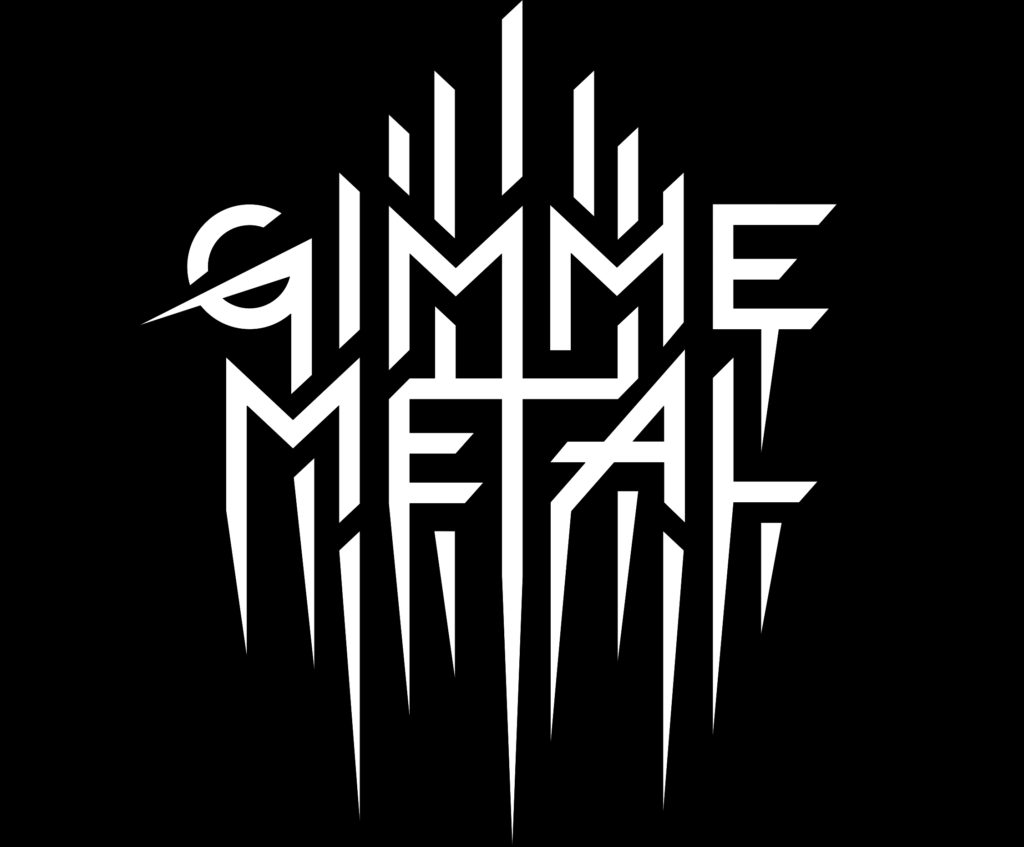 Each week, GIMME METAL publishes its radio chart listing the top 40 tracks played on the station. Already the best metal discovery service online, the GIMME METAL chart is a powerful tool for listeners, labels, and artists for staying up to date on the best new metal released by established greats and up-and-coming underdogs, all handpicked by GIMME's knowledgeable DJ roster and editorial team.
GIMME METAL Chart – October 18th, 2021:
Gaahls Wyrd – "The Humming Mountain"
Antichrist Siege Machine – "Victorious Legions Of Satan"
Order – "It Burns"
The Agonist – "Remnants In Time"
Sorcerer – "Only God Forgives"
Enslaved – "Caravans To The Outer Worlds"
Witchcryer – "Hellmouth"
Whitechapel – "A Bloodsoaked Symphony"
Exodus – "Clickbait"
Lvcifyre – "Black Beneath The Sun"
Underoath – "Hallelujah"
Lucifer – "Crucifix (I Burn For You)"
Creeping Death – "The Edge Of Existence"
Cradle Of Filth – "Necromantic Fantasies"
Goat Torment – "Forked Tongues"
Green Lung – "Upon The Altar"
Wormwood – "End Of Message"
Monolord – "I'll Be Damned"
Full Of Hell – "Eroding Shell"
Scarecrow – "Raise The Death's Head"
Click HERE for the full Top 40 List.
This week on GIMME METAL Radio:
Bastardur Guest DJ Special: The Icelandic crust punk project of Sólstafir singer/guitarist Aðalbjörn "Addi" Tryggvason and Birgir Jónsson has arrived at last. Tryggvason has always worn his vast musical influences on his sleeve. Be it an Entombed sticker emblazoned on his guitar, queueing up Ennio Morricone before a set, or paying homage to Lemmy Kilmister with his cowboy sensibilities, it's no secret that his love for music cannot be contained to any one genre. Now, Tryggvason is taking his adoration for crust punk to an exciting new level with Bastarður, which channels influences such as Napalm Death, Terrorizer, Motörhead, and Disfear. The band will be releasing its debut album, Satan's Loss Of Son, on October 29th and we're excited to be joined by Addi for a volcanic (!) guest DJ spot.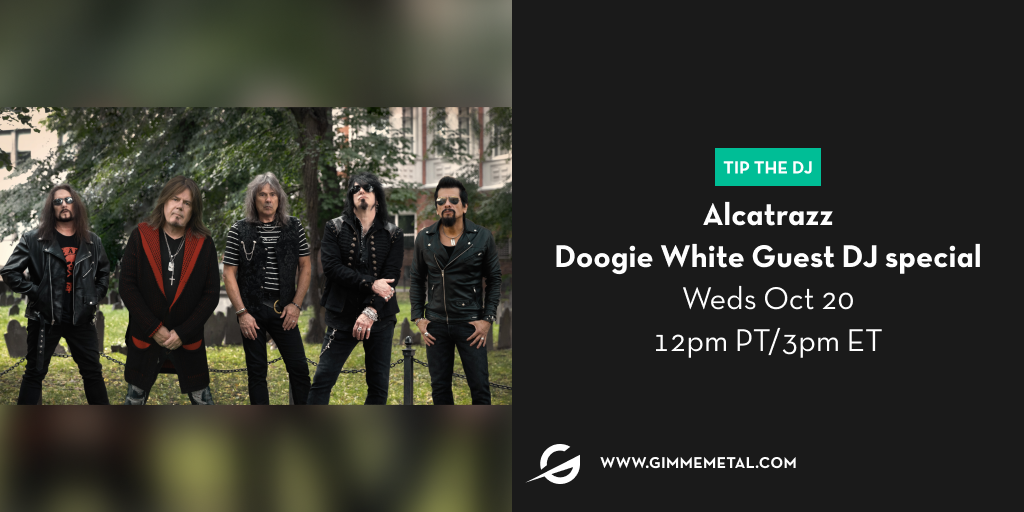 Alcatrazz Guest DJ Special: Formed in 1983, Alcatrazz became famous for its blend of melodic and progressive rock and for introducing guitar heroes Yngwie Malmsteen and Steve Vai. Emerging in 1983 with No Parole From Rock 'N' Roll, which featured the hit "Island In The Sun," the band continued building popularity in 1985 with their sophomore effort, Disturbing The Peace then one more studio LP, 1986's Dangerous Games, before ceasing operations the following year. The band regrouped and released highly acclaimed Born Innocent in 2020, their first studio album containing all-new material since 1986. Both vintage and timeless, their latest full-length, V, recently released via Silver Lining Music, treads the Alcatrazz textured-territories of old but with renewed vigor and verve. GIMME METAL welcomes vocalist Doogie White to the DJ console this Wednesday where he'll be spinning tunes and typing along in the live chat!
Robots Of The Ancient World Guest DJ Special: Formed in Portland in 2015, Robots Of The Ancient World made an immediate impact with a meteor shower of cosmic grooves and high-octane riffs in the galactic vortex where doom, psych, and stoner rock collide. Their Jack Endino-produced LP Mystic Goddess is out on Small Stone. Musically, the new album includes nods to stoner rock titans like the Stooges, Kyuss, and Boris but the band also wasn't afraid to borrow ideas from Guns 'N' Roses and Santana, while deep diving into their usual lyrical fetishes. "I'm intrigued by psychedelics, esotericism, and conspiracy theories. I love to go deep with secret societies, other dimensions, and all that jazz. So, when you hear the Carl Sagan intro to 'Cosmic Riders' or David Icke closing out 'Mystic Goddess,' it's a tribute," notes guitarist Justin Laubscher, "a nod to those dudes who are a creative inspiration for my song writing." Gimme Metal is excited to have the band dig in deep with a guest DJ special!
Enslaved Marathon On GIMME METAL 2: Through the years GIMME has been gifted with four Enslaved guest DJ takeovers, the latest being earlier this month with Ivar Bjørnson! Enslaved are titans of Norwegian progressive black/Viking metal, celebrating the recent release of their new EP Caravans To The Outer Worlds on Nuclear Blast. Their past two LPs were critically adored with E even earning them a Grammy equivalent Spellemann Award in Norway and high praise globally. Check out GIMME METAL 2 this Sunday for eight solid hours of Enslaved DJ specials, three with Bjørnson and one with Grutle Kjellson!
The Agonist Guest DJ Special: Canadian extreme melodic death metal juggernaut The Agonist took the world by storm with the release of their bludgeoning 2019 full-length, Orphans – garnering fantastic critical acclaim and even a revered Juno nomination. With that undeniable skill in tow, The Agonist takes another bold step in their musical and lyrical progression with Days Before The World Wept, a brand new EP out now on Napalm Records! Welcome the band for their first ever DJ takeover on GIMME METAL next Monday!
Upcoming on GIMME METAL Radio:
10/26 Twelve Foot Ninja
10/27 Archspire
10/29 Armored Saint
10/30-31 Halloween DJ specials!
11/02 Musk Ox
11/03 Lucifer
11/05 Khemmis
11/08 Hate
11/09 Ghost Cult
11/10 Necrofier
11/15 Michael Alago
11/16 Rockhammer Radio special
11/17 Monolord
11/19 Ghoul
11/24 The Troops Of Doom
12/01 Genocide Pact
12/03 Imperial Triumphant
12/08 Wharflurch
Don't miss it! Visit GIMME METAL: http://gimmemetal.com.
About GIMME METAL:
Founded by digital music veterans from Apple Music, Google Play, Beats Music, and Napster, parent company GIMME Radio builds highly engaged communities for the passionate fan on a genre-by-genre basis. The company launched its first community in June of 2017: the world's first 24/7 metal-focused service. Fans tune in to hear world class DJs playing metal they can't hear anywhere else – for free. The GIMME METAL app and streaming radio service allows the fans and the DJs/artists to communicate directly with one another in a live feed, in real-time, while they listen. Its roster of 70-plus DJs includes Dave Mustaine of Megadeth, Jessica Pimentel, star of Orange Is The New Black, Brian Posehn, and Randy Blythe of Lamb Of God, among many others.
http://gimmemetal.com
http://www.facebook.com/gimmemetal
http://twitter.com/gimmeradio
http://www.instagram.com/gimmeradio