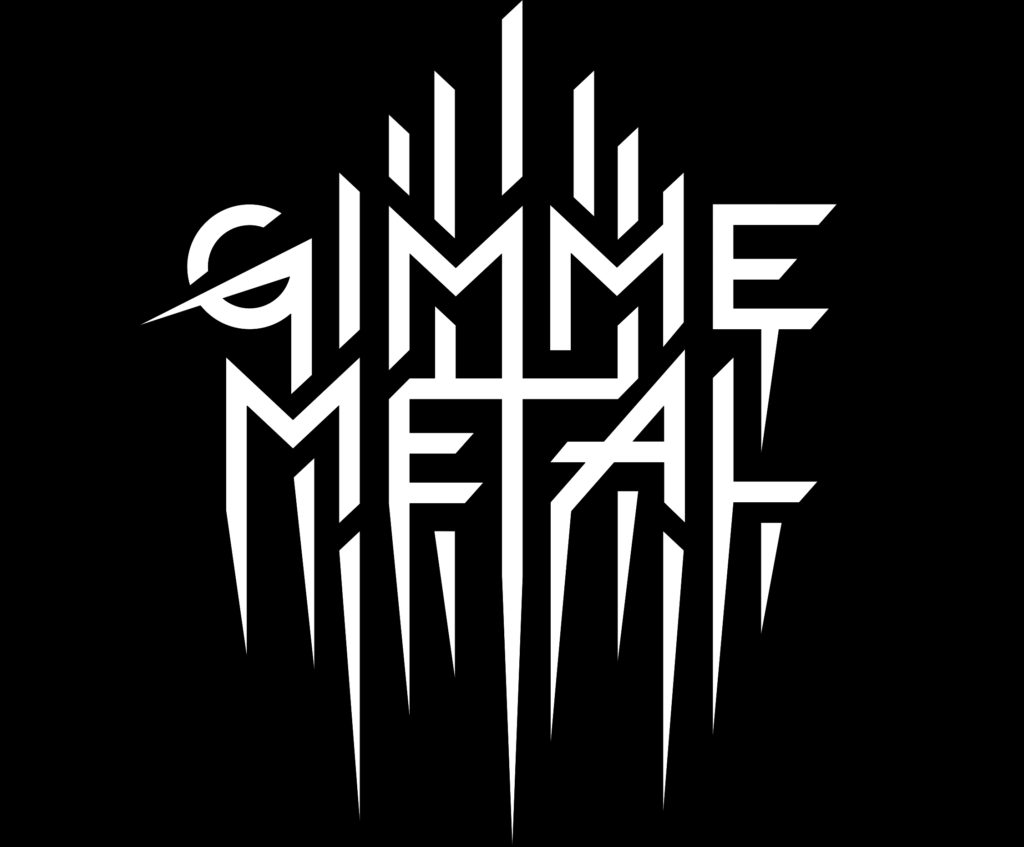 Each week, GIMME METAL publishes its radio chart listing the top 40 tracks played on the station. Already the best metal discovery service online, the GIMME METAL chart is a powerful tool for listeners, labels, and artists for staying up to date on the best new metal released by established greats and up-and-coming underdogs, all handpicked by GIMME's knowledgeable DJ roster and editorial team.
GIMME METAL Chart – March 15th, 2021:
1. The Crown – "We Drift On"
2. Gojira – "Born For One Thing"
3. Genghis Tron – "Ritual Circle"
4. Wode – "Fire In The Hills"
5. Fuath – "Into The Forest Of Shadows"
6. Eyehategod – "Circle Of Nerves"
7. Intonate – "Yearn"
8. Baest – "Necro Sapiens"
9. Conan – "Hawk As Weapon (Live At Freak Valley)"
10. Enforced – "Hemorrhage"
Click HERE for the full Top 40 List.
This week on GIMME METAL: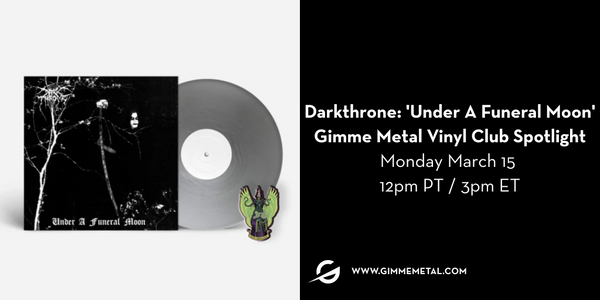 Darkthrone Vinyl Club Spotlight – It's with great pleasure that GIMME METAL's Vinyl Club presents a new edition of Darkthrone's Under A Funeral Moon! To celebrate, Grave Convulsions host Anthony Bartkewicz brings two hours of grim, lo-fi madness looking at the album and some prime / off-the-road Darkthrone cuts, curated by both himself and Andee Connors from Battleflutes and Sideways Skulls! So, in other words, the best Darkthrone special ever! Join the live chat for this vinyl club spotlight to talk all things Darkthrone, black metal, and more!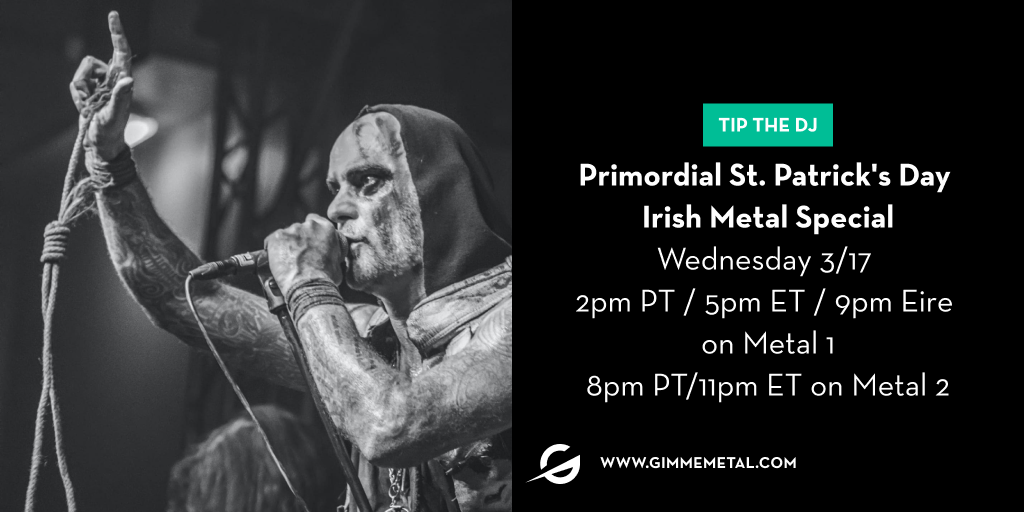 Primordial St. Patrick's Day All-Irish Metal Special – Formed in 1987, Ireland's Primordial hit the metal world with their blasted concoction of black metal, doom, and Celtic roots music, well on display over their sprawling eight LP discography — their latest being 2018's Exile Among The Ruins on Metal Blade Records. Vocalist A.A. Nemtheanga has fronted the group since 1993 and returns for an all-Irish metal special for St. Patrick's Day! Don't miss it.
Eyehategod Guest DJ Special – Last week, New Orleans sludge institution Eyehategod released their first album in seven years with A History Of Nomadic Behavior. Singer Mike IX Williams said of the songs on the album, "We're not a political band, but it was hard not to be affected by the news from the past year. During this recording, I thought a lot about how stupid humanity has become and how America is now completely divided with these people who don't believe in science and blindly follow liars and nonsensical ideologies. Some of those feelings may have found their way into these songs, but it is mostly subliminal." A History Of Nomadic Behavior follows a period that saw the band on the road for three years, preceded by Williams suffering liver failure and a transplant. Welcom eMike IX Williams' first GIMME METAL guest DJ Special to celebrate the release.
Coming soon to GIMME METAL TV:
Blood Incantation Live At Saint Vitus Bar – Shot by Frank Huang (Max Volume Silence), don't miss this phenomenal live performance from cosmic death metal legion Blood Incantation. Yes, they're the ones with the cool alien album art (Hidden History Of The Human Race) that folks couldn't get enough of upon the record's release. With cryptic, ethereal lyrics, and classic 1970s artwork by sci-fi god Bruce Pennington, Hidden History Of The Human Race is both a meditative inquiry on the mystery and nature of human consciousness, and a dynamic foray into the realms of progressive, brutal, and atmospheric death metal. This live set shot at the renowned Saint Vitus Bar in Brooklyn, New York mixes atmosphere with brutal, driving, raw riffs. Join the live chat and hang out to watch one of the finest acts out there.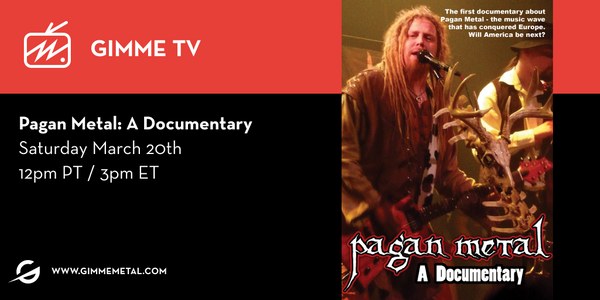 Pagan Metal: A Documentary – Pagan Metal: A Documentary (2010) peers into the history of pagan metal with in-depth examinations of some of the genre's most coveted bands including Korpiklaani, Primordial, Finntroll, Ensiferum, Leaves' Eyes, Turisas, and Týr. Enjoy live performances, learn about the subculture, and gain insight into the music. *Note: Opening previews preceding this film contain adult imagery. Viewer discretion is advised.*
Saturday Horror Feature: Acid Bath Reairing with Kelsey Chapstick – Back by popular demand, GIMME METAL TV welcomes the return of 2006's b-rated horror flick, Acid Bath. Directed by Lou Garcia and Annette Martinez, in Acid Bath, "A crazed murderer is on the loose and he's got the local nightlife on the run. The hooker network has organized a game plan to save themselves from their unknown killer. In a conflict between the crime syndicate and a reckless bounty hunter, their fates will all be decided in a flash." – IMDB. Once again hosted by the lovely queen of darkness, Kelsey Chapstick, join the live chat, grab your popcorn, and watch gore and hilarity unfold! *Note: Contains adult imagery. Viewer discretion is advised.*
Alex's VJ Show #2 – Since the first one went well and has been reairing sporadically on GIMME METAL TV, buckle in as Hrom guitarist and GIMME's own loveable goofball Alex Langill (pronounced Lan-jol) hosts another barrage of killer music videos from our label partners Napalm Records, Relapse Records, Ripple Music, and more! He'll be providing some fun hang outs in the live chat and setting you up for blocks of videos (in some instances) in ways you may have never imagined. Catch this premiere Sunday! *Note: Certain music videos contain adult imagery. Viewer discretion is advised*
GIMME METAL TV runs 24/7 giving you unlimited music videos, interviews, live performances, and other amazing clips and shows from Metal Injection as well as your favorite metal bands and artists! With Apple Airplay and Google Chromecast features, you can cast it to your TV or laptop! Tune into GIMME METAL TV HERE!
Upcoming on GIMME METAL:
3/23 Fuath
3/24 Amon Acid
3/26 Autopsy
3/27 GIMME METAL Global Metal Day #2 All Day on Metal 2 (International Specials)
3/29 Michael Alago
3/29 No Clean Singing Site Special
3/30 GIMME 5 with Empyrium, The Crown, Cannibal Corpse, Memoriam, Enforcer
3/30 My Dying Bride
3/31 Decibel Finnish Death Special
3/31 Genghis Tron
4/01 Wode
4/02 eOne Heavy Label Special
4/06 Memoriam
4/07 Horndal
4/09 The Lion's Daughter
4/13 Akiavel
4/14 Small Stone Label Special
4/14 Metal Sydney
4/16 Exciter
4/20 Bongzilla 420 Special
4/23 Tank Crimes Label Special
4/26 Celestial Sanctuary special
4/27 Vreid
4/28 Carbonized Label Special
4/30 Unique Leader Label Special
4/30 King Fowley
5/01 Capra
5/05 Evile
5/07 Molten
5/24 Possessed
5/28 Autumn For Crippled Children
Don't miss it! Visit GIMME METAL: http://gimmemetal.com.
About GIMME METAL:
Founded by digital music veterans from Apple Music, Google Play, Beats Music, and Napster, parent company GIMME Radio builds highly engaged communities for the passionate fan on a genre-by-genre basis. The company launched its first community in June of 2017: the world's first 24/7 metal-focused service. Fans tune in to hear world class DJs playing metal they can't hear anywhere else – for free. The GIMME METAL app and streaming radio service allows the fans and the DJs/artists to communicate directly with one another in a live feed, in real-time, while they listen. Its roster of 70-plus DJs includes Dave Mustaine of Megadeth, Jessica Pimentel, star of Orange Is The New Black, Brian Posehn, and Randy Blythe of Lamb Of God, among many others.
http://gimmemetal.com
http://www.facebook.com/gimmemetal
http://twitter.com/gimmeradio