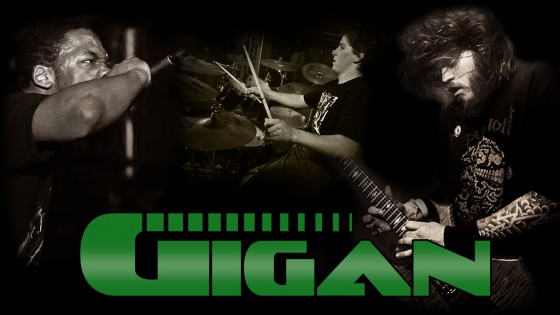 Extreme tech metal mind-mashers GIGAN today unleash another new track from their long anticipated new full-length, Multi-Dimensional Fractal Sorcery And Super-Science. Titled "Mother of Toads," the twisted tune of torment comes by way of Invisible Oranges.
Describes guitarist Eric Hersemann, "'Mother of Toads" is the fourth song on Multi-Dimensional Fractal Sorcery And Super-Science and it is directly inspired by the short story of the same name written by Clark Ashton Smith. Essentially the story and lyrics speak of an old crone hidden away in the dark recesses of a marsh, a witch motivated by a sinister hunger for seduction and evil. The music itself reflects the chaos of her world and her crawling minions, as well as the giddy confusion experienced by those caught within her spell… a combination of terror, revulsion and unearthly beauty."
Adds Invisible Oranges, "Adds Invisible Oranges of the track, "The assault is so bracing that you could miss the surprisingly pretty restrained passage that lies at the track's heart. GIGAN's willingness to do stuff like this – to exercise occasional restraint amidst all the clanging – makes them a thrilling listen…"
Melt your face off, courtesy of Invisible Oranges, at THIS LOCATION.
Multi-Dimensional Fractal Sorcery And Super-Science is a polychromatic sonic excursion through lands unknown – one that is musically complex, meticulously concise, and conceptually intriguing. Multi-Dimensional Fractal Sorcery And Super-Science was recorded with renowned sound-weaver Sanford Parker (Minsk, Buried At Sea, Yakuza) at Earth Analog Studios in Chicago and is set to drop this Fall via Willowtip Records.
In related intelligence, team GIGAN will embark upon the Ritualistic Projection Tour 2013 headlining trek next month. Set for takeoff on October 18 in Appleton, Wisconsin, the short but threatening journey will flatten seven cities and include an in-store matinee performance at Reckless Records in Chicago with additional shows to be announced in the coming weeks.
GIGAN Ritualistic Projection Tour 2013:
10/18/2013 The Maritime – Appleton, WI
10/19/2013 Reckless Records (In-Store Matinee) – Chicago, IL
10/19/2013 Frank's Power Plant – Milwaukee, WI
10/20/2013 The Cobra Lounge – Chicago, IL
10/23/2013 St, Vitus – Brooklyn, NY
10/24/2013 Roggie's – Boston, MA
10/25/2013 The Boneyard – Atlantic City, NJ
10/26/2013 Trickshots – Albany, NY
The brainchild of left-handed lead guitarist and founding member Eric Hersemann, GIGAN has been challenging the mortal laws of extreme music and creativity since early 2006. Forged around the simple notion that the imagination should be art's only limit, GIGAN's style of creative delivery has simultaneously invoked reactions of amazement, disbelief, shock, awe and ultimately, respect.
Multi-Dimensional Fractal Sorcery And Super Science will be released in North America via Willowtip Records October 15, 2013. For preorders point your browser HERE.
http://www.facebook.com/Giganmusic
http://www.willowtip.com
http://www.facebook.com/willowtip
http://www.twitter.com/willowtip
http://willowtip.bandcamp.com