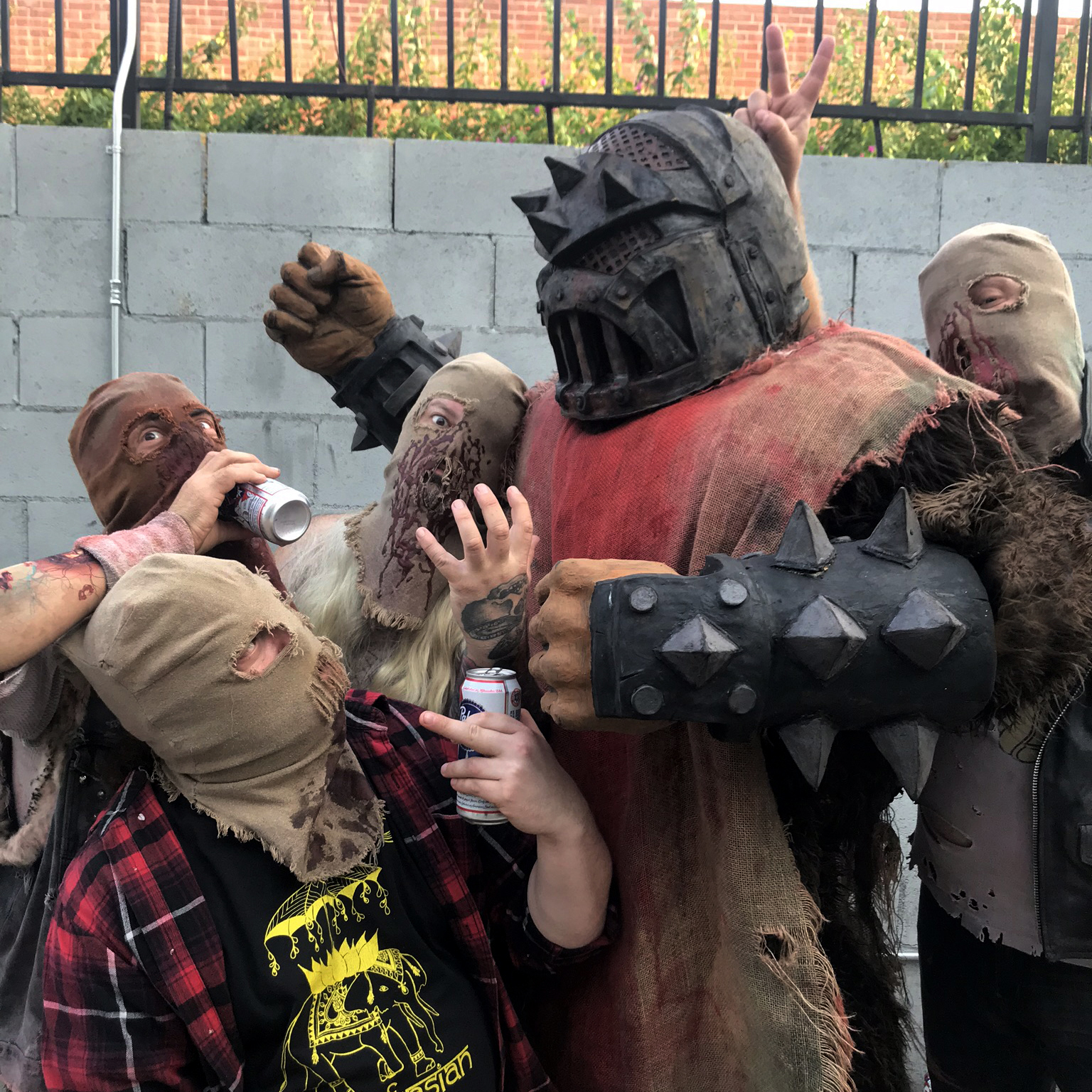 The hooded hooligans in GHOUL will rise from the wretched depths of Creepsylvania to offer up their long-awaited Live In The Flesh opus October 22nd via Tankcrimes!
Captured live at the Oakland Metro Operahouse in 2018, Live In The Flesh spews forth eighteen of GHOUL's most delightfully granulated odes including "Off With Their Heads," "As Your Casket Closes," "Wall Of Death," and the title track from their chart topping Dungeon Bastards full-length.
Offers GHOUL's Digestor of the delectable collection, ""At long last, the live GHOUL experience you've all been waiting for is being released by the mighty Tankcrimes Records. This thing has more hooks than a place with lots of hooks. I dunno. A fishing boat? A hook factory? It's got thrills, chills, a hacking cough, and a 104-degree fever. The good news for you is, by the time it drops on October 22nd it likely won't be infectious anymore."
In advance of the record's release, today team GHOUL unveils a white-hot video for "Word Is Law" at THIS LOCATION.
GHOUL's Live In The Flesh will be released on CD, digitally, and on limited 2xLP in four color variants: 250 x die hard splatter (splatter vinyl + signed and splattered set list), 350 x half highlighter, 400 x blue, and 1000 x highlighter yellow (retail variant – in stores only). Find CD preorders (just $6.66) HERE, LP preorders HERE, and digital preorders HERE.
Additionally, from September 14th through September 21st, all GHOUL CDs will be $6.66! Who says GHOUL doesn't love bargains?! Don't miss out. Go to THIS LOCATION for all your GHOULish CD needs.
Live In The Flesh Track Listing:
Intro
Ghoulunatics
Ghetto Blasters
Bringer Of War
Dungeon Bastards
Metallicus Ex Mortis
Off With Their Heads
Shred The Dead
Splatterthrash
Rot Gut
Spill Your Guts
Word Is Law
Wall Of Death
As Your Casket Closes
Death In The Swamp
Abominox
Gutbucket Blues
But wait! There's MORE! The masked mutants will defile stages later this Fall beginning with The Splatterthrash Bash in November in San Francisco and The Decibel Metal And Beer Festival in December in Los Angeles with additional live spectacles to be announced in the coming weeks.
GHOUL:
11/26/2021 The Splatterthrash Bash @ Great American Music Hall – San Francisco, CA w/ Deathgrave, Captured! By Robots, Mutilated Tongue [tickets]
12/11/2021 The Decibel Metal And Beer Fest @ The Belasco – Los Angeles, CA w Cave In, Dead Guy, Hate Eternal, more [tickets]
"For those who lived through Nancy and Ronald, S.O.D., and D.R.I., GHOUL's sound is like finding a shoebox of discontinued candy, all of it fresh to eat…" – Decibel
http://www.creepsylvania.com
http://www.facebook.com/GhoulunaticsAsylum
http://www.twitter.com/GhoulOfficial
http://www.instagram.com/ghoulofficial/
http://www.twitch.tv/therealdigestor
http://www.twitch.tv/dissectorghoul
http://www.youtube.com/creepsylvanian
http://www.tankcrimes.com
http://www.facebook.com/tankcrimes
http://twitter.com/tankcrimes
http://www.instagram.com/tankcrimes