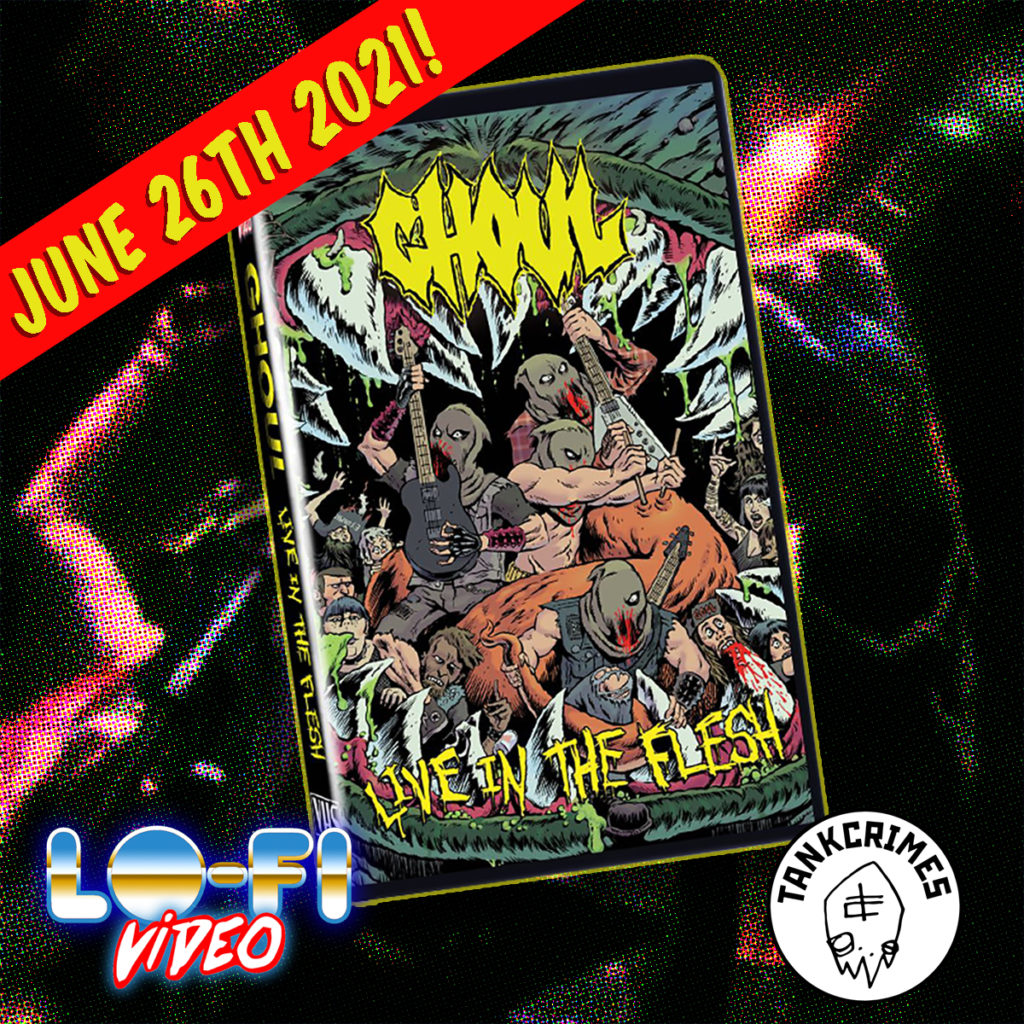 The masked mutants of Creepsylvania, GHOUL, are back to terrorize you in your living with a special livestream this Saturday, June 26th!
Tune in at 10:00pm ET / 7:00pm PT on Twitch (twitch.tv/therealdigestor) and YouTube (youtube.com/creepsylvanian) for Live In The Flesh! Join the members of GHOUL and Tankcrimes Records label fiend Scotty Karate as they exchange bon mots and (virtual) bodily fluids with YOU in the most socially distant possible venue! And are you ready for more good news? Are you sitting down?! The wonderful people at Lo-Fi Video are releasing a limited run of Live In The Flesh on VHS, and it goes on sale during the livestream! With a colored cassette packaged in a clamshell case and a scratch 'n' sniff GHOUL sticker included wuth every order, this sweet baby ticks all the nostalgia boxes that your worm-eaten hypothalamus demands!
Comments GHOUL's Digestor, "Once in a while, a concert video comes along. GHOUL's Live In The Flesh is such a concert video. If you want pathos, if you want passion, if you want prop-based heavy metal delivered with questionable technical skill, then this is the livestream for you. We look forward to melting what's left of the brains of our loyal fans on June 26th and beyond."
Get your Live In The Flesh VHS while supplies last, Saturday at THIS LOCATION.
http://www.creepsylvania.com
http://www.facebook.com/GhoulunaticsAsylum
http://www.twitter.com/GhoulOfficial
http://www.instagram.com/ghoulofficial/
http://www.twitch.tv/therealdigestor
http://www.twitch.tv/dissectorghoul
http://www.youtube.com/creepsylvanian
http://www.tankcrimes.com
http://www.facebook.com/tankcrimes
http://twitter.com/tankcrimes
http://www.instagram.com/tankcrimes