The hooded hooligans of Creepsylvania, GHOUL, are bursting blood vessels to finally announce the second installment of the Weapons Of Most Destruction Tour! Set to launch this April, team GHOUL will lay waste to seven unsuspecting metropolises throughout the West Coast alongside their hardcore thrash mutant accomplices, Iron Reagan, and experimental punk/hardcore rippers, Occultist. Following their pillage, the band will spread their ghoulish delectables all over Oakland headlining the first night of this year's edition of Brainsqueeze Fest, which features more than a dozen iconic ear-bleeders including Municipal Waste, Final Conflict, Negative Approach, Fucked Up and Cannabis Corpse. For more info, point your browser HERE.
Proclaims GHOUL from their underground headquarters, "Loyal numbskulls, the Weapons Of Mosh Destruction Tour is rearing its ugly head again, and GHOUL is looking forward to burning your towns, raping your pets, and drinking your beer as we unmercifully bombard the West Coast of your United States on our way to the Tankcrimes Brainsqueeze in Oakland, California. In the unlikely event that you are lucky enough to survive the blitzkrieg assault of Iron Reagan and Occultist, you will be decapitated and disemboweled by GHOUL's razor sharp riffs, and after that, our razor sharp razors. All survivors will be brought back to the catacombs in cages, where GHOUL will keep you alive on a cocktail of morphine and energy drinks while we carve away chunks of your flesh to devour while you watch in horror… I may have said too much. Come to the show! Nothing bad will happen to you!"
GHOUL on the Weapons Of Mosh Destruction Tour II
w/ Iron Reagan, Occultist:
4/09/2014 Club Red – Tempe, AZ
4/10/2014 Soda Bar – San Diego, CA
4/11/2014 Constellation Room – Santa Ana, CA
4/12/2014 Rock City – Camarillo CA
4/13/2014 The Roxy – Los Angeles, CA
4/14/2014 Midtown Barfly – Sacramento, CA
4/15/2014 Branx – Portland, OR
4/18/2014 Tankcrimes Brainsqueeze Fest – Oakland, CA * [info]
*no Occultist
GHOUL will be touring in support of themselves as well as their forthcoming Hang Ten EP. The limited edition six-song (mostly) instrumental 10″ features guest vocals from Tony Foresta (Municipal Waste, Iron Reagan) as Henchman #1 and the inimitable R.A. MacLean (ex-Deadbolt) as Kreeg, alongside Digestor, Cremator, Fermentor, Dissector and The Moron Cavern-Shackled Choir. Recorded by Salvador Raya at Earhammer Studios in Oakland (birthing home of Splatterhash, Splatterthrash and Transmission Zero), mastered by Dan Randall at Mammoth Sound Mastering with cover art by Sean Aaberg of Pork Magazine, Hang Ten picks up right where Transmission Zero left off, relaying the tale of a Creepsylvania in tatters, and the terrible power struggle that ensues between two vicious motorcycle gangs. Hang Ten will be released on April 19, 2014 via Tankcrimes Records.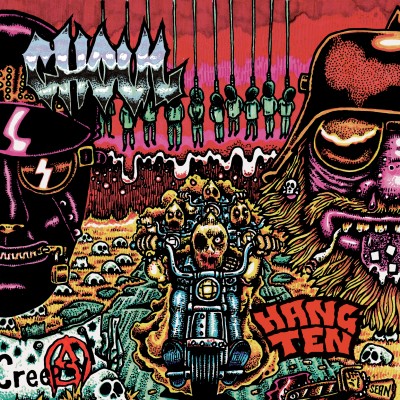 https://www.facebook.com/GhoulunaticsAsylum
http://www.creepsylvania.com
http://www.tankcrimes.com
https://www.facebook.com/tankcrimes