Atmospheric black metallers GHOST BATH today confirm their North American Spring headlining tour. Set to commence on April 14th and run through April 26th, support will be provided by Astronoid. The band's latest trek follows their tour with Amigo The Devil, currently underway.
GHOST BATH will be touring in support of their impending new full-length, Starmourner, set for release on April 21st via Nuclear Blast Entertainment. "This will be our first tour in support of Starmourner," comments vocalist/ mastermind Nameless. "We are all excited to play new material and will have the new record available as well as all new merch. We played with Astronoid last year and know that this package is something special. Hope to see you all there."
Since their inception, GHOST BATH has played atmospheric black metal focused on depression, tragedy, purgatory, and earthly wonders. Starmourner takes these concepts to a higher level. It explores joy (instead of sorrow), paradise (instead of purgatory), and the cosmos (instead of earth). Most importantly however, it explores ecstasy — instead of tragedy — as its basic human emotion. With over seventy-two minutes of heavy, melodic, and dramatic black metal, it is GHOST BATH's most ambitious undertaking yet.
Sample recently unveiled first single, "Thrones," at THIS LOCATION.
Starmourner was recorded, mixed, mastered and produced by Josh Schroeder (Battlecross, Still Remains) and features cover artwork Luciana Nedelea (Enbilulugugal, Foehammer). Fans can preorder the album on CD, vinyl, and more HERE. Desirers of the digitals can visit iTunes HERE, Amazon HERE, or GooglePlay HERE for preorders and receive a download of "Thrones" instantly.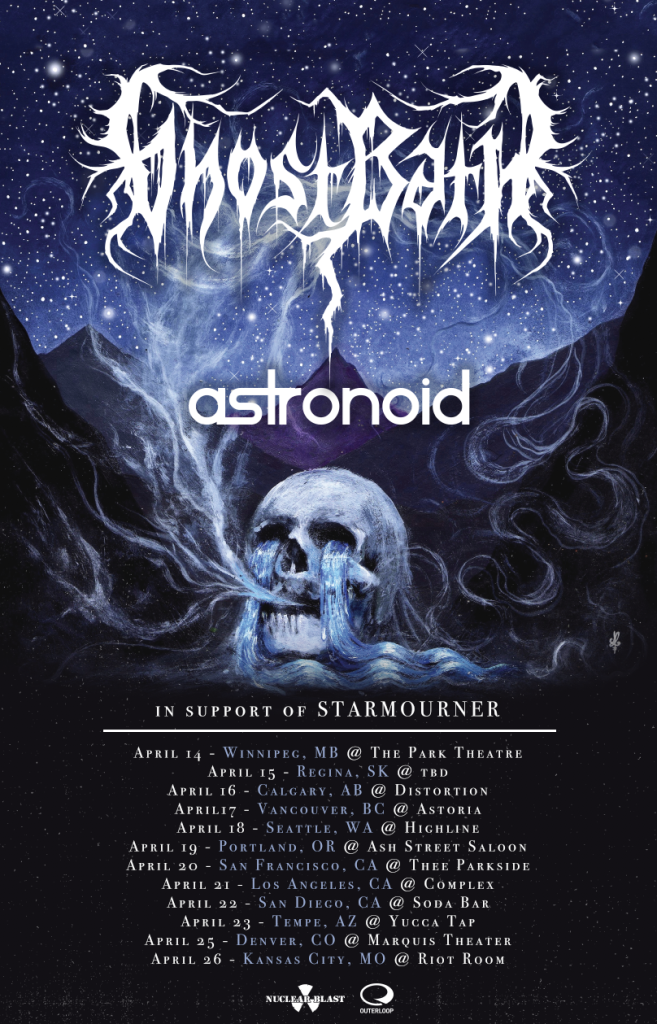 GHOST BATH w/ Amigo The Devil:
3/01/2017 High Noon Saloon – Madison, WI
3/03/2017 Now That's Class – Cleveland, OH
3/04/2017 Metro – Baltimore, MD
3/05/2017 Revolution – Amityville, NY
3/07/2017 The Met – Providence, RI
3/08/2017 Zaphod Beeblebrox – Ottawa, ON
3/09/2017 Flour City Station – Rochester, NY
3/10/2017 House Cafe – Dekalb, IL
3/11/2017 Amsterdam – St. Paul, MN
End Tour
w/ Astronoid:
4/14/2017 The Park Theatre – Winnipeg, MB
4/15/2017 TBA – Regina, SK
4/16/2017 Distortion – Calgary, AB
4/17/2017 Astoria – Vancouver, BC
4/18/2017 Highline – Seattle, WA
4/19/2017 Ash Street Saloon – Portland, OR
4/20/2017 Thee Parkside – San Francisco, CA
4/21/2017 Complex – Los Angeles, CA
4/22/2017 Soda Bar – San Diego, CA
4/23/2017 Yucca Tap Room – Tempe, AZ
4/25/2017 Marquis – Theater Denver, CO
4/26/2017 Riot Room – Kansas City, MO
GHOST BATH refers to the act of committing suicide by submerging in a body of water. GHOST BATH writes and creates under the assumption that music is an extension of one's own soul. They journey through the sorrow and sadness that all lives experience, but leave a glimmer of hope. They portray both deep anguish and angelic soundscapes that are sure to leave an impression on the listener. The band started in October of 2013 with the release of their self-titled EP on Solitude Productions. This was followed by their debut album titled, Funeral, which was released on Pest Productions in June of 2014. The band's sophomore album, Moonlover, was released in April of 2015 through Northern Silence Productions. A reissue was released by Nuclear Blast Entertainment in June of 2016.
http://www.facebook.com/blackghostbath
http://www.allinmerch.com/category/GB.html
http://www.twitter.com/ghostbath
http://www.instagram.com/ghostbathofficial
http://www.nuclearblast.com
http://www.facebook.com/nuclearblastusa