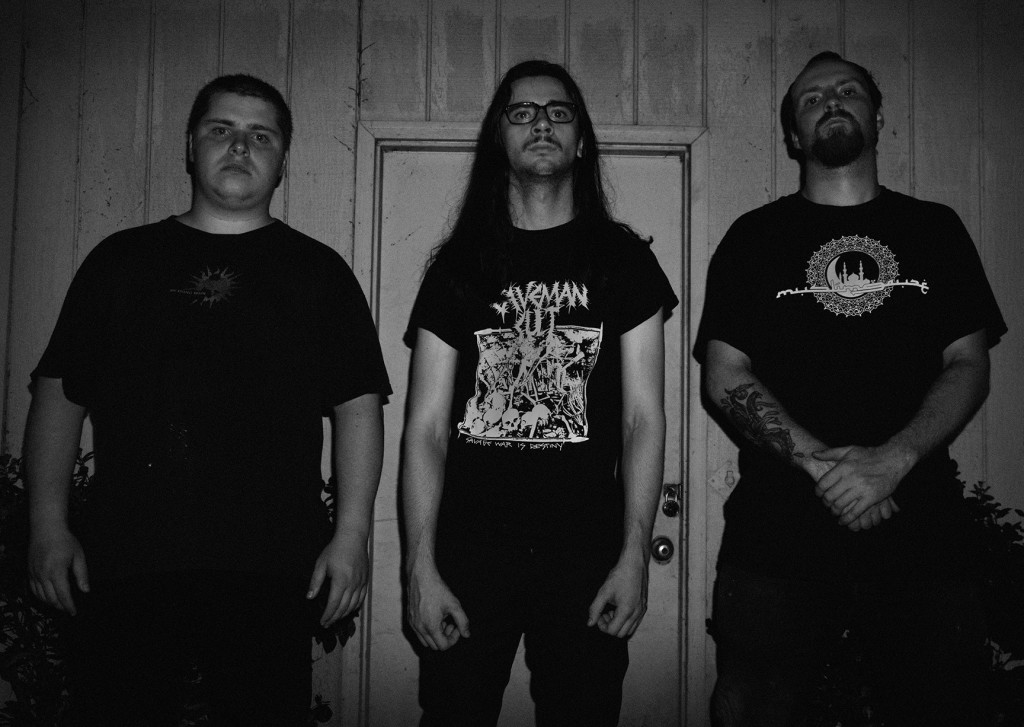 Revolver Magazine is now streaming "Structural Dissolution" by Washington, DC-based GENOCIDE PACT, and the band's impending Relapse Records debut, Order Of Torment. The track strikes as the album closes in on its release on February 2nd.
Offers Revolver with the new track, "It's been five years since GENOCIDE PACT first clambered forth from the swamp known as Washington, D.C., subjecting audiences in our nation's capital – and in time, everywhere else – to some of the most gnarled death metal in recent memory… Judging from what we've heard of their upcoming sophomore album Order Of Torment, namely its crushing first single, 'Conquered and Disposed,' GENOCIDE PACT's ascendancy is all but certain in 2018."
Hear GENOCIDE PACT's "Structural Dissolution" now at THIS LOCATION.
Also stream the LP's opening track "Conquered And Disposed" HERE.
Recorded by Kevin Bernsten at Developing Nations in Baltimore (Full Of Hell, Code Orange, Magrudergrind), and featuring cover art from the legendary Joe Petagno (Motörhead, Pink Floyd, Autopsy, Marduk), GENOCIDE PACT's Order Of Torment features eight tracks of pulverizing, relentless death metal that pays homage to the greats while pushing the genre to chaotic new realms of possibility. With a thick, titanic crunch that focuses on crushing groove as much as skull-splitting intensity, GENOCIDE PACT is the death metal band to watch in 2018.
GENOCIDE PACT's Order Of Torment will see release February 2nd, 2018 on CD, LP, and digital formats via Relapse Records. Physical packages and digital order are available via Relapse.com HERE and all digital retail outlets HERE.
GENOCIDE PACT is booking shows for the year, leading with two gigs in early February with Mammoth Grinder, in Washington on February 2nd and Richmond February 3rd. Stand by for additional tour dates to be announced.
GENOCIDE PACT Live:
2/02/2018 Rock And Roll Hotel – Washington, DC w/ Mammoth Grinder [info]
2/03/2018 Strange Matter – Richmond, VA w/ Mammoth Grinder, Occvlta, Organ Donor [info]
Hailing from the chaotic realm that is our nation's capital, GENOCIDE PACT has been making pulverizing, relentless death metal since their inception in 2013. No Clean Singing praised the band as "titanically heavy," and Cvlt Nation issued, "suffocating in the highest, complementary form of the word, GENOCIDE PACT crafts death metal that hearkens to the greats while pushing forward to something even greater." After touring on a much buzzed about demo and 7″ single, the band recorded their debut LP Forged Through Domination for A389 Recordings in 2015. The band has since toured North America extensively as well as select dates with Nails, Toxic Holocaust, Gatecreeper, Darkest Hour, Iron Reagan, Power Trip, and Torche, in addition to an appearance at the renowned Maryland Deathfest.
https://genocidepact.bandcamp.com
https://www.facebook.com/genocidepact
https://twitter.com/genocidepact
https://instagram.com/genocidepactdc
http://www.relapse.com
http://www.relapserecords.bandcamp.com
http://www.facebook.com/RelapseRecords
http://www.twitter.com/RelapseRecords