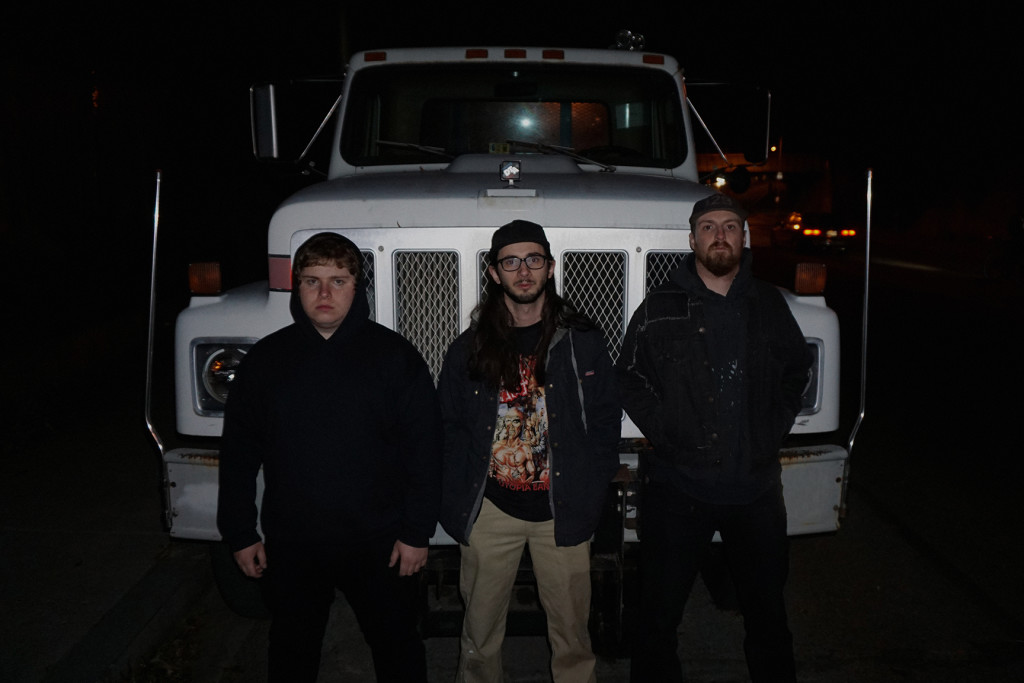 [photo by Nick Popovici]
Washington, DC-based death metal act GENOCIDE PACT shares their new "Blood Rejection" music video in conjunction with the kickoff of the Relapse Contamination Tour 2018 today!
Watch the video, featuring live footage filmed and directed by Frank Huang (Maximum Volume Silence) at Saint Vitus Bar in Brooklyn, at THIS LOCATION.
GENOCIDE PACT joins labemates Dying Fetus, Incantation, and Gatecreeper for the Relapse Contamination Tour. The trek begins tonight in Flint, Michigan and runs through three-dozen cities before wrapping up in London, Ontario on October 29th. Tickets and VIP packages are available HERE.
GENOCIDE PACT's recently released album Order Of Torment is out now on CD, LP, and digital platforms via Relapse Records. Physical packages and digital orders are available via Relapse.com HERE and all digital retail outlets HERE.
Hailing from the lawless dominion that is our nation's capital, GENOCIDE PACT unleashes their raging sophomore full-length and Relapse debut titled Order Of Torment. Recorded by Kevin Bernsten (Full Of Hell, Code Orange, Magrudergrind) at Developing Nations in Baltimore, Maryland and featuring cover art from the legendary Joe Petagno (Motorhead, Autopsy, Marduk, Pink Floyd), Order Of Torment features eight tracks of pulverizing, relentless death metal that harkens to the greats while pushing the genre to chaotic new realms of possibility. With a thick, titanically heavy crunch that focuses on crushing groove as much as skull-splitting intensity, GENOCIDE PACT is THE death metal band to watch in 2018.
The Relapse Contamination Tour was initially launched in 2003 to showcase new and longstanding acts on the label after the success of the now legendary two-day Contamination Festival in Philadelphia that featured Neurosis, Dillinger Escape Plan, Mastodon, High On Fire, Pig Destroyer, Cephalic Carnage, and more. Past tours have featured Mastodon, High On Fire, Unsane, Zeke, Origin, Obscura, Misery Index, Unearthly Trance, Cephalic Carnage, and others.
GENOCIDE PACT Relapse Contamination Tour 2018 w/ Dying Fetus, Incantation, Gatecreeper:
9/19/2018 Machine Shop – Flint, MI
9/20/2018 Bogart's – Cincinnati, OH
9/21/2018 The Emerson Theater – Indianapolis, IN
9/22/2018 Elevation – Grand Rapids, MI
9/23/2018 Bottom Lounge – Chicago, IL
9/25/2018 Bluebird Theater – Denver, CO
9/26/2018 Metro Music Hall – Salt Lake City, UT
9/28/2018 Dickens Pub – Calgary, AB
9/29/2018 The Starlite Room – Edmonton, AB
10/01/2018 The Red Room – Vancouver, BC
10/02/2018 El Corazon – Seattle, WA
10/03/2018 Bossanova Ballroom – Portland, OR
10/04/2018 Holy Diver – Sacramento, CA
10/05/2018 DNA Lounge – San Francisco, CA
10/06/2018 Strummer's – Fresno, CA
10/07/2018 The Regent Theater – Los Angeles, CA
10/08/2018 Club Red – Phoenix, AZ
10/10/2018 Jack's Backroom – Lubbock, TX
10/11/2018 TBA – Ft. Worth, TX
10/12/2018 Barracuda – Austin, TX
10/13/2018 The Secret Group – Houston, TX
10/14/2018 The Parish @ House Of Blues New Orleans, LA
10/15/2018 The Handlebar – Pensacola, FL (GENOCIDE PACT and Gatecreeper only)
10/16/2018 The Haven Lounge – Winter Park, FL
10/17/2018 Blind Tiger – Greensboro, NC
10/18/2018 Gramercy Theatre – New York, NY
10/19/2018 The Webster Theater – Hartford, CT
10/20/2018 Brewtal Beer Fest @ Mr. Smalls Theater – Pittsburgh, PA
10/21/2018 Baltimore Soundstage – Baltimore, MD
10/23/2018 The Broadberry – Richmond, VA
10/24/2018 Underground Arts – Philadelphia, PA
10/25/2018 Brighton Music Hall – Boston, MA
10/26/2018 Salle Multi – Quebec City, QC
10/27/2018 L'Astral – Montreal, QC
10/28/2018 The Opera House – Toronto, ON
10/29/2018 London Music Hall – London, ON
https://genocidepact.bandcamp.com
https://www.facebook.com/genocidepact
https://twitter.com/genocidepact
https://instagram.com/genocidepactdc
http://www.relapse.com
http://www.relapserecords.bandcamp.com
http://www.facebook.com/RelapseRecords
http://www.twitter.com/RelapseRecords