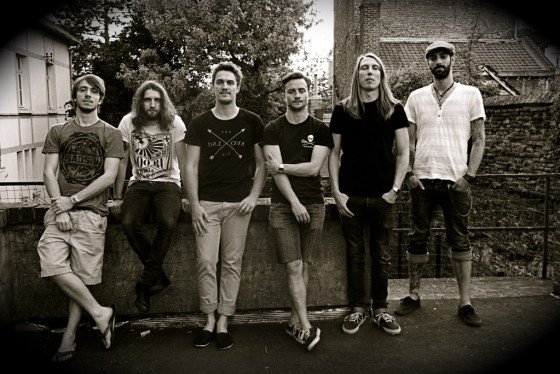 Today GunShyAssassin hosts the exclusive track premiere of "Medusa Howls With Wolves" from French atmospheric post-hardcore militia, GENERAL LEE. The tune comes in celebration of the band's third full-length, Raiders Of The Evil Eye, unleashed TODAY via New Jersey-based Play The Assassin Records. Raiders Of The Evil Eye finds the band teetering on the edge of a molecular meltdown, further blurring the lines of post metal/hardcore. A seven-song thirty-three-minute explosion of extremes, Raiders Of The Evil Eye is chaotic yet controlled; extreme yet blissful.
Comments the band in a collective statement: "This new LP will strike you with frenetic vibrations; it will make you sing an anthem of a generation marked by the sadistic evolution of the modern world. It will appeal you with tension, sweat and bruises. GENERAL LEE's new power mixed with a lyrical background will nail you and shake you at the same time. Get ready to rob the evil eye with them."
Hear the sonic severity that is "Medusa Howls With Wolves" below.
Since their formation, the triple-guitar led GENERAL LEE have set out to create a tense musical climate, mixing heavy metallic riffing and icy, oppressive atmospheres with cathartic hardcore screaming. Notes Sludgelord in an early review of the record: "This one is dark, yet uplifting, for those of you familiar with this genre and its effect on the soul. Musically, they blend various elements known to this genre, drawing influence from forefathers like Isis and Neurosis, and more modern acts like Cult of Luna and Betrayal at Bespin. They tend to have an edge with harsher elements, such as in the vocals, and sections of pure, hardcore aggression. GENERAL LEE are also known for their quiet instrumental sections, which owes to the over all atmosphere they deliver…"
http://www.facebook.com/general.lee.rocks
http://www.twitter.com/#!/generalleeband
http://www.youtube.com/user/GENERALLEEchannel
http://www.playtheassassin.com
http://www.facebook.com/playtheassassin
http://www.twitter.com/playtheassassin