This Fall will see the release of the debut studio full-length from Arizona's FUZZ EVIL, the band this week unveiling the details on the record including an early track stream, as well as the initial dates for the band's upcoming West Coast US tour.
Formed in Sierra Vista in 2014, FUZZ EVIL is a riff propelled power trio founded by brothers Wayne and Joseph Rudell, also of heavy desert stoners Powered Wig Machine. With two singles currently to their name – last year's Born Of Iron and 2014's 7″ split with fellow Arizonans, Chiefs – this September sees the official release of their self-titled debut on Washington-based label Battleground Records.
Joined by newest member and fellow Powered Wig Machinist Daniel Graves on drums, FUZZ EVIL serves up a thunderous blast of rock and roll reverie indebted to the likes of MC5, The Stooges, Black Sabbath and Clutch. Recorded, mixed and mastered at Primrose Studio by Brian Gold, from the opening crunch of "Good Medicine," which features Unida/House Of Broken Promises' Arthur Seay, to the progressively harbingered "Black Dread," Fuzz Evil flows like the diaries of a cosmic nomad. Swirling and psychedelically enhanced with storylines spun from the mind's eye of vocalist Wayne Rudell and his obsession with comic books, science fiction and cult cinema. The psychedelic cover artwork was handled by Rudell's co-owned GhostTown Graphic Art.
Stream the album's "Killing The Sun" now at THIS LOCATION.
Fuzz Evil embarks on US West Coast Tour this October in support of the new album, which will be released on CD, LP, and digital formats September 30th; further audio from the album, preorders, and more will be issued in the coming weeks.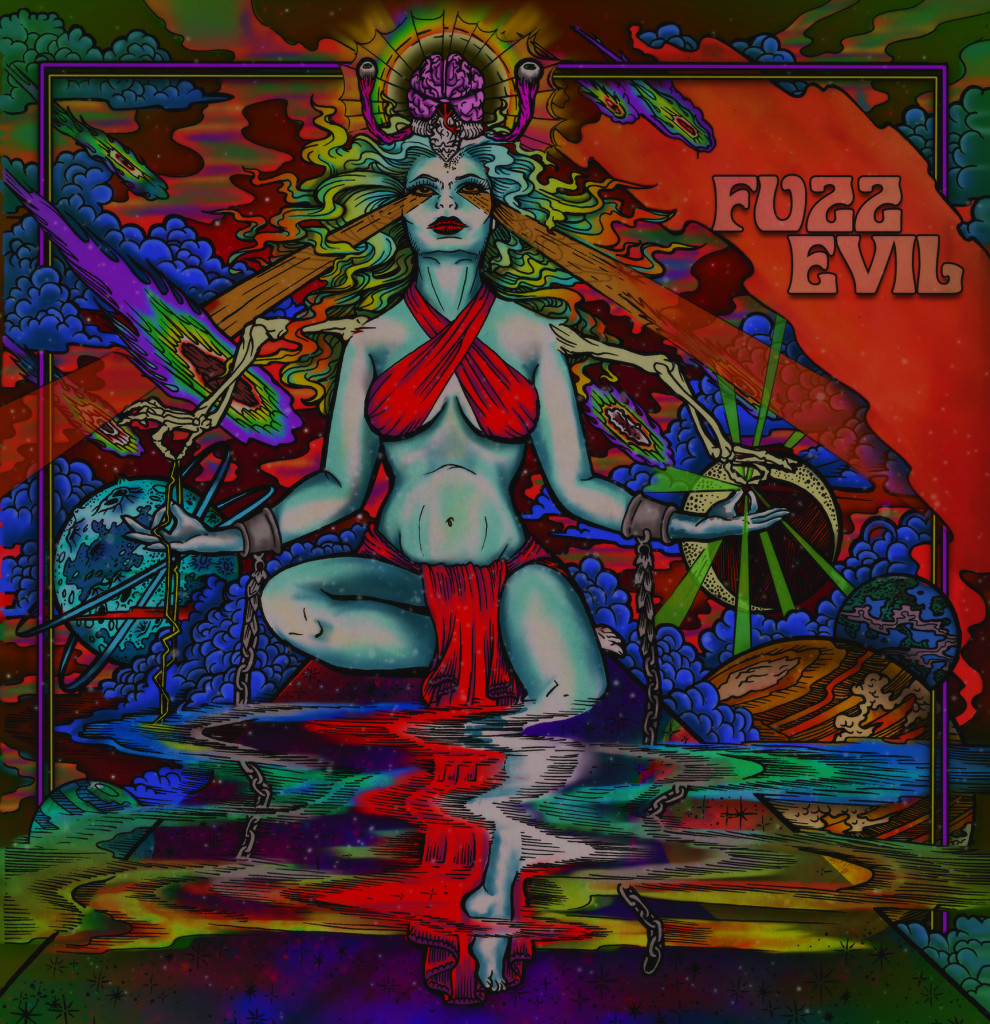 Fuzz Evil Track Listing:
1. Good Medicine (featuring Arthur Seay)
2. My Fuzz
3. Killing the Sun
4. Bring Them Through
5. Odin has Fallen
6. The Black Dread
FUZZ EVIL Tour Dates:
10/01/2016 Silver Dollar Saloon – El Monte, CA
10/02/2016 Golden Bull – Oakland, CA
10/03/2016 TBA – San Jose, CA
10/04/2016 Starlite Lounge – Sacramento, CA
10/06/2016 Kenton Club – Portland, OR
10/07/2016 Valley's – Tacoma, WA
10/08/2016 Tim's – Seattle, WA
10/09/2016 Sam Bonds – Eugene, OR
FUZZ EVIL:
Wayne Rudell – Vocals/Guitar
Joseph Rudell – Bass Guitar
Daniel Graves – Drums
http://fuzzevil.bandcamp.com
http://www.facebook.com/FuzzEvil
https://twitter.com/fuzzevil
http://www.facebook.com/battlegroundrecords
http://www.battlegroundrnr.com
http://www.twitter.com/battlegroundrnr
http://battlegroundrecords.bandcamp.com