The Battleground Records roster continues to rapidly expand, with another new release on the horizon for October, in the form of a split 7″ from FUZZ EVIL and CHIEFS.
On the A-side, the FUZZ EVIL trio delivers a nearly five-and-a-half minute, solid, groove-laden, heavy psych rock track, "Glitterbones." Hailing from Sierra Vista, Arizona, the band is comprised of Wayne and Joey Rudell of Powered Wig Machine on vocals/guitar and vocals/bass, respectively, and drummer Marlin Tuttle. Flip to the B-side, and the more than five-and-a-half minute big time jam of CHIEFS' fiery "Stone Bull" lets loose. The California-based outfit, on this recording consisting of Paul Valle on vocals/guitar and Stephen Varns on drums, delivers prime, hard-hitting desert rock, as declared from the opening riff of their side of the shared release.
Battleground will release the FUZZ EVIL / CHIEFS split 7″ on October 21st. Limited to 300 copies, the heavy grey vinyl with white splatters is cut at 45 RPM and features artwork by David Paul Seymour. For a limited time, every preorder via Battleground receives an entry to win a test pressing of the 7″ – place orders HERE.
With new live shows expected to be confirmed from both FUZZ EVIL and CHIEFS over the coming weeks, FUZZ EVIL has already confirmed several new Fall gigs including release shows for the 7″ in both their hometown of Sierra Vista as well as Tucson.
FUZZ EVIL / CHIEFS Split 7″ Track Listing:
A. FUZZ EVIL "Glitterbones
B. CHIEFS "Stone Bull"
FUZZ EVIL shows:
10/02/2014 Flycatcher – Tucson, AZ
10/21/2014 JR's – Sierra Vista, AZ – 7″ release show
11/07/2014 Flycatcher – Tucson, AZ – 7″ release show
11/08/2014 Superbrawler – Benson, AZ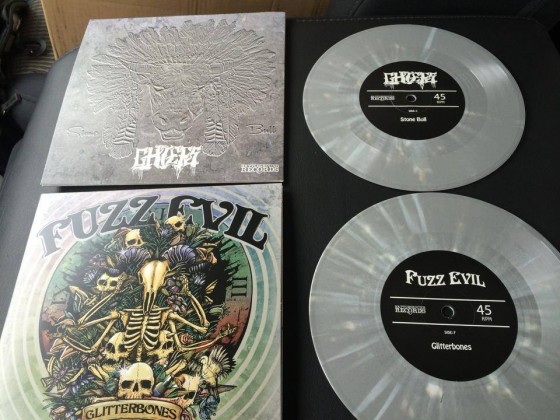 https://www.facebook.com/FuzzEvil
https://www.facebook.com/wearechiefs
https://www.facebook.com/battlegroundrecords
http://battlegroundrecords.bigcartel.com