New Jersey/New York-based socio-political hardcore punk outfit, FULL SCALE RIOT, has just released a new lyric video for the track "Rising Tide," which hails from their Eulogy Recordings-released debut album, empower.
Recorded to 2″ tape at Trax East Recording Studio (Misfits, Turmoil, Hatebreed), engineered and co-produced by Eric Rachel with assistance from Eric Kovortec, FULL SCALE RIOT's empower features a widespread network of guest vocalists, including Jimmy Gestapo (Murphy's Law), rapper Chris Rivers (son of the late great rapper Big Pun), and Tsarina Romanoff, and guest guitar contributions from Marc Rizzo (Soulfly, Misfits), and blues/rock/reggae/soul singer/multi-instrumentalist and activist Ben Harper.
The bold visual accompaniment to the track "Rising Tide" sees its public debut through a premiere at Idioteq hardcore/punk webzine. Offers FULL SCALE RIOT vocalist BJ Allen of the track, "'Rising Tide' is about being aware of the tools and methods being used to distract us from important issues that affect us all. While many people cling to silly social constructs like race, there's a growing minority of people of all different backgrounds and hues who can clearly see the men behind the curtains pulling the strings."
Unload FULL SCALE RIOT's "Rising Tide" video through Idioteq RIGHT HERE.
empower is available on CD and digital formats through Eulogy Recordings at THIS LOCATION. The band will self-release a vinyl version later this year.
FULL SCALE RIOT will enter the studios of long-running New Jersey college radio station WSOU tonight, Wednesday, January 18th, as guests on the station's Hardcore Reality show. The band will discuss the new album, live plans, and more live on the air, with music from the album featured throughout the show. In the NYC/NJ area, tune in locally at 89.5 FM, or worldwide tune in at www.wsou.net. The show starts at 10pm EST.
FULL SCALE RIOT continues to support empower live across the region, with shows in Pennsylvania, New Jersey, and New York booked into the Spring months. Fans are also invited to take part in the band's upcoming video shoot for the track "Eighty-Two Hundred," which will take place at The Meatlocker in Montclair, New Jersey on April 8th.
FULL SCALE RIOT Live:
1/28/2017 Jabber Jaws – Allentown, PA
2/25/2017 Lucky 13 – Brooklyn, NY @ Blastfurnace Productions Purple Heart Foundation Benefit
3/25/2017 Blue Room – Secaucus, NJ @ NJ Toxic Fest
3/30/2017 Stanhope House – Stanhope, NJ
4/08/2017 The Meatlocker – Montclair, NJ @ video shoot for "Eighty-Two Hundred"
4/21/2017 TBA – Philadelphia, PA w/ Electric Frankenstein, Symbol 6
4/23/2017 Bowery Electric – New York, NY w/ Electric Frankenstein, Symbol 6
Comprised of guitarist Tim McMurtie (ex-M.O.D., Rhythm Trip), vocalist BJ Allen, bassist Jeff Wood (Shat, ex-M.O.D., ex-The Dillinger Escape Plan live), and drummer Evan Rossiter, FULL SCALE RIOT follows up their Depopulation EP with the politically-motivated empower, delivering nearly a half-hour of their volatile punk/thrash-fueled hardcore. The album showcases new strengths in their songwriting and delivery, and perpetuates an even-keeled and intellectual batch of socio-politically-fueled tracks, the music wrought with angst and the lyrics focusing on a more forward-thinking society.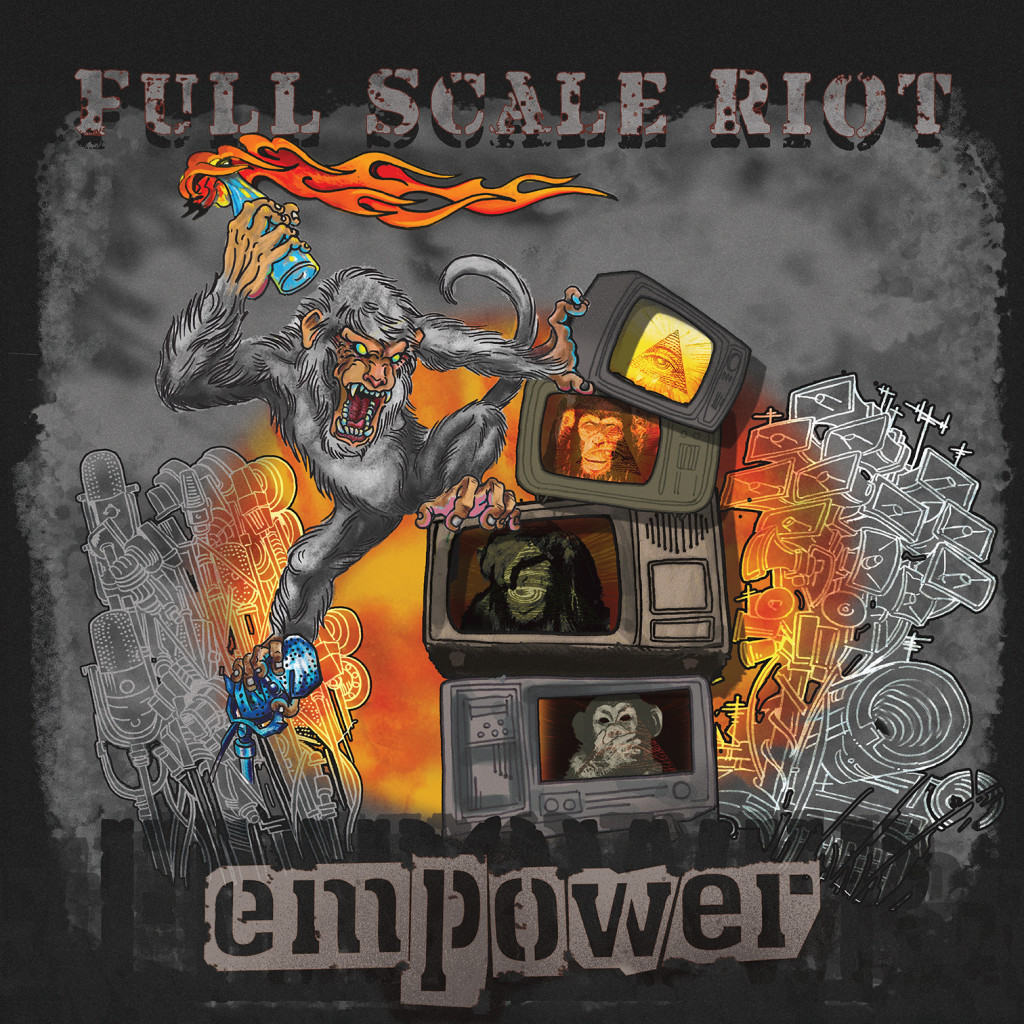 http://www.facebook.com/fullscaleriot
http://www.fullscaleriot.bandcamp.com
http://www.instagram.com/full_scale_riot
http://www.twitter.com/fullscaleriot
http://www.eulogyrecordings.com
http://www.twitter.com/eulogyrecords
http://www.youtube.com/user/eulogyrecordings