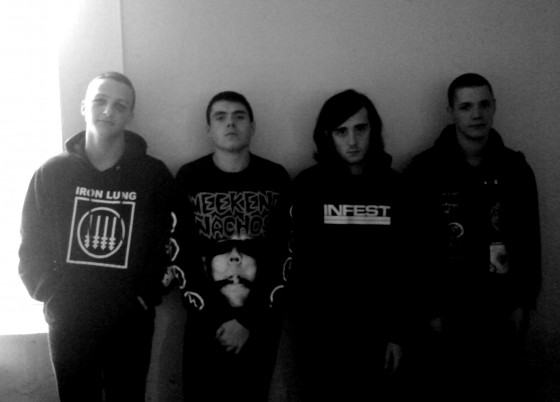 FULL OF HELL continues to tour their bodies and van into disrepair in support of their second LP, Rudiments Of Mutilation.
Having just completed their latest East Coast run the band are already prepared to set out on another mission, this time infiltrating Canada to their fullest extent. Sponsored by Exclaim! Magazine, the latest barrage of FULL OF HELL live entanglements with the humans will begin with a pair of shows in Pennsylvania October 15th and 16th on their way to the border to embark on a tour terrorizing the majority of Canada's largest metropolitan areas supporting KENMode for the next three weeks. FOH will then tour their way across the Midwest with another five solo dates on their way back to the East Coast.
Recorded with Kevin Bernsten at Developing Nations and mastered by James Plotkin (Khanate, Old, Phantomsmasher), Rudiments Of Mutilation captures the incredible conviction FULL OF HELL culminates live, an unstoppable and abrasive grindcore-infused, noise-heavy bastard of blastbeat-overloaded, demented hardcore. FULL OF HELL has been slaying audiences all year, preceding and following the release of the LP in June via A389 Recordings.
View the band's unsettling visual depiction of the album's scathing "The Lord Is My Light" video HERE and stream the entire Rudiments Of Mutilation LP HERE.
FULL OF HELL Canadian Assault w/ KEN Mode:
10/15/2013 The Depot – York, PA*
10/16/2013 Basement Transitions – Erie, PA*
10/17/2013 Coach & Horses – Windsor, ON
10/18/2013 The Office – London, ON
10/19/2013 Sneaky Dee's – Toronto, ON
10/20/2013 This Ain't Hollywood – Hamilton, ON
10/22/2013 Mansion – Kingston, ON
10/23/2013 Katacombes – Montreal, QC
10/24/2013 L'Agitee – Quebec City, QC
10/25/2013 Capital Complex – Fredericton, NB
10/26/2013 Halifax Pop Explosion – Halifax, NS
10/27/2013 Tide and Boar – Moncton, NB
10/29/2013 Cafe Dekcuf – Ottawa, ON
10/31/2013 Crocks – Thunder Bay, ON
11/02/2013 The Windsor Hotel – Winnipeg, MB
11/05/2013 O'Hanlon's Pub – Regina, SK
11/07/2013 Palomino – Calgary, AB
11/08/2013 The Level – Kelowna, BC
11/09/2013 Biltmore Cabaret – Vancouver, BC
11/10/2013 Garfinkels – Whistler, BC
11/12/2013 Lucky Bar – Victoria, BC
11/14/2013 Pawn Shop – Edmonton, AB
11/15/2013 Amigo's – Saskatoon, SK
11/17/2013 New Direction – Fargo, ND*
11/18/2013 Memory Lane – Minneapolis, MN*
11/19/2013 Borg Ward – Milwaukee, WI*
11/20/2013 Cobra Lounge – Chicago, IL*
11/21/2013 Kobo Live – Columbus, OH*
[*No KEN Mode]
"Full of Hell want to open wounds however they can. The four-piece is so focused on delivering bile-soaked fury that they'll use nearly anything at their disposal. While most of the tracks are acrid flashes of grind and powerviolence, there are still treks through squeamish noise and torturous hardcore. Seems like there's always new releases by these guys, but this is the best I've heard so far." – Decibel
"…Rudiments of Mutilation is an incredible album that should not go unheard. It is sick, unnerving, excellently established, moody, violent, and one of the best damn records that will be put out this year. You want dark? Here it is motherfuckers. Eat it up. 9.5/10" – Metal Injection
"…this is the band's finest work to date and as a statement, Rudiments truly serves as a moving monument to the inevitability and eternality of human suffering. 10/10" – American Aftermath
"Rudiments of Mutilation is shapeless, above all portentous and one of 2013's best records, while without question being Full of Hell at their best. Listen and prepare to numb your mind." – Cvlt Nation
http://www.fullofhell.com
https://www.facebook.com/fullofhell
http://dregsofpluto.tumblr.com
http://www.a389records.com
https://www.facebook.com/a389recordings
https://twitter.com/a389recordings