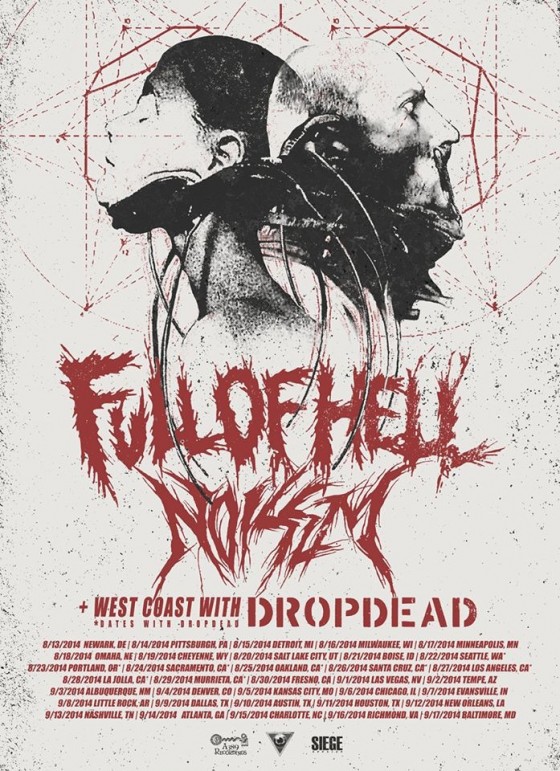 Following the recent declaration that A389 combatants FULL OF HELL and NOISEM will wage total war on the West Coast US this August, today the threat goes nationwide as the bands now extend the raging trek to consume the entire country.
On August 13th, blazing death-infused divebomb thrashers NOISEM and harsh noise/powerviolence cultivators FULL OF HELL will unite at Jam 24/7 in Newark, Delaware beginning the grueling thirty-five city itinerary. The full tour, which runs counter-clockwise through the entire American population and includes eight West Coast shows with DropDead headlining, will come to a burning halt in A389's hometown of Baltimore on September 17th.
Preceding the full US run, NOISEM will rip through audiences across the tri-state area in July, including a slot on the massive four-day This Is Hardcore Festival in Philadelphia, performing the opening night, Thursday, July 27th with Killswitch Engage, Unearth, Crowbar, Overcast, Ringworm, Xibalba and more. On Saturday, August 2nd, NOISEM, will raid Colorado for the first of the two packed nights of Denver Black Sky II, joining Municipal Waste, Nails, Cephalic Carnage, Transient and tons of others.
Meanwhile, FULL OF HELL this week continues their European tour with D.O.C., with nineteen more shows to take place over the next three weeks.
Stay tuned for further updates in the coming weeks as FULL OF HELL prepares to record and unload their undoubtedly scathing upcoming collaboration with Merzbow for A389/Profound Lore, and NOISEM records their upcoming 7″ for A389, and more.
FULL OF HELL European Tour w/ D.O.C. [ONGOING/REMAINING DATES]:
6/17/2014 Prostar – Cakovet, HR
6/18/2014 Gozsdu Manó Klub – Budapest, HU
6/19/2014 Das Bach – Vienna, AT
6/20/2014 Punx Picnic – Wroclaw, PL
6/21/2014 Chmury – Warsaw, PL
6/22/2014 Rozbrat – Poznan, PL
6/23/2014 Koma F – Berlin, DE
6/24/2014 Chemiefabrik – Dresden, DE
6/25/2014 JUZ Mannheim – Mannheim, DE
6/26/2014 L'Excalibur – Reims, FR
6/27/2014 Unicorn – London, UK
6/28/2014 Temple of Boom – Leeds, UK
6/29/2014 13th Note – Glasgow, UK
6/30/2014 The Black Bull – Newcastle Upon Tyne, UK
7/01/2014 Kraak Gallery – Manchester, UK
7/02/2014 Static – Swansea, UK
7/03/2014 Edge of the Wedge – Portsmouth, UK
7/04/2014 Het Bos – Antwerp, BE
7/05/2014 Dynamo – Eindoven, NL*
*No D.O.C.
NOISEM:
7/12/2014 The Pinch – Washington, DC w/ Columbian Necktie, Permafrost, Pigeon Down
7/18/2014 Ratscape – Baltimore, MD
7/24/2014 Electric Factory – Philadelphia, PA @ This Is Hardcore [info]
8/02/2014 The Gothic Theatre – Denver, CO @ Denver Black Sky [info]
FULL OF HELL and NOISEM US Tour:
8/13/2014 Jam 24/7 – Newark, DE w/ Artificial Brain, Ides, Sleep Disorder, Wojtek
8/14/2014 Certain Death – Pittsburgh, PA [NO NOISEM]
8/15/2014 Tangent Gallery – Detroit, MI [NO NOISEM]
8/16/2014 Quarters – Milwaukee, WI [NO NOISEM]
8/17/2014 Triple Rock – Minneapolis, MN [NO NOISEM]
8/18/2014 The Hideout – Omaha, NE
8/19/2014 Ernie November – Cheyenne, WY
8/20/2014 Shred Shed – Salt Lake City, UT
8/21/2014 Shredder – Boise, ID
8/22/2014 Chop Suey – Seattle, WA w/ DropDead
8/23/2014 Slabtown – Portland, OR w/ DropDead
8/24/2014 Midtown Barfly – Sacramento, CA w/ DropDead
8/25/2014 Oakland Metro – Oakland, CA w/ DropDead
8/26/2014 Catalyst Atrium – Santa Cruz, CA w/ DropDead
8/27/2014 7th Street Warehouse-Los Angeles, CA w/ DropDead
8/28/2014 Che Café – La Jolla, CA w/ DropDead
8/29/2014 The Dial – Murrieta, CA w/ DropDead
8/31/2014 Chinatown DIY – Fresno, CA
9/01/2014 TBA – Las Vegas, NV
9/02/2014 51 West – Tempe, AZ
9/03/2014 The Jam Spot – Albuquerque, NM
9/04/2014 TBA – Denver, CO
9/05/2014 Art Closet – Kansas City, MO
9/06/2014 Beat Kitchen – Chicago, IL
9/07/2014 Infrastructure – Evansville, IN
9/08/2014 Vinos – Little Rock, AR
9/09/2014 Three Links – Dallas, TX
9/10/2014 Red 7 – Austin, TX
9/11/2014 Mangos – Houston, TX
9/12/2014 TBA – New Orleans, LA
9/13/2014 The End – Nashville, TN
9/14/2014 Mammal Gallery – Atlanta, GA
9/15/2014 Milestone – Charlotte, NC
9/16/2014 Strange Matter – Richmond, VA
9/17/2014 Sidebar – Baltimore, MD
http://www.fullofhell.com
https://www.facebook.com/fullofhell
http://dregsofpluto.tumblr.com
http://www.a389records.com
https://www.facebook.com/a389recordings
https://twitter.com/a389recordings