The plague known as Rudiments Of Mutilation, the second LP from the scathing tyrants known as FULL OF HELL, is out today worldwide on nefarious A389 Recordings.
Undoubtedly a contender for most scathing album of the year, FULL OF HELL's destructive elements are at their maximum strength on Rudiments Of Mutilation, their downtuned riffage and noise-laced blastbeat attacks coalescing into the most corrosive and motivating material from the band to date. Recorded with Kevin Bernsten at Developing Nations and mastered by James Plotkin (Khanate, Old, Phantomsmasher), both the primal punk/hardcore urgency as well as the noise/feedback/effects elements of their material are showcased equally on this pulverizing platter.
FULL OF HELL recently sanctioned the production of their first official video for the track "The Lord Is My Light" to director Lukas Hodge, who filmed and manipulated an appropriately ominous, abstract visual presentation to the slow-burning, contemptuous anthem.
Bear witness to "The Lord Is My Light" with an exclusive premiere via Invisible Oranges RIGHT HERE.
Additionally, Terrorizer Magazine is still streaming the full album HERE.
As their immense, ongoing tour itinerary in support of Rudiments Of Mutilation continues, FULL OF HELL is currently burning their way across the country alongside labelmates Seven Sisters of Sleep with two more weeks of live attacks pending. A month after the wicked U.S. trek wraps up, FULL OF HELL will invade Europe for a three-week bombardment of the continent alongside Circle Takes the Square and Code Orange Kids.
"Full of Hell want to open wounds however they can. The four-piece is so focused on delivering bile-soaked fury that they'll use nearly anything at their disposal. While most of the tracks are acrid flashes of grind and powerviolence, there are still treks through squeamish noise and torturous hardcore. Seems like there's always new releases by these guys, but this is the best I've heard so far." – Decibel
"…Rudiments of Mutilation is an incredible album that should not go unheard. It is sick, unnerving, excellently established, moody, violent, and one of the best damn records that will be put out this year. You want dark? Here it is motherfuckers. Eat it up. 9.5/10" – Metal Injection
"…this is the band's finest work to date and as a statement, Rudiments truly serves as a moving monument to the inevitability and eternality of human suffering. 10/10" – American Aftermath
"Rudiments of Mutilation is shapeless, above all portentous and one of 2013's best records, while without question being Full of Hell at their best. Listen and prepare to numb your mind." – Cvlt Nation
FULL OF HELL U.S. Tour w/ Seven Sisters Of Sleep [REMAINING DATES]:
6/11/2013 Josephine – Seattle, WA
6/12/2013 The Mad Son House – Boise, ID
6/13/2013 The Shred Shed – Salt Lake City, UT
6/14/2013 Rhinoceropolis – Denver, CO
6/15/2013 Art Closet- Kansas City, MO
6/16/2013 Neverland – Chicago, IL
6/17/2013 Refuge Skate Shop – Dearborn, MI
6/18/2013 Now That's Class – Cleveland, OH
6/19/2013 Roboto Project – Pittsburgh, PA
6/20/2013 The Flesh Temple – Buffalo, NY w/, Psychic Limb
6/21/2013 Democracy Center – Cambridge, MA w/ Psychic Limb
6/22/2013 Saint Vitus – Brooklyn, NY w/ Trap Them, Seven Sisters Of Sleep, Psychic Limb
6/23/2013 Club K – Baltimore, MD
FULL OF HELL European Tour w/ Circle Takes the Square, Code Orange Kids:
7/24/2013 O13 – Tilburg, Netherlands
7/25/2013 Hafenklang – Hamburg, Germany
7/26/2013 Fluff Fest – Rockycany , Czech Republic
7/27/2013 Vlamrock – As, Belgium
7/28/2013 Glazart – Paris, France
7/29/2013 The Haunt – Brighton, England
7/30/2013 Underworld – London, England
7/31/2013 Classic Grand – Glasgow, Scotland
8/01/2013 Star and Garter – Manchester, England
8/02/2013 Hevy Fest – Port Lypmne, England
8/03/2013 New Noise Festival – Karlsruhe, Germany
8/04/2013 JZ Riot – Lichtenstein, Germany
8/05/2013 Area – Wien, Austria
8/06/2013 Cassiopeia – Berlin, Germany
8/07/2013 AJZ – Bielefeld, Germany
8/08/2013 Underground – Köln, Germany
8/09/2013 Ieperfest – Ieper, Belgium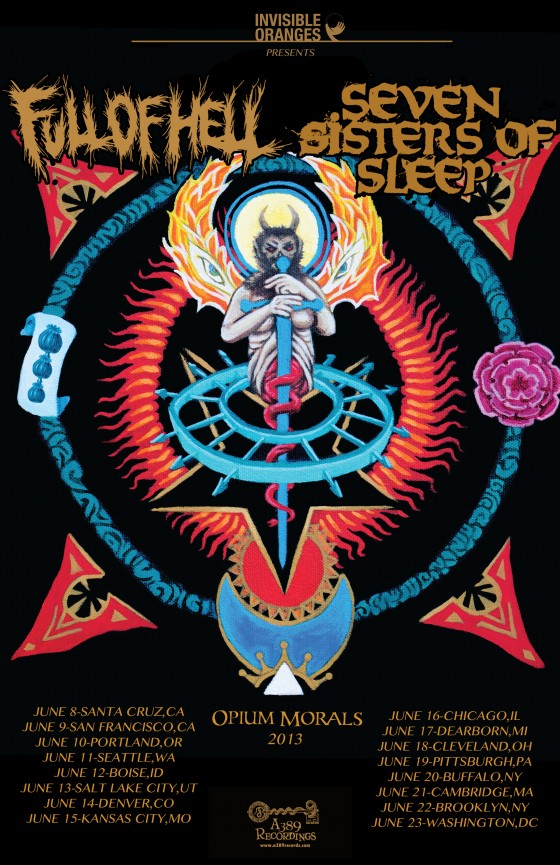 http://www.fullofhell.com
https://www.facebook.com/fullofhell
http://dregsofpluto.tumblr.com
http://www.a389records.com
https://www.facebook.com/a389recordings
https://twitter.com/a389recordings