"Vincibility is for suckers" reads the headline accompanying Decibel Magazine's exclusive streaming of "Ape As Man/Man As Ape," the newest bashing of auditory violence from Providence, Rhode Island's FUCKING INVINCIBLE.
Rounding out at a only a minute in length, the damageability factor of this belittling ditty hammers your skull in with a malicious, high-octane whirlwind most of the way through, then in an unforgiving turn of events, slows down to less than half speed for the gnarly, stomping breakdown closing this kicker down. It's a perfect example of what's in store for you on FUCKING INVINCIBLE's It'll Get Worse Before It Gets Better debut LP. The corresponding text mentions how the band "gave themselves a lot to live up to with their chosen moniker, but, as the exclusive stream of 'Ape As Man/Man As Ape' below ably demonstrates, these dudes have good reason to have confidence in that powerviolence swagger."
Tear it all down with The Deciblog's stream of "Ape As Man/Man As Ape" as your soundtrack AT THIS LOCATION… crush, kill, repeat.
Lambgoat recently dropped the album's wasteland-wandering anthem "Dead Dogs" RIGHT HERE.
FUCKING INVINCIBLE will raid neighboring Pawtucket this Friday, May 23rd, shredding the stage with Hamilton, Ontario's Left For Dead and hometown activists DropDead. Additionally, a record release show for It'll Get Worse Before It Gets Better will be going down in Providence on July 11th with World Is Shit and Wokling. Additional shows and tours will be announced in the near future.
FUCKING INVINCIBLE Live:
5/23/2014 Machines With Magnets – Pawtucket, RI w/ Left for Dead, Dropdead
7/11/2014 AS220 – Providence, RI *Record Release Show w/ World Is Shit, Wokling
Atomic Action! Records will release It'll Get Worse Before It Gets Better via digital download and LP on July 15th in North America, with Reflections Records handling the release for Europe. Comprised of musicians who've collectively spent time in Daughters, Dropdead, Soul Control, Sweet Jesus and others, FUCKING INVINCIBLE specializes in creating noise-soaked powerviolence. The album's fourteen rabid anthems are jammed into a fifteen-minute shock-and-awe campaign on It'll Get Worse Before It Gets Better, the album recorded by Will Killingsworth in March at Dead Air in Western Massachusetts.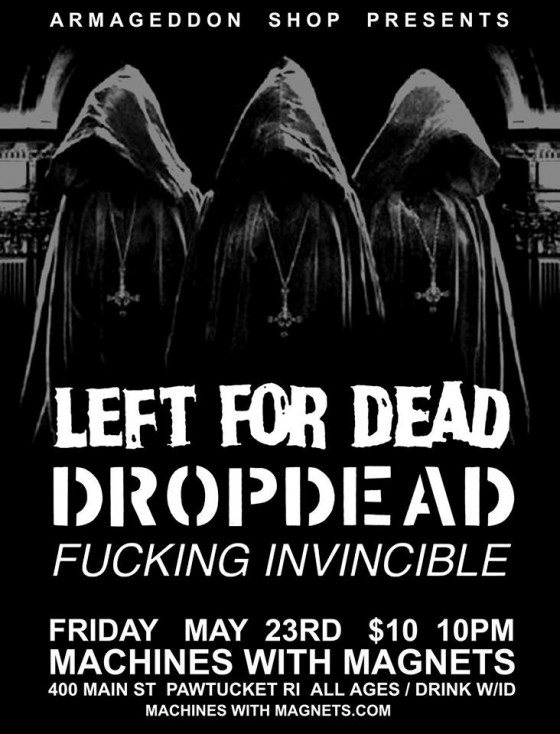 https://www.facebook.com/AtomicActionRecords
http://atomicactionrecords.bandcamp.com