Providence, Rhode Island-based FUCKING INVINCIBLE and Atomic Action! Records have dispatched the first public lashing from the band's upcoming debut LP, It'll Get Worse Before It Gets Better, through an exclusive stream via Lambgoat.
Comprised of musicians who've collectively spent time in Daughters, Dropdead, Soul Control, Sweet Jesus and others, FUCKING INVINCIBLE specializes in creating hardcore/powerviolence akin to Infest, Capitalist Casualties, Black Army Jacket, C.R., Dropdead and Despise You. With fourteen rabid anthems jammed into a fifteen-minute shock-and-awe campaign, It'll Get Worse Before It Gets Better rages with the act's most intensified sonic torment yet. Their obviously pissed-off approach shreds the apathetic human race and indiscriminately unloads some of the most ravaging and high-paced disharmony one will experience, the high-speed assault only interrupted by brief breakdowns of the most earthmoving breed. Recorded by Will Killingsworth in March at Dead Air in Western Massachusetts, and delivered through a sludge metal-designed overload of amplification, It'll Get Worse Before It Gets Better is a prime recording which brings the band's moniker into a frighteningly visceral experience.
The second track from It'll Get Worse Before It Gets Better, the wasteland-wandering anthem "Dead Dogs," is now playing at Lambgoat RIGHT HERE.
The worldwide release date of It'll Get Worse Before It Gets Better has been confirmed for July 15th, the album to be released digitally and on 12″ vinyl. Atomic Action! Records, the label responsible for both previously-released FUCKING INVINCIBLE 7″ releases, will release the album in North America, while Reflections Records will disburse it in Europe.
It'll Get Worse Before It Gets Better Track Listing:
1. Not What You Are
2. Dead Dogs
3. Ape as Man/Man as Ape
4. All Good Things…
5. The Brotherhood of Unfulfilled Early Promise
6. Josephine
7. Why Keep Score
8. The World Keeps Turning
9. By Proxy
10. Inconsistent and Indifferent
11. Followed By The Sea
12. Open All Night
13. Progress Trap
14. Nothing, No One
Following their recent two-week West Coast invasion with Loma Prieta, FUCKING INVINCIBLE has begun confirming new live actions in their home state, including a bill in Pawtucket on May 23rd with Hamilton, Ontario's headcrushing Left For Dead and hometown activists and cohorts DropDead, and a record release show for It'll Get Worse Before It Gets Better in Providence on July 11th with World Is Shit and Wokling. Additional shows and tours will be announced in the near future.
FUCKING INVINCIBLE Live Actions:
5/23/2014 Machines With Magnets – Pawtucket, RI w/ Left for Dead, Dropdead
7/11/2014 AS220 – Providence, RI *Record Release Show w/ World Is Shit, Wokling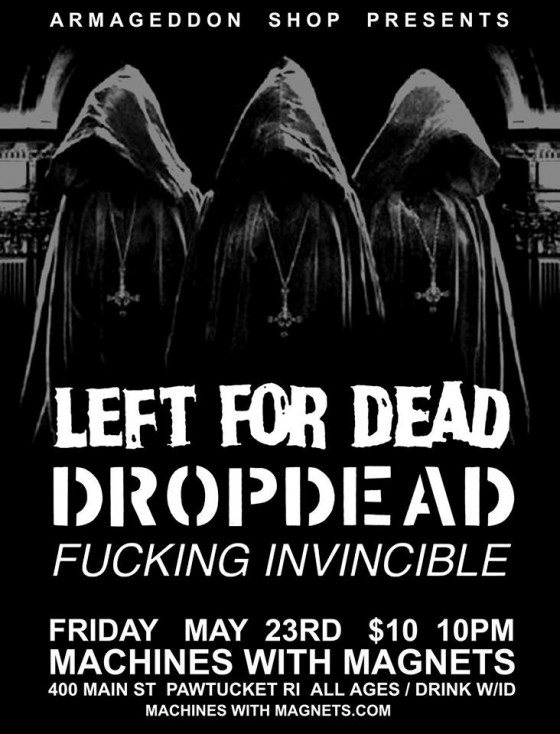 https://www.facebook.com/AtomicActionRecords
http://atomicactionrecords.bandcamp.com