Long-running Canadian hardcore/punk collective FUCKED UP will host a Gimme Metal Guest DJ special Wednesday, September 29th at 5:00pm ET / 2:00pm PT. Don't miss it! Visit gimmemetal.com and join in the chat!
Earlier this year, FUCKED UP released their Year Of The Horse masterpiece – the next in their ongoing series celebrating the Chinese Zodiac – digitally. The follow-up to 2018's critically lauded Dose Your Dreams full-length, FUCKED UP's hugely ambitious Year Of The Horse is operatic in scope and artfully assembled offering up one track with a ninety-plus-minute runtime. The epic tone poem is spread across four sides that pass through the realms of metal, classical, '70s groove, and international hardcore punk to explore themes of motherhood, ecology, stewardship, and the deep myths of our civilization.
Recorded over the past few years by Alex Gamble in Toronto, who worked with the band on Dose Your Dreams, and mastered by Dan Randall at Mammoth Sound, Year Of The Horse includes guest appearances by Matt Berninger (The National), Julien Baker, Maegan Brooks Mills (Chubby And The Gang), and Tuka Mohammed and is dedicated to Power Trip's Riley Gale and Iron Age's Wade Allison, who passed away within weeks of each other last year.
FUCKED UP's Year Of The Horse will be released on limited 2xLP and 2xCD on December 3rd via Tankcrimes. Find preorders at THIS LOCATION.
FUCKED UP will kick off 2022 with a near-two-week run of live dates celebrating the ten-year anniversary of their David Comes To Life full-length, which they will be performing in its entirety. Support will be provided by Empath. Find tickets at THIS LOCATION.
FUCKED UP w/ Empath:
1/19/2022 Club Saw – Ottawa, ON
1/20/2022 Bar Le Ritz – Montreal, QC
1/21/2022 Sinclair – Boston, MA
1/22/2022 Brooklyn Made – Brooklyn, NY
1/23/2022 Underground Arts – Philadelphia, PA
1/24/2022 Union Stage – Washington, DC
1/25/2022 Mr. Smalls – Pittsburgh, PA
1/26/2022 Ace Of Cups – Columbus, OH
1/28/2022 Shelter – Detroit, MI
2/04/2022 The Great Hall Toronto, ON *
2/05/2022 The Great Hall Toronto, ON Sold Out *
* No Empath
FUCKED UP – Damian Abraham (vocals), Mike Haliechuk (guitars, vocals), Josh Zucker (guitar), Ben Cook (guitars, vocals), Sandy Miranda (bass), and Jonah Falco (drums, vocals) – is among the most prolific hardcore punk bands of our generation. Since their 2001 inception, they've challenged listeners with thoughtful artful chaos and a seemingly limitless drive for musical experimentation. Because of this, they've also become a record collector's worst nightmare releasing over eighty recordings and collaborations on countless labels that include Deranged, Havoc, Tankcrimes, Deathwish, Matador, Jade Tree, and more. The band won the 2009 Polaris Music Prize for their second studio album, The Chemistry Of Common Life among countless other accolades over the last two decades.
"On this elaborate concept album… the hardcore collective reclaims its status as the most fearless prog-punk band of them all." – Pitchfork
"…another stepping stone in FUCKED UP's continued evolution as a band and storytellers. Haliechuk and co. have developed a layered universe and score that creates a unique and immersive experience for those wise enough to carve out ninety minutes of their time to read along with the story as they listen." – Exclaim!
"Wagnerian AF… much of the album wavers between Motörhead and Portishead. It's loud, wonderful, and fairly exhausting." – Star-Revue
"This record flips from Integrity style smashing to Metallica thrashing to Medieval lute play to robo-soul to goth Morricone to Sleep homage to something that sounds like slowed down trip hop, all in one continuous bleeding journey. The dozen plus guests here add to the sonic warp-sphere making this album a galaxy unto its own, and it also makes it a very unpredictable record. There is the risk of the record being too disjointed or too hoity-toity, but that never seems to happen." – PunkNews
"…it is the wild fire and demonic braying of Cormac McCarthy especially of Blood Meridian and Outer Darkness, the pursuit of pitch black cowboys which seem plucked from the pure bowels of hell sliding like oil and shadow across the sands in pursuit of the white horse, a chase toward Golgotha and Gethsemane where at last the vicious satanic devouring jaw might sink into the blood-rich flesh of heaven's child." – Treble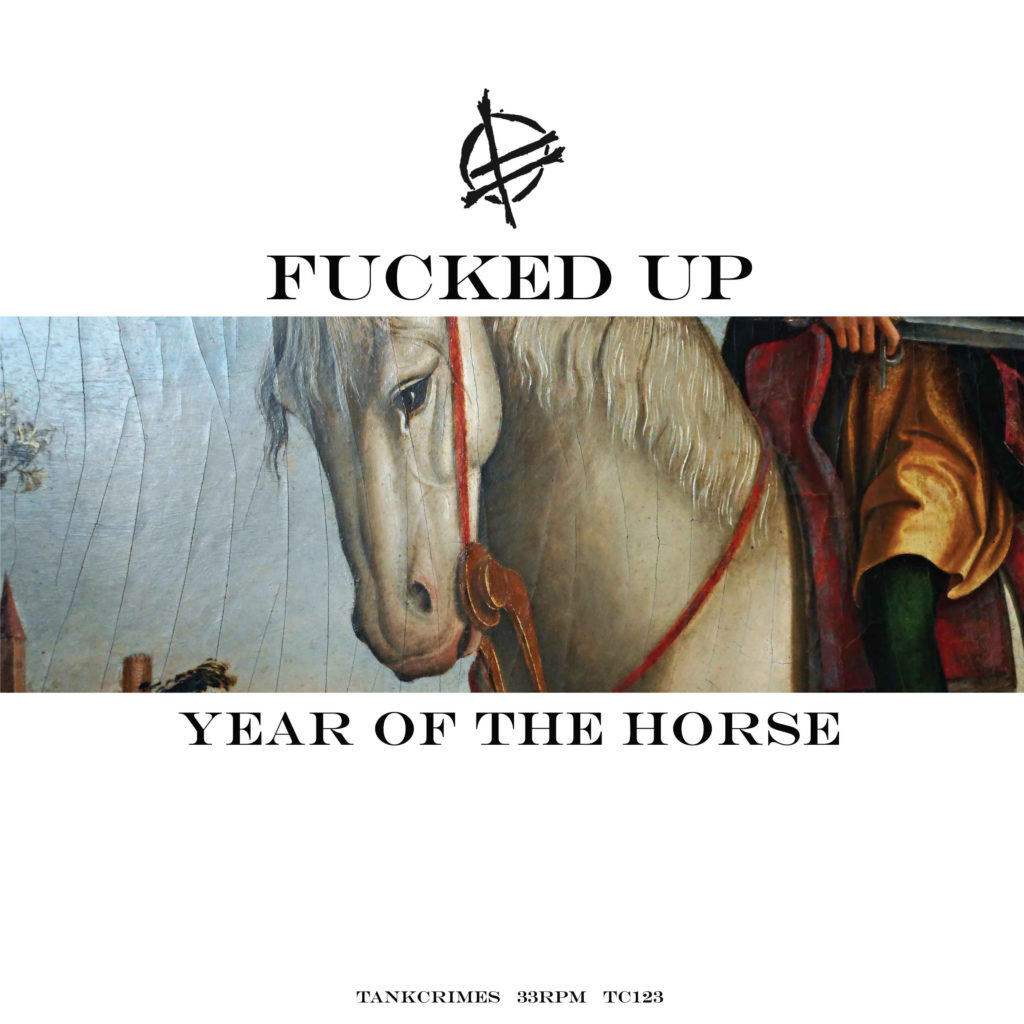 http://fuckedup.cc
http://www.instagram.com/fuckedup
http://www.facebook.com/FUglassboys
http://www.tankcrimes.com
http://www.facebook.com/tankcrimes
http://twitter.com/tankcrimes
http://www.instagram.com/tankcrimes