Cleveland, Ohio-based hardcore unit FUCK YOU PAY ME [FYPM], led by underground hardcore icon/wrestling aficionado Tony Erba (Face Value, H100's, Gordon Solie Mother Fuckers, 9 Shocks Terror), will release their Dumbed Down full-length via Tankcrimes next month.
Self-described as, "fast, negative, anthemic dark hardcore done correctly," the band further elaborating, "economic desperation; the wrong color on a pregnancy test; dropping your phone into the shitter; 3:17 AM at Steve's Hot Dogs… We sound a lot like that," FUCK YOU PAY ME spews forth classic hardcore inspired by the likes of BGK, The Pagans, Negative Approach, and Discharge all punctuated by Erba's signature vocals and charmingly boorish disposition. "Erba is a guy who has both studied and experienced what makes the rust belt hardcore scene the dysfunctional and chaotic thing of beauty that it is," said Noisey of Erba. Dumbed Down was captured at Negative Space in Cleveland by John Delzoppo (Murderedman) and mastered at Mammoth Sound in Santa Cruz, California by Dan Randall (Ghoul, Toxic Holocaust).
In celebration of the impending release, Clrvynt is streaming opening title track "Dumbed Down" exclusively, alongside an interview with Erba at THIS LOCATION.
Dumbed Down will be release on March 24th, 2017 on cassette, digital, and limited edition vinyl formats. The wax edition comes in black (100) and white (400). Preorders are available at THIS LOCATION.
Dumbed Down Track Listing:
Dumbed Down
Ammosexual
Opt Out
Dark Side Of The Spoon
Saint Dorner
Douche Chills
Steubenville City Limits
50 White Dudes With Machetes/Crisis Actors
You Hate Me And I Hate You
FUCK YOU PAY ME will bring their raucous odes to the stage on a handful of live dates through April including dates with Swedish hardcore punk miscreants DS-13. Future onstage abrasions to be announced in the weeks to come.
FUCK YOU PAY ME:
2/17/2017 TBA – Connellsville, PA
2/18/2017 Cambridge Elks (Hardcore Stadium) – Boston, MA w/ Siege
3/04/2017 Mill Hill – Trenton, NJ
3/05/2017 TBA – Rochester, NY
3/17/2017 Kamp Krusty – Rivesville, WV
3/18/2017 Muncheez – Beckley, WV
4/1/2017 Glasshouse – Norwalk, OH
4/07/2017 The Garage – Ventura, CA w/ DS-13
4/08/2017 Los Globos – Los Angeles, CA w/ DS-13
4/09/2017 Programme Skate – Fullerton, CA w/ DS-13
4/28/2017 Local 662 – St. Petersburg, FL
4/29/2017 Kelley's – Sarasota, FL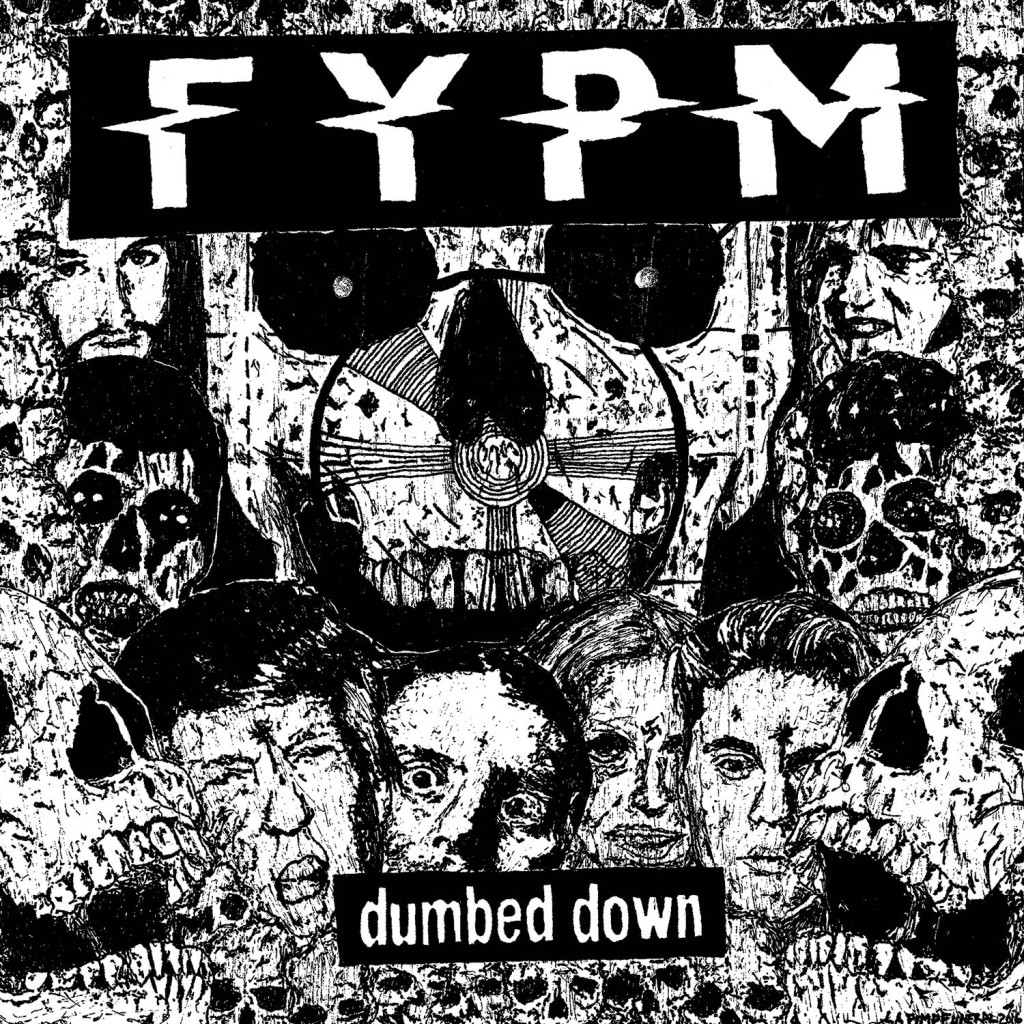 http://www.facebook.com/FYPMclevo
http://www.tankcrimes.com
http://www.facebook.com/tankcrimes