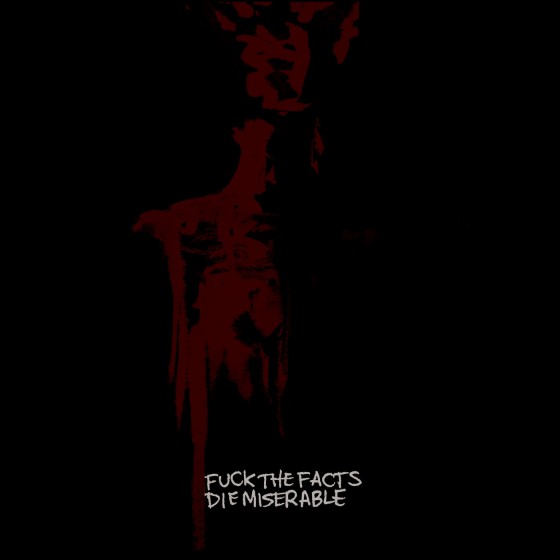 After celebrating their tenth anniversary at the beginning of the year, Ottawa grindcore band FUCK THE FACTS are preparing to drop their ninth studio album Die Miserable in just one week, set for a CD/LP/Digital release on October 11th via Relapse Records.
In preparation of its release next week, Exclaim! Magazine's website is now hosting a stream of Die Miserable's entire eight tracks, giving you nearly forty minutes of extreme grinding satisfaction, AT THIS LOCATION.
This Sunday, October 9th, FUCK THE FACTS will be playing a show in their hometown of Ottawa with indisputable grindcore gods Napalm Death, with additional tour plans coming together to be announced in the coming weeks.
FUCK THE FACTS Live:
10/9/2011 Maverick's – Ottawa, ON w/ Napalm Death
Their first new full-length since the release of their heralded Disgorge Mexico in 2008, Die Miserable was recorded in between massive touring and the recording and release of an EP and a DVD. Featuring almost 40 minutes of FUCK THE FACTS' scorching blend of socio-politically-charged grind, hardcore and metal fans worldwide have embraced for the past decade, the album showcases some of the finest work the band has embodied to date. Pre-orders for the album are now available.
A new in-studio video clip from the Die Miserable sessions has also been posted.
And as posted previously, the first in-studio video from the recording sessions:
"Whether it's the reflective prologue, the megaton post-prologue groove, the inevitable D Day-like assault, the post-D Day-like assault, the old-school death metal vignette, or the hardcore thrust, Fuck The Facts is grindcore evolved." – Decibel
"…definitely sounds like a Fuck The Facts release but like no record prior; it's their unwavering eclectism that has enabled this Canadian band to always keep it interesting." – Brooklyn Vegan
"I seriously hope the band members are all really proud of what they've achieved, 'cause they have definitely taken shit to a whole new level." – MetalSucks
"This is a monolith made of steel with no brakes rocketing towards a concrete wall covered in C4." – Crave Online
http://www.facebook.com/FuckTheFacts
http://www.myspace.com/fuckthefacts
http://twitter.com/fuckthefacts
http://www.relapse.com
http://www.facebook.com/RelapseRecords