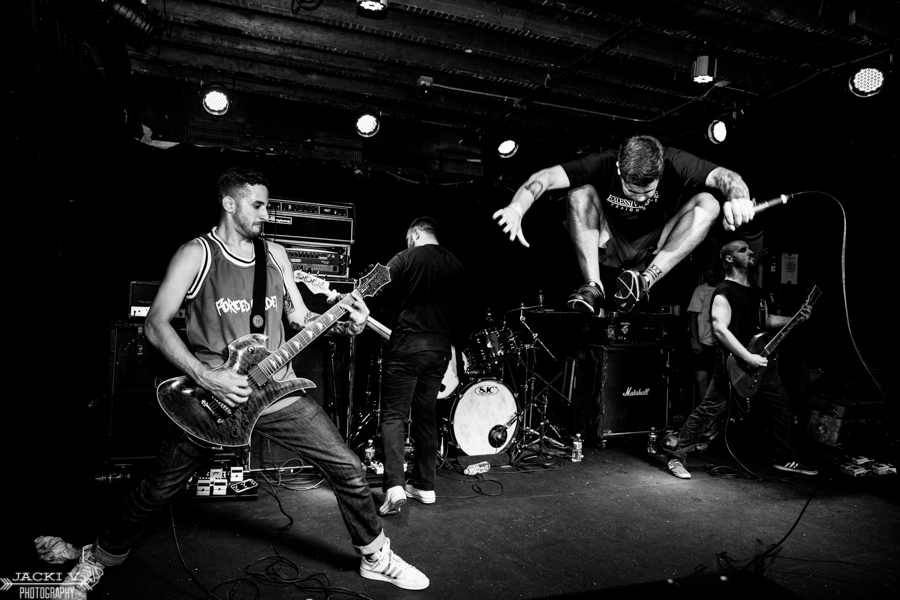 Southern California's FORCED ORDER has just declared a new pile of Fall and Winter tour dates on both American and European soil, including US shows with Burn, Soul Search, Ceremony and Trapped Under Ice, a European tour with Turnstile, and Winter appearances at FYA Fest and several shows with Foundation. The tour dates see announcement just as the vinyl version of the band's decimating debut LP, Vanished Crusade, is ready to see release this week through Revelation Records.
Churning with a 1990s grip on brutal metallic hardcore, FORCED ORDER's scorching divebomb leads heavy-chugging hooks and breakdowns form a lethal alloy romanticizing the works of Cleveland-heroes Integrity, Ringworm and In Cold Blood. While the members of the band also individually hail from Disgrace, Soul Search, and others, with FORCED ORDER their bleak views of the planet are delivered with a different, primal sense of impenetrable conviction. Jaw-clenching angst fuels every minute of the band's debut LP, Vanished Crusade, with fourteen tracks packed full of infectious, punishing grooves enveloped in a haunting, ill-omened aura, produced by Taylor Young at The Pit (Nails, Xibalba, Twitching Tongues).
Legends Arising crowned Vanished Crusade record Album Of The Month, issuing in its review that the album is, "definitely one of the best hardcore albums of 2015. It encompasses all types of extreme music and all tracks are executed to perfection." In a raging 9/10 review, Metal Injection inked, "The band's sound is one carried down from the ages of post-1986′ hardcore, with the soloing very reminiscent of Integrity, and an attitude that would place them in easy company with Terror and Ringworm (a little taste of Merauder in there too)… What FORCED ORDER brings is concise, to-the-point songwriting. In order for hardcore bands to execute the post-86′ style successfully, they must weave the riffs together in a way that makes you want to fly face-first into the pit… " Decibel Magazine issues, "SoCal hardcore new jacks FORCED ORDER are comprised of dudes from Twitching Tongues, Disgrace and Soul Search, but their aesthetic is strictly skull-cracking old-school, emulating the likes of veteran firebrands Integrity and Ringworm," and Exclaim divulges, "For the greater part of the album, the five-piece charge forward at a blistering pace. Although most of the songs clock in at less than two minutes, they are each incredibly dense bursts, incorporating numerous changes in tempo and transitioning between complex and straightforward rhythms with ease."
Stream FORCED ORDER's Vanished Crusade in its entirety via Soundcloud HERE and Bandcamp HERE.
Following its initial release through Revelation Records in August, the vinyl version of Vanished Crusade is now ready for to hit the streets. Officially available this Friday, October 9th, the record will see pressings of 300 copies on Coke Bottle Clear and 900 on Clear Gold. Orders for the CD, merch bundles and vinyl preorders are available through RevHQ RIGHT HERE.
In the wake of the band's participation in This Is Hardcore in Philadelphia, FORCED ORDER took off across North America on the nearly month-long The Life & Death Tour with Bane, Turnstile, Backtrack, Mizery and others in August. The band now confirms several new rounds of tour dates on both American and European soil, including October and early November US shows alongside the likes of scene kingpins Burn, Soul Search, Ceremony and Trapped Under Ice. November then sees the band hit Europe for a thirteen-city rampage supporting Turnstile, running from November 18th through the 30th. New shows are already being booked for Jaunuary too as, FORCED ORDER will take part in FYA Fest in Tampa, Florida, followed by three California gigs in California, with more shows being scheduled.
FORCED ORDER Tour Dates:
10/09/2015 The Observatory – Santa Ana, CA w/ Burn, Soul Search
10/29/2015 Great American Music Hall – San Francisco, CA w/ Ceremony
10/30/2015 The Catalyst Atrium – Santa Cruz, CA w/ Ceremony
11/07/2015 Jewels Catch One – Los Angeles, CA w/ Trapped Under Ice
11/18/2015 Winston – Amsterdam, NL w/ Turnstile
11/19/2015 Kavka – Antwerp, BE w/ Turnstile
11/20/2015 Universum – Stuttgart, DE w/ Turnstile
11/21/2015 Triptychon – Munster, DE w/ Turnstile
11/22/2015 Pod Minoga – Poznand, PL w/ Turnstile
11/23/2015 007 – Prague, CZ w/ Turnstile
11/24/2015 Music & Frieden – Berlin, DE w/ Turnstile
11/25/2015 Conne Island – Leipzig, DE w/ Turnstile
11/26/2015 Gebaude 9 – Cologne, DE w/ Turnstile
11/27/2015 Area 51 – Eindhoven, NL w/ Turnstile
11/28/2015 La Mecanique – Paris, FR w/ Turnstile
11/29/2015 Fighting Cocks – Kingston, UK w/ Turnstile
11/30/2015 The Dome – London, UK w/ Turnstile
1/03/2015 The Orpheum – Tampa, FL @ FYA Fest
1/08/2015 Los Globos – Los Angeles, CA w/ Foundation
1/09/2015 Gilman St. – Berkeley, CA w/ Foundation
1/10/2015 Chain Reaction – Anaheim, CA w/ Foundation
http://www.forcedorder.bandcamp.com
http://www.revelationrecords.com
http://www.revhq.com
http://www.facebook.com/revelationrecords
http://www.twitter.com/revelationrecs
http://www.youtube.com/user/REVELATIONRECORDS