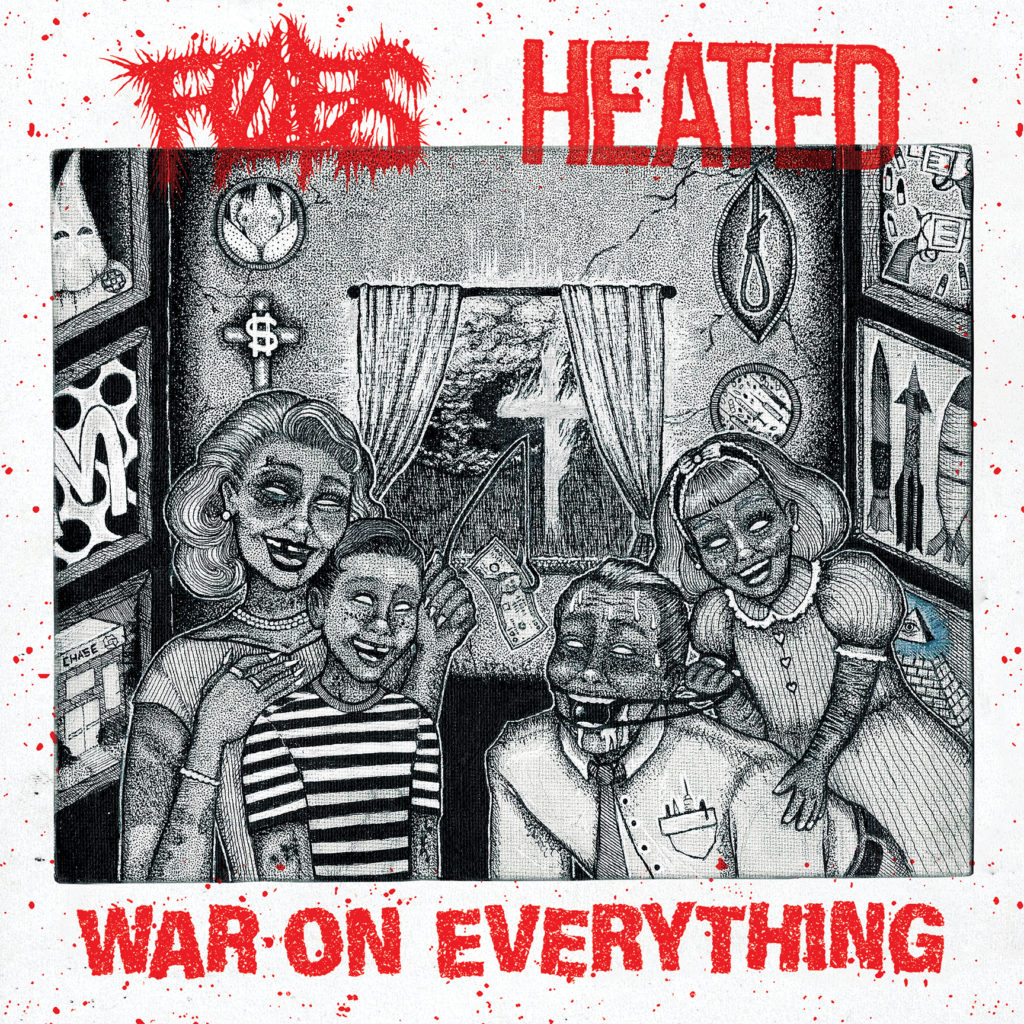 Glacier Recordings has issued the vinyl version of War On Everything, the venomous split EP between Oregon's FØES and California's HEATED, released digitally in May. With the vinyl finally available, new lyric videos and more have been posted.
Sunriver, Oregon-based FØES developed from a long-running side project of drummer Garrett Judkins and guitarist Sonny Daniels – both formerly of In the Advent Of Horror, Morgellon, and Murder On Hermosa – now rounded out with vocalist Micah Berry (Illis Amora, Old Nod) and bassist/vocalist Brandon Self (Existential Depression, Gravewitch, Unto the Plague, Abiosis). The band released The Doom Room Sessions EP in 2016, followed the following year by the NOD record. Several notable singles including "Naysayer" and "Free Of Them," along with solid live performances and tours, would give the band quite a bit of pickup over the next few years. In 2020, the band released the American Violence EP through Glacier Recordings which showcased the band at their most crushing yet.
HEATED is a hardcore collective based out of Stockton, California. The band was initially founded as a solo endeavor by guitarist Roman Gonzalez who then recruited bassist Allen Freeberg and vocalist Joey Barrows as full-time members. HEATED also boasts a lengthy list of live collaborators and artistic contributors including Zack Baker, Jake Hollingsworth, Dylan Todt, Hunter Thomas, and several others. Their debut EP was recorded in 2017 (before the full-time additions of Freeberg and Barrows) and was released in October of 2021, followed almost immediately by the release of their first two singles with the current lineup, "Enormous Shadows" and "Empty Maze." The band is currently in the process of recording their debut full-length album.
Created during the gut-punch of the past two years of the pandemic, FØES and HEATED teamed up to assemble the succinct but damaging War On Everything split. With two songs from each band, War On Everything is complete and total war against the environments we are subjected to, and an all-out assault against themselves in the physical and mental stress ridden times we find ourselves, here in America in 2022. Side A of War On Everything brings forth FØES' tracks "Ghost Town" and "Dog Catcher," which were recorded and produced by Garrett Judkins and Sonny Daniels at their own Doomroom Studios and mixed by Derek Leisey. Side B delivers the HEATED songs "Immune Leap" and "Doom Feed," with the drums self-recorded by Zack Baker at his home studio, guitars and bass recorded by Roman Gonzalez at his home studio, and the vocals recorded by Mike Sahm at Dream Awake Audio where the songs were mixed with additional production by Allen Freeberg. The track "Immune Leap" features a guest vocal appearance by Micah Berry of FØES. All tracks were mastered by Brad Boatright at Audiosiege (Integrity, Nails, Xibalba) and the record is completed with album art and design by Taylor Bates.
Watch new lyric videos for HEATED's "Immune Leap" HERE and FØES' "Dog Catcher" HERE, and stream the entire War On Everything at YouTube HERE and Bandcamp HERE.
The War On Everything 7" is limited to 250 copies – 125 on Blood Red w/ Black Splatter and 125 copies on Milky Clear. Secure a copy of the EP at the Glacier Recordings webshop HERE and Bandcamp HERE.
Having toured together multiple times, FØES and HEATED will announce additional tour dates together in the future. In the meantime, FØES has hometown shows in Portland August 30th and October 22nd confirmed, while HEATED is booking shows in Lodi, Los Angeles, San Diego, and Fresno in early October with details to be posted in the coming days.
FØES Live:
8/30/2022 Mano Oculta – Portland, OR w/ Gates To Hell, Constraint
10/22/2022 Capitol Bar – Portland, OR w/ Room13, Wretch, Pain Without End
FØES by Walt Raskal Sullins
HEATED by Brian Dunn
https://www.facebook.com/foesfosho
https://foesfosho.bandcamp.com
https://www.facebook.com/heatedca
https://heatedca.bandcamp.com
http://www.glacierrecordings.com
https://www.facebook.com/glacierrecordings
https://glacierrecordings.bandcamp.com
https://www.instagram.com/glacierrecordings