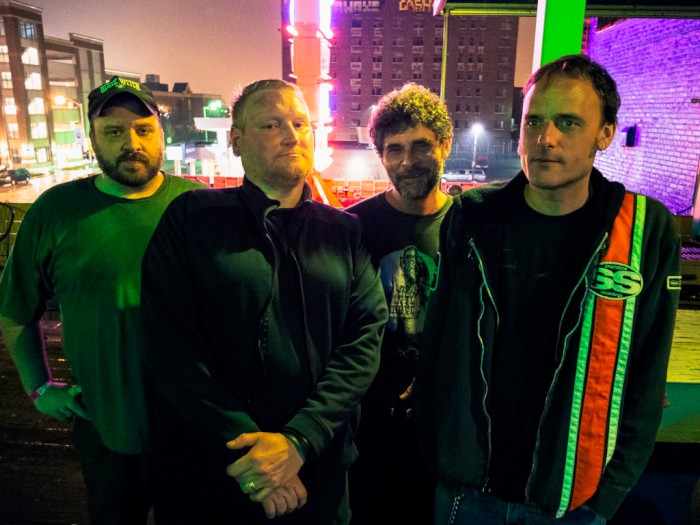 …hard, heavy, dirty blues rock 'n' roll for people who like the sound of an engine roaring or the feeling obtained by following a cold beer with a shot of good whiskey….
Toledo blues riff machine FIVE HORSE JOHNSON will drop the gritty fruits of their Jake Leg Boogie full-length upon the masses later this month.
In advance of its release, today New Noise Magazine is streaming "Smoke Show" at THIS LOCATION.
Issues Eric Oblander [vocals/harp], "'Smoke Show' is the type of greasy pork chop of a tune that we made our bones with. It's a simple recipe: start with one sloppy relentless harp riff — that harp part was actually originally a scratch track but [guitarist] Brad [Coffin] made me keep it in and I'm glad he did — next, have the rest of the band jump in at the right time with thumpin' bass, slide guitars, and sick beats like a sledgehammer, and finally yell about booze and/or women. Voila! Another FIVE HORSE JOHNSON classic is born!
If you missed it, be sure to get down with "Hard Times," still streaming at The Obelisk, at THIS LOCATION.
Jake Leg Boogie will see release via Small Stone Recordings June 30th on CD, limited LP, and digital formats. For preorders, visit the Small Stone Bandcamp page at THIS LOCATION .
And check out the opening title track below.
Jake Leg Boogie was recorded at Rustbelt Studios, with longtime producer Al Sutton (Big Chief, Novadriver, Halfway To Gone, Detroit Cobras) at the production helm, with a definitive nod to Dave Cobb (All Them Witches, Rival Sons). Artwork was provided by noted graphic artist and FIVE HORSE JOHNSON-collaborator Mark Dancey, keeping with a tradition established on 1999's Fat Black Pussycat.
Wrote Maximum Volume Music in a recent review of the record, "Jake Leg Boogie is high on quality, low on ballads and for existing FIVE HORSE JOHNSON fans, it's exactly what they want to hear." The Sentinel Daily notes, "there are enough moments of hard-rocking goodness on display here to draw in the unsuspecting denim-clad bystander. If you've ever enjoyed a dash of George Thorogood, Stevie Ray Vaughan, or ZZ Top, then there's plenty here to get your teeth into." While The Obelisk said of the track "Hard Times" specifically, "'Hard Times' is a standout for its craftsmanship and for the classically motoring riff at its center. It is very, very American. Chevys, whiskey spelled with the extra 'e,' consciously ogling a lady standing right next to her dude – it's all right there."
FIVE HORSE JOHNSON was forged in 1995. Some two decades and seven albums into their career – with eighth Jake Leg Boogie, set to drop late this June on Small Stone – FIVE HORSE JOHNSON has dug out a niche of their own, a genuine love and respect for traditional blues and classic rock leading them to likewise become one of the most loved and respected bands in the heavy rock underground. Always a freight train live, they've toured the US (with Clutch and Halfway To Gone) and Europe extensively (including the festival circuit), gathering fans, friends, and drinking partners all over the Western World.
Jake Leg Boogie sees FIVE HORSE JOHNSON going back to its recording roots. Original drummer Tim Gahagan has rejoined, and the results are powerful. Brad Coffin's guitar has never sounded heavier, his voice never stronger. Eric Oblander's harp, meanwhile, is as sharp as a tailfin, and his gravelly vocal delivery a growling, howlin' counterpoint to Coffin's gruff style. Steve Smith's bass is a strong backbone, while Phil Dürr's guitar complements that of Coffin, adding extra edge for good measure. From the slow, bluesy stomp of the title-track, to the dirge vibe of "Daddy Was a Gun" – a story of some weird goings-on in a strange parish – Jake Leg Boogie is pure old-school FIVE HORSE JOHNSON, recorded live, everyone in the same room, with as little overdubbing as possible. Accordingly, it feels lively and loud in the MC5-come-Hendrix vibe of "Hard Times," the hard-rocking "Magic Man" (a tale of depravity set in the town of Springfield, Missouri), and the near-Texan boogie of "Smoke Show."
FIVE HORSE JOHNSON is not a band that makes apologies, and compromise is not an option. The truth is, this is hard, heavy, dirty blues rock 'n' roll for people who like the sound of an engine roaring or the feeling obtained by following a cold beer with a shot of good whiskey. FIVE HORSE JOHNSON will gladly kick your ass, and then wait for you to say thank you and ask for another. Which you will.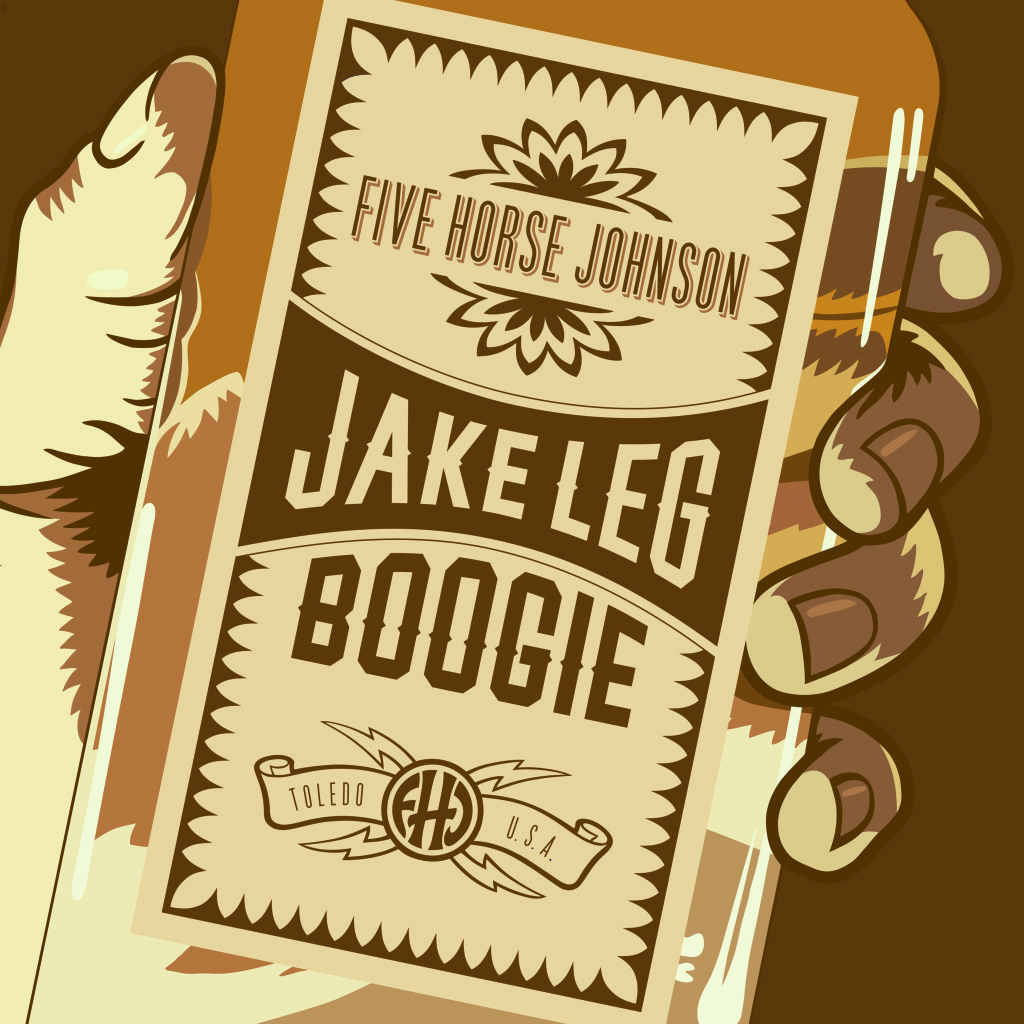 http://www.facebook.com/Five-Horse-Johnson-official-band-page
http://www.fivehorsejohnson.com
http://www.smallstone.com
http://www.facebook.com/smallstonerecords