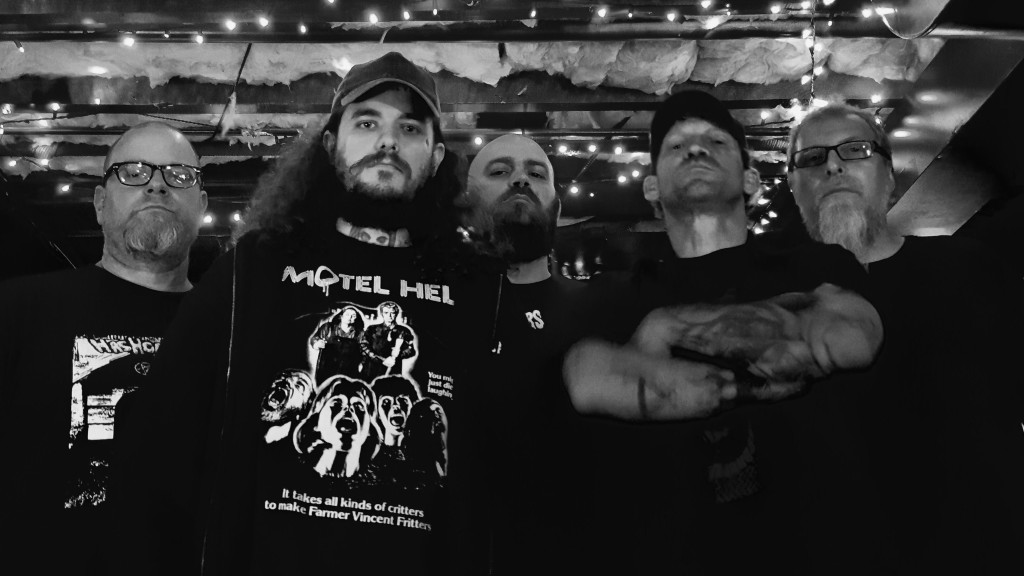 Revolver Magazine is pleased to unveil a brand new video from Ohio sludgecore vets FISTULA. "Contusion" comes by way of the band's recently issued split seven-inch with fellow sludge stalwarts Come To Grief.
Notes Revolver of the video, "The gritty clip sees the band playing together in a tight space (someone's hell hole of a basement perhaps?), riffing and shrieking out waves of cruelty and pain. The sludge moves on itself like a pendulum, creating a hypnotic rhythm to the song. The visuals, meanwhile, run like a worn-out multigenerational VHS recording, distorted and vaguely psychedelic in a way that perfectly suits the song."
Adds FISTULA vocalist Dan Harrington,"'Contusion' was the first song we wrote after our US and European tours supporting The Shape Of Doom To Cumm))) LP. It was a rough patch for us personally, both [guitarist] Corey [Bing] and myself had lost family members while being on the road… 2017 was a year mired by seemingly endless negativity. The only non-violent way to deal with these frustrations was to do what we do… play loud fucking music and channel that anger and exorcise it through our music."
View "Contusion," courtesy of Revolver, at THIS LOCATION.
FISTULA's split seven-inch with Come To Grief, as well as their recently issued split with -(16)- , serves as the first wave of an ongoing split seven-inch series celebrating FISTULA's twenty years of sonic misery.
"2018 marks the twentieth anniversary of this band," relays Harrington, "and we wanted to do something different. We reached out to old friends and the very artists who helped inspire us to create this kind of music to release a series of split EPs. The split seven-inches with Come To Grief and -(16)- are now available, a split with Hemdale will be available during our May tour dates with Come To Grief and split twelve-inches with Buzzov*en and Fister will be released towards the end of the year. We also look forward to touring the UK and Europe in the fall with our Italian brothers Grime."
Each limited edition seven-inch is available in various color variants. The Come To Grief / FISTULA split is also available on cassette. To order, visit THIS LOCATION.
FISTULA has confirmed a spring tour this May with Come To Grief. The journey will commence on May 1st in Philadelphia, Pennsylvania and trample thirteen venues through May 13th in Portland, Maine with Cough and No Funeral to appear on select shows. The band will also appear on Auston Terror Fest this June. See confirmed dates below.
FISTULA w/ Come To Grief:
5/01/2018 Kung Fu Necktie – Philadelphia, PA
5/02/2018 Strange Matter – Richmond, VA w/ Cough
5/03/2018 Maywood Tavern – Raleigh, NC
5/04/2018 529 Bar – Atlanta, GA
5/05/2018 Vino's – Little Rock, AR
5/06/2018 Fubar – St. Louis, MO
5/07/2018 Rock Island Brewing Co. – Rock Island, IL w/ No Funeral
5/08/2018 Eagles 34 – Minneapolis, MN w/ No Funeral
5/09/2018 Reggie's – Chicago, IL w/ No Funeral
5/10/2018 Black Circle Brewing Co. – Indianapolis, I
5/11/2018 Mohawk Place – Buffalo, NY
5/12/2018 The Irish Wolf Pub – Scranton, PA
5/13/2018 Geno's Rock Club – Portland, ME
6/16/2018 Austin Terror Fest – Austin. TX w/ Exhorder, Agoraphobic Nosebleed, Buzzov*en, Come To Grief, more
FISTULA was forged in 1998 by musical partners-in-crime Corey Bing and Bahb Branca. Over the years, FISTULA has released a seemingly endless barrage of studio albums and split EPs through numerous lineup changes featuring the creative talents of bands such as Sloth, Hemdale, The Disease Concept, Accept Death, and so many others. FISTULA is a band that is impossible to categorize, combining elements of remedial sludge, hardcore and a proverbial "bad case of the Mondays." Nearing two decades of ear-bleeding, FISTULA remains the the miserable kings of sludgecore.
"…miserable… At its fastest, it sounds like FISTULA is on the hunt. At its slowest, it's like walking down a gray, expansive hallway with no end in sight." – Metal Injection
"…a delicious mix of sludge, with a hint of hardcore and doom. A pulsing bass courtesy of Greg Peel undergirds the impenetrable riffs, while Dan Harrington's anguished vocals command your focus." – The Sludgelord
"…super-slow-mo suffering…" – Hellbound
"For the doom and sludge nerds out there, this record is like a godsend. With just seven inches of wax these bands say more than almost all of their peers. In a crowded genre it is reassuring to have something so unabashedly heavy and balls-out devastating to point to and say, 'That – that is the sort of heaviness that I love.'" – Two Guys Metal Reviews
"It's so easy for splits like this to sound too samey but both Come To Grief and FISTULA have injected their musical personalities into it. The former brings you down and the latter is more upbeat, but they're both very adept at what they do and I can see that this split series in gonna be a whole lot of heavy." – This Noise Is Ours
http://www.fistula666.com
http://www.facebook.com/fistula666
http://www.patacrecords.com
http://www.facebook.com/patacrecords