Ohio sludge misanthropes FISTULA will kick off their The Shape of Doom 2016 tour later this month beginning with a march through Europe. The journey, set to embark on October 13th in Brussels, Belgium, will rumble nineteen venues through October 31st. The band will be joined by the Italian misery-bringers in Grime. From there, FISTULA will take a brief pause before soiling the US with another stretch of dates from November 6th through November 20th with additional demolitions to be announced in the weeks to come. In the meantime, view the band's European tour trailer below.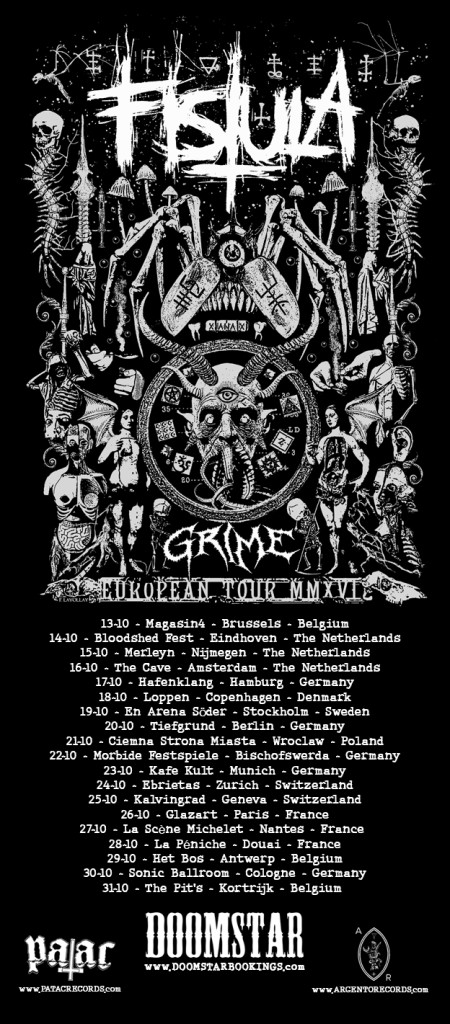 FISTULA w/ Grime:
10/13/2016 Magasin 4 – Brussels, BE
10/14/2016 Bloodshed Fest 2016 – Eindhoven, NL
10/15/2016 Merleyn – Nijmegen, NL
10/16/2016 The Cave – Amsterdam, NL
10/17/2016 Hafenklang – Hamburg, DE
10/18/2016 Loppen, – Copenhagen, DK
10/19/2016 En Arena Söder – Stockholm, SE
10/20/2016 Tiefgrund – Berlin, DE
10/21/2016 Ciemna Strona Miasta – Wroclaw, PL
10/22/2016 East Club – Bischofswerda, DE
10/23/2016 Kafe Kult – Munich, DE
10/24/2016 Ebrietas – Zürich, CH
10/25/2016 Kalvingrad – Geneva, CH
10/26/2016 Glazart – Paris, FR
10/27/2016 La Scène Michelet – Nantes, FR
10/28/2016 La Péniche – Douai, FR
10/29/2016 Het Bos – Antwerp, BE
10/30/2016 Sonic Ballroom – Cologne, DE
10/31/2016 The Pit's- Kortrijk, BE
End Tour
11/06/2016 Quencher Saloon – Chicago, IL
11/07/2016 The Milk Run -Omaha, NE
11/08/2016 Flux Capacitor – Colorado Springs, CA
11/09/2016 TBA – Salt Lake City, UT
11/10/2016 Garth Haus – Las Vegas, NV
11/12/2016 Midnite Communion IV @ DiPiazza's – Long Beach, CA
11/14/2016 The Rogue – Scottsdale, AZ
11/15/2016 LoveSprout – El Paso, TX
11/16/2016 The Lost Well – Austin, TX
11/17/2016 Siberia – New Orleans, LA
11/18/2016 Springwater Supper Club – Nashville, TN
11/19/2016 Fubar – St. Louis, MI
11/20/2016 State Street Pub – Indianapolis, IN
FISTULA will be touring in support of the diseased sounds of their Longing For Infection full-length, released this past Summer. Tracked and engineered by Dave Johnson (Midnight, Incantation, Soulless), the demoralizing full-length features the return of FISTULA founding member Bahb Branca on second guitar, furthering the band's already vile brand of sonic violence. Said the band of the release, "Longing For Infection paints a portrait of our mental state… Having to reform after a major lineup shift, most bands would say, 'fuck it,' and give up, but we are slightly more masochistic than that. We channeled our frustrations, anger, despair and disgust and returned to The Riff, our hardcore punk and doom roots and pressed 'Record.' Longing For Infection is the result; another sonic creation documenting our distain for humanity."
Hear Longing For Infection in full at THIS LOCATION.
And if you missed it, be sure to sample the NSFW graphic visual accompaniment to "Morgue Attendant:"

Order Longing For Infection HERE.
FISTULA was forged in 1998 by musical partners-in-crime Corey Bing and Bahb Branca. Over the course of their existence, FISTULA has released a seemingly endless barrage of studio albums and split EPs through numerous lineup changes featuring the creative talents of bands such as –(16)-, Sloth, Hemdale, The Disease Concept, Accept Death, and so many others. FISTULA is a band that is impossible to categorize, combining elements of remedial sludge, hardcore and a proverbial "bad case of the Mondays." Nearing two decades of ear bleeding, FISTULA remains the kings of doomed-out "miserycore."
2015 saw the band headlining the Het Patronaat stage at Roadburn Festival and recording the Destitute demo as well as the new full studio album Longing For Infection. Aside from Roadburn, FISTULA recently played the Haunted Hotel 13th Anniversary Fest as well as the Berserker III Fest. FISTULA will release another full-length later this Fall on Totem Cat Records. Entitled The Shape Of Doom To Cumm ))), the record will feature guest guitarist David Szulkin from Blood Farmers and Church Of Misery. Stand by for details.
"Though their famously unstable lineup has been shuffled once again… Longing For Infection thankfully loses none of that momentum. Founding guitarist Corey Bing's distinctive riffs are sounding heavier and juicier than ever, whilst vocalist Dan Harrington (who has been a reliable constant since 2012) is in his element, spitting out venomous snarls with aplomb." – Terrorizer
"When you break down this album, it's something that Joe D'Amato and Lucio Fulci would be proud of in terms of grisliness, and Mario Bava would love because of how colorful it can be. It's over-the-top, tongue-in-cheek and merciless…" – Metal Injection
"…an ugly, heavy, chain-dragging, teeth-kicking, bare-knuckled piece of mixed martial arts." – No Clean Singing
"FISTULA has created the perfect soundtrack to self-immolation." – Glacially Musical
http://www.fistula666.com
http://www.facebook.com/fistula666
http://www.patacrecords.com
http://www.facebook.com/patacrecords