Ohio pessimists/miserycore veterans FISTULA are set to drop the demoralizing wares of their The Shape Of Doom To Cumm))) full-length upon unsuspecting ears this week. Slated for a November 1st unveiling via Totem Cat Records, the seven-track punisher was recorded, mastered, and produced by Dave "Big Metal" Johnson (Soulless, Midnight, Incantation) in Cleveland, Ohio earlier this year, features guest guitarist David Szulkin from Blood Farmers and Church Of Misery, and comes shrouded in the cover renderings of Eric C. Harrison, formerly of Grief.
The Shape Of Doom To Cumm))) will be limited to 500 vinyl copies in three color variations: 100 splatter, 200 clear green, and 200 black and is available for purchase at THIS LOCATION.
In the meantime, sample the audio repugnance of "Sabbath Wants To Do A Split With Me" streaming at Cvlt Nation at THIS LOCATION.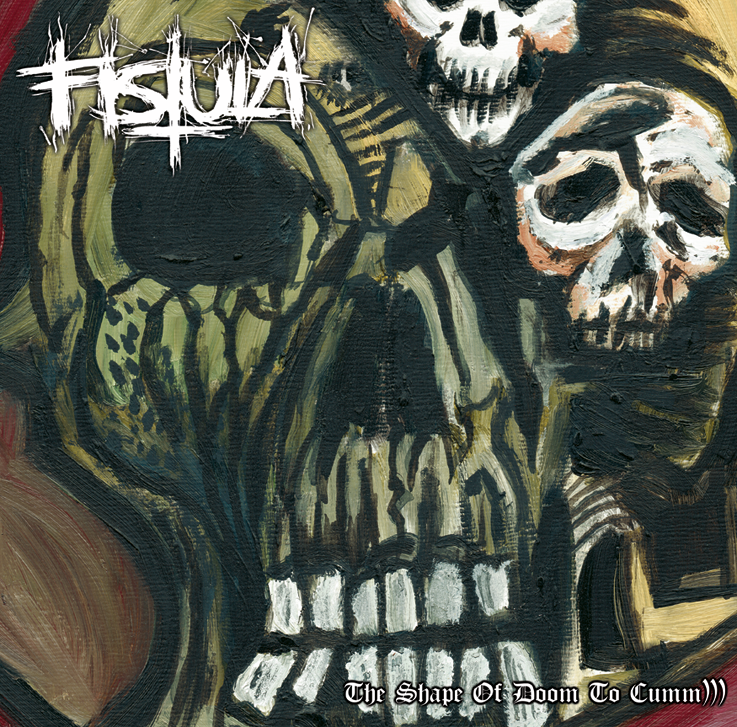 The Shape Of Doom To Cumm))) Track Listing:
Serial Vapist
Promiscuity Ingenuity
Goat Brothel
Sabbath Wants To Do A Split With Me
Tough Guy
Black Maggot
Negative
Team FISTULA is currently leveling stages across Europe on The Shape Of Doom 2016 trek with Italian doom unit Grime. Set to conclude on Halloween night (tonight!) in Kortrijk, Belgium, FISTULA will take a brief pause before soiling the US with another stretch of dates from November 6th through November 20th with additional demolitions to be announced in the weeks to come.
FISTULA w/ Grime [remaining dates]:
10/31/2016 The Pit's- Kortrijk, BE
End Tour
11/06/2016 Quencher Saloon – Chicago, IL
11/07/2016 The Milk Run -Omaha, NE
11/08/2016 Flux Capacitor – Colorado Springs, CA
11/09/2016 Beehive Social Club – Salt Lake City, UT
11/10/2016 Garth Haus – Las Vegas, NV
11/12/2016 Midnite Communion IV @ DiPiazza's – Long Beach, CA
11/14/2016 The Rogue – Scottsdale, AZ
11/15/2016 LoveSprout – El Paso, TX
11/16/2016 The Lost Well – Austin, TX
11/17/2016 Siberia – New Orleans, LA
11/18/2016 Springwater Supper Club – Nashville, TN
11/19/2016 The Green Lantern – Lexington, KY
11/20/2016 State Street Pub – Indianapolis, IN
FISTULA released their Longing For Infection full-length this past Summer. Tracked and engineered by Dave Johnson (Midnight, Incantation, Soulless), the crushing full-length features the return of FISTULA founding member Bahb Branca on second guitar, furthering the band's already vile brand of sonic violence. Hear Longing For Infection in full at THIS LOCATION. Order Longing For Infection HERE.
FISTULA was forged in 1998 by musical partners-in-crime Corey Bing and Bahb Branca. Over the course of their existence, FISTULA has released a seemingly endless barrage of studio albums and split EPs through numerous lineup changes featuring the creative talents of bands such as –(16)-, Sloth, Hemdale, The Disease Concept, Accept Death, and so many others. FISTULA is a band that is impossible to categorize, combining elements of remedial sludge, hardcore and a proverbial "bad case of the Mondays." Nearing two decades of ear bleeding, FISTULA remains the kings of doomed-out "miserycore."
http://www.fistula666.com
http://www.facebook.com/fistula666
https://www.facebook.com/totemcatrecords
http://totemcatrecords.bigcartel.com
http://www.patacrecords.com
http://www.facebook.com/patacrecords