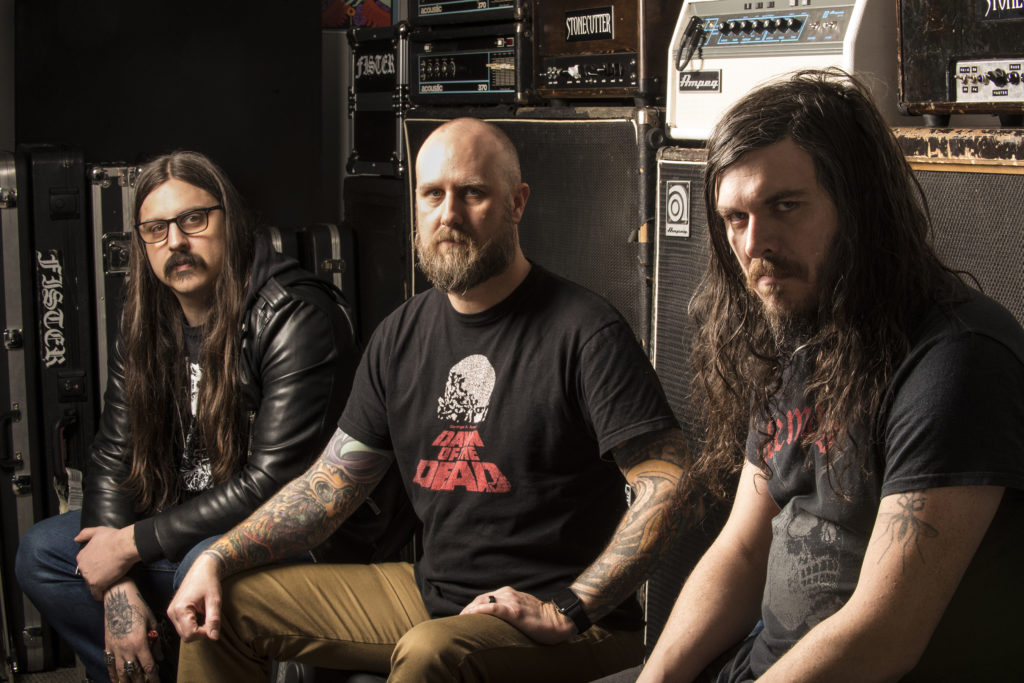 "The slow slaughter proves to be an ode to beating all that wallows with a battle axe." — Invisible Oranges
As the release of No Spirit Within, the impending new full-length from Missouri-based doom trio FISTER, draws ever closer to its North American release, today Invisible Oranges is streaming the record in its demoralizing entirety.
"Both instrumentally and thematically," issues the esteemed blog, "No Spirit Within could be used as evidence of how grittier doom units read almost like half-speed powerviolence. The slow slaughter proves to be an ode to beating all that wallows with a battle axe."
Read more and succumb to the obliterating sounds of No Spirit Within at THIS LOCATION.
Hailed for its "slow, trudging-and-grudgingly evil riffs," by Metal Injection, FISTER's No Spirit Within was recorded, mixed, and mastered by Gabe Usery at Encapsulated Studios in St. Louis. Out now on European shores, the record will see North American release via Listenable Records on CD, LP, and cassette formats on May 18th. For orders go to THIS LOCATION.
Manifesting a sound so poisonous, polluted, and nihilistic that "sludge," "doom," "funeral," and "death" are the only words close to suitable in description, on No Spirit Within the Midwestern outfit are overpowering and relentless at a city-leveling volume like a Sisyphean artillery brigade cursed to push two hundred tons of speaker cabinets uphill forever.
FISTER is currently in the midst of a European tour with Sacramento doom unit Chrch. The journey commenced on May 2nd and will roll through May 16th. See all confirmed dates below.
FISTER w/ Chrch:
5/02/2018 Bar Loose – Helsinki, FI
5/03/2018 SubScene – Oslo, NO
5/04/2018 Northern Discomfort – Copenhagen, DK
5/05/2018 Vera – Groningen, NL
5/06/2018 Desert Fest – Banury, UK
5/07/2018 The Wheatsheaf – Banbury, UK
5/08/2018 Nice N Sleazy – Glasgow, UK
5/09/2018 Head Of Steam – Newcastle, UK
5/10/2018 Temple Of Boom – Leeds, UK
5/11/2018 Magasin4 – Brussels, BE
5/12/2018 Halle Am Rhein – Cologne, DE
5/13/2018 Kafe Kult – Munich, DE
5/14/2018 Freakout Club – Bologna, IT
5/15/2018 L'Usine – Geneva, CH
5/16/2018 JuHa West – Stuttgart, DE
Hailing from the confluence of infectious disease, arbitrary violence, and rivers of industrial filth that is St. Louis, Missouri, FISTER has been sublimating their brutally toxic environment into a deliberate and belligerent challenge to the eardrums since 2009. Comprised of bassist/vocalist Kenny Snarzyk, drummer Kirk Gatterer, and guitarist/vocalist Marcus Newstead, this trio converts an eclectic swarm of extreme metal influences into the sonic analogue of trench warfare, concussive, bloody, and exhausting. Honed to grisly sharpness through years of performance, they have shared stages with countless musicians, including supporting sludge icons Eyehategod and Crowbar and appearances at the SXSW, Psycho Las Vegas, and Roadburn festivals. Pairing their seismic live offerings with more than a dozen releases, they have literally poured their blood into the work along the way – for their 2012 EP Violence, the band members had blood drawn and mixed with the ink used to print the liner notes.
From the hazy bulldozer bongripping of debut LP Bronsonic to 2015's impossibly dismal IV, a gruesome and lysergic forty-four-minute long single track that tests the limits of adjectives like heavy or bleak, their sound is continually (d)evolving. Consistently finding new ways to hit bottom in a sequence of splits with fellow underground juggernauts Dopethrone, Primitive Man, and Teeth among others, FISTER has emerged as one of the nastiest strains of doom metal, adept at fusing the narcotic tension of drowning in misery with the planet-splitting intensity of devout amplifier worship.
"No Spirit Within opens up with two-minute intro 'Frozen Scythe' which carries the foreboding resonance of an Ennio Morricone score but when a stomach-churning growl signals the start of 'Disgraced Possession' it becomes all too apparent that FISTER's latest album is less A Fistful Of Dollars and more The Day After Tomorrow. The ten-minute journey submerges you in the bowels of humanity. Remorselessly dark right through to its caustic core, only occasional spiraling solos are permitted to penetrate the punishing discord through which the sinewed strains of Marcus Newstead add additional lines of distress…" — Cvlt Nation
"…a harrowing and dark trip into the abyss and a subsequent call from the void – a terrifying track that should not be missed." — Revolver on "I Am Kuru"
"…holy hell does it sound hateful." — Metal Injection
"…if you've got headphones nearby and want to give your brain a kick in the pants just to show it who's boss, then yeah, have at it." — The Obelisk
"It's easy to get lost in the monolithic and borderline terrifying waltz of No Spirit Within… [FISTER] reflects a certain bleak potency that exists within all of us and routinely guide us into ever darker sound worlds… Backbreaking and face smashing, this is what sludge should be about." — Two Guys Metal Reviews
"…one of the nastiest strains of doom metal coming out of the US in recent years." — Metal Revolution
http://www.facebook.com/fisterdoom
http://www.listenable.net
http://www.facebook.com/listenablerecs
http://www.twitter.com/Listenable