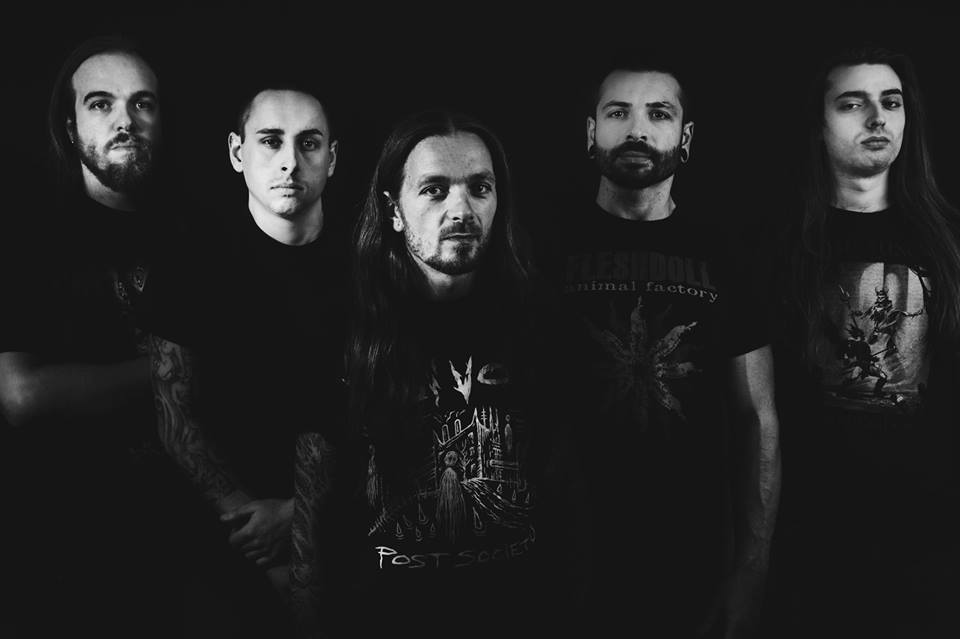 Montreal-based neoclassical tech death collective FIRST FRAGMENT is pleased to announce their first ever US tour supporting Vale Of Pnath. The month-long journey will commence on September 29th in Chicago, Illinois and run through October 26th in Denver, Colorado. Additional support will be provided by Virvum.
Comments guitarist/vocalist Phil Tougas, "Next September will mark the band's 10th anniversary and to celebrate, we will be touring in America for the very first time. We have come a very long way since then. We are very excited to embark on such a journey along with two of the most promising bands in the technical metal scene as this package is a must-see for every self-respecting fan of the genre. See you on the road!"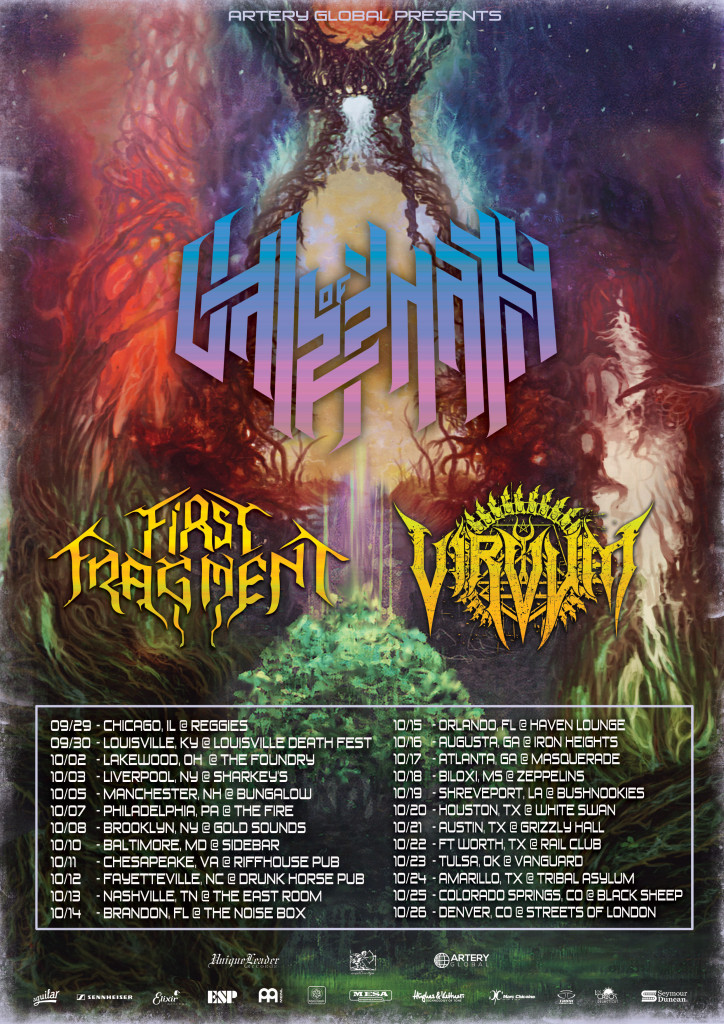 FIRST FRAGMENT w/ Vale Of Pnath, Virvum:
9/29/2017 Reggie's Rock Club – Chicago, IL
9/30/2017 Cure Lounge – Louisville, KY
10/02/2017 The Foundry – Lakewood, OH
10/03/2017 Sharkey's – Liverpool, NY
10/05/2017 Bungalow – Manchester, NH
10/07/2017 The Fire – Philadelphia, PA
10/08/2017 Gold Sounds – Brooklyn, NY
10/10/2017 The Sidebar – Baltimore, MD
10/11/2017 Riffhouse Pub – Chesapeake, VA
10/12/2017 The Drunk Horse Pub – Fayetteville, NC
10/13/2017 The East Room – Nashville, TN
10/14/2017 The Noise Box – Brandon, FL
10/15/2017 Haven Lounge – Orlando, FL
10/16/2017 The Iron Heights – Augusta, GA
10/17/2017 The Masquerade – Atlanta, GA
10/18/2017 Zeppelins – Biloxi, MS
10/19/2017 Bushnookies – Shreveport, LA
10/20/2017 White Swan – Houston, TX
10/21/2017 Grizzly Hall – Austin, TX
10/22/2017 The Rail Club – Fort Worth, TX
10/23/2017 The Vanguard – Tulsa, OK
10/24/2017 Tribal Asylum – Amarillo, TX
10/25/2017 Black Sheep – Colorado Springs, CO
10/26/2017 Streets Of London – Denver, CO
FIRST FRAGMENT released their debut album Dasein in May 2016 via Unique Leader. The record caught the attention of many guitar fanatics worldwide with their adventurous and eclectic sound. Combining '80s neoclassical metal, flamenco, and extreme metal influences, the music of FIRST FRAGMENT is a bold, over-the-top "monument of shred," despite its structural and harmonic simplicity.
Captured at Humanoise Studios with Mathieu Marcotte (Augury, Humanoid) and mixed by Hugues Deslauriers (Augury, Defilementory, Vengeful etc.), the eleven-track Dasein features guest appearances from current and former members of Spawn Of Possession, Obscura, Inferi, Augury, and Elderoth, as well as artwork by Sam Nelson (Incandescence, Wayfarer, Stoic Dissention).
Order bundles for Dasein are currently available HERE. For digital purchases visit THIS LOCATION.
Metal Injection crowned the record a, "rare modern classic that people will be talking about for awhile," further elaborating, "Dasein is indeed one of the most impressive and extreme tech-death debut albums I've heard in some time. If you can imagine what it would sound like if Gorod, Spawn Of Possession, and Necrophagist joined forces with Jason Becker, [Yngwie] Malmsteen, and Origin's shred influences… you'd arrive at the frequently eye-popping sonic territory that FIRST FRAGMENT occupies." Elsewhere the sentiment echoed. Dead Rhetoric wrote in a 9.5/10 review, "A technical death metal album that is downright pleasant on the ears, look to FIRST FRAGMENT to be seen in the same sentence as genre leaders like Gorod and Beyond Creation once the world is fully exposed to Dasein." Last Rites concurred, "Dasein… is punishingly fast and overwhelmingly technical. It is, more than anything else, a monument to shred. Even so, FIRST FRAGMENT never falls prey to the common pitfalls of the style, because where tech death often feels sterile and academic, Dasein is playful, curious, and exuberant. The album is unremittingly melodic and neoclassical, with its stacked arpeggios sometimes sounding like a baroque fugue played on a harpsichord that has been dredged in liquid mercury." In a 5/5 "classic" rating, Sputnik Music gushed, "It's very difficult to make such a fast, in-your-face album and keep it consistent and intriguing per every song. This proves to be no trouble for FIRST FRAGMENT; Dasein absolutely earns a place amongst the best modern techdeath releases and deserves all the credit it gets. The tracks flow seamlessly with gorgeous melodies dominating the record." In a 4.5/5 review, Heavy Blog Is Heavy noted, "Dasein is an album that could easily be pointed at as an archetypal technical death metal album. Basically a love letter to the genre, it's infectiously memorable and groovy. Fans of the genre can find much to appreciate here, and it would serve as an excellent starting point for those looking to delve deeper as well. FIRST FRAGMENT has knocked it out of the park with their debut album, and shown yet again that there is something special about French Canada that leads to excellent tech death that is a must-listen."
Formed in 2007, FIRST FRAGMENT quickly drew attention of the underground after releasing numerous demos, and their debut EP The Afterthought Ecstasy as a three piece. It wasn't long until the band made their official entry in the scene afterwards with a full lineup until eventually getting the attention of Californian-based label Unique Leader Records to release their debut album. Years later, FIRST FRAGMENT remains as strong as ever and unchanged to their core, and in their common obsession: To dominate the world. Onward!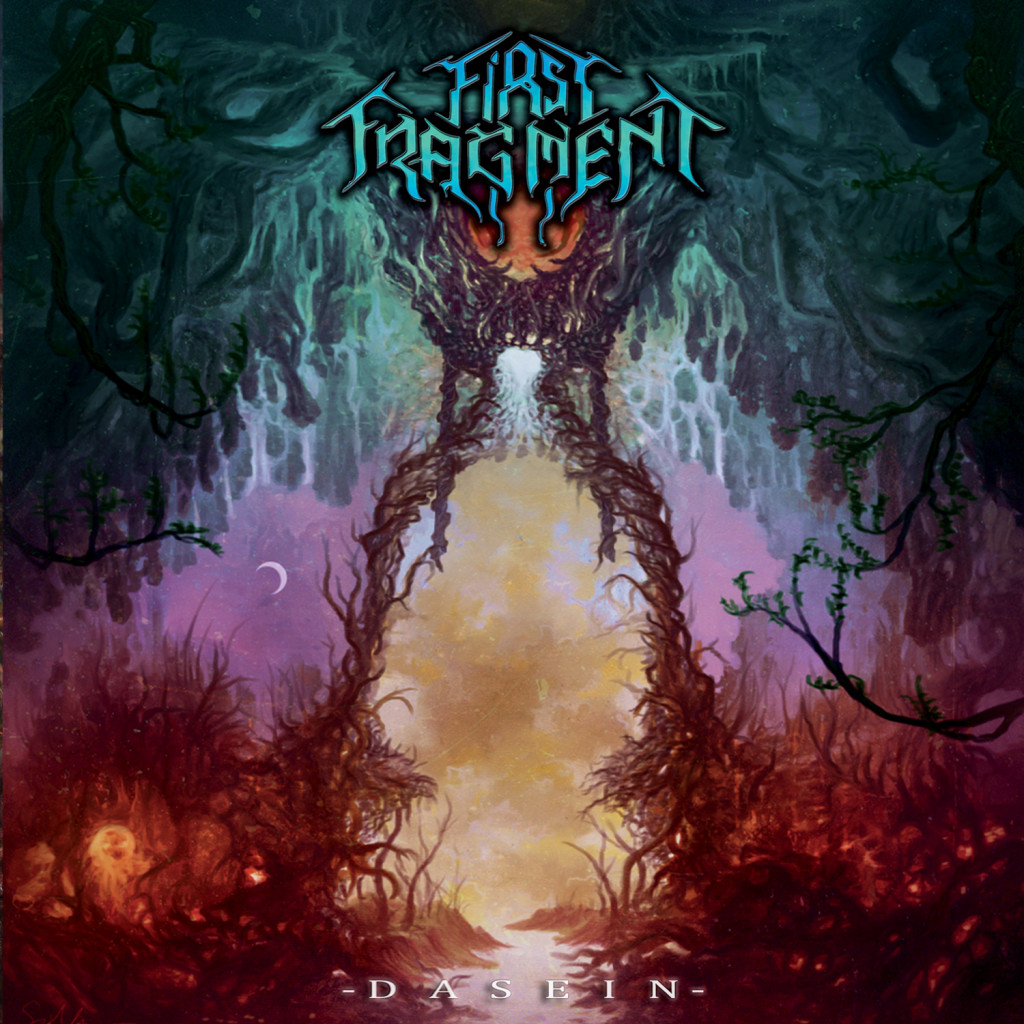 http://www.facebook.com/firstfragmentofficiel
http://www.twitter.com/firstfragmentqc
http://www.instagram.com/firstfragmentqc
http://www.uniqueleader.com
http://www.facebook.com/UniqueLeaderRecords
http://www.facebook.com/FirstFragmentOfficiel
http://www.uniqueleader.com
http://www.facebook.com/UniqueLeaderRecords