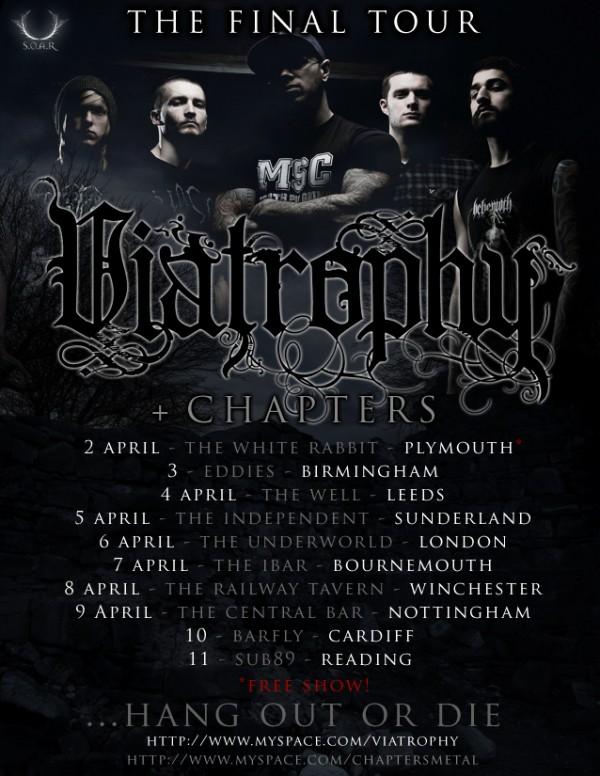 In a message from soon-to-be-disbanded UK metallers VIATROPHY: "As some of you may have heard, this final tour has been fully cursed from day one with three hospitalizations and a massive outbreak of some insane virus causing us to play two shows without Adam, and cancel two more. Well now, thanks to three fifths of us relapsing ,we are sad to announce we have to rearrange the rest of the tour.
We could have played a shoddy set in Reading without a few members, but it wouldn't be a good show — let alone a final show, and it wouldn't feel right to put this band to bed without the full lineup.
We got this infection from someone thinking they were better and turning up to one of our shows. We aren't even feeling better, and in addition to not wanting to play a shitty set with no members, we don't want any of you to get this. I know that sounds totally gay like not talking to your mum when you've got a coldsore, but this is literally the worst infection I have seen since 28 Days Later. As soon as you puke anyone in a 10 mile radius is puking within the hour. And you don't stop puking until you puke up your stomach bile… and even then you're still infectious… for three days… and then you catch it again.
We are so sorry that this has had to happen, and it pains us even more for it to happen on our last tour. As a result of so many of you missing us as a full lineup, we will be rearranging the canceled shows for a later mini tour. So hopefully everyone who didn't get to see us will see us one last time.
THE FINAL SHOW HAS BEEN RESCHEDULED FOR SUNDAY MAY 23 AT SUB 89 READING. EXPECT A WALES AND NOTTINGHAM DATE TO FOLLOW. — VIATROPHY"