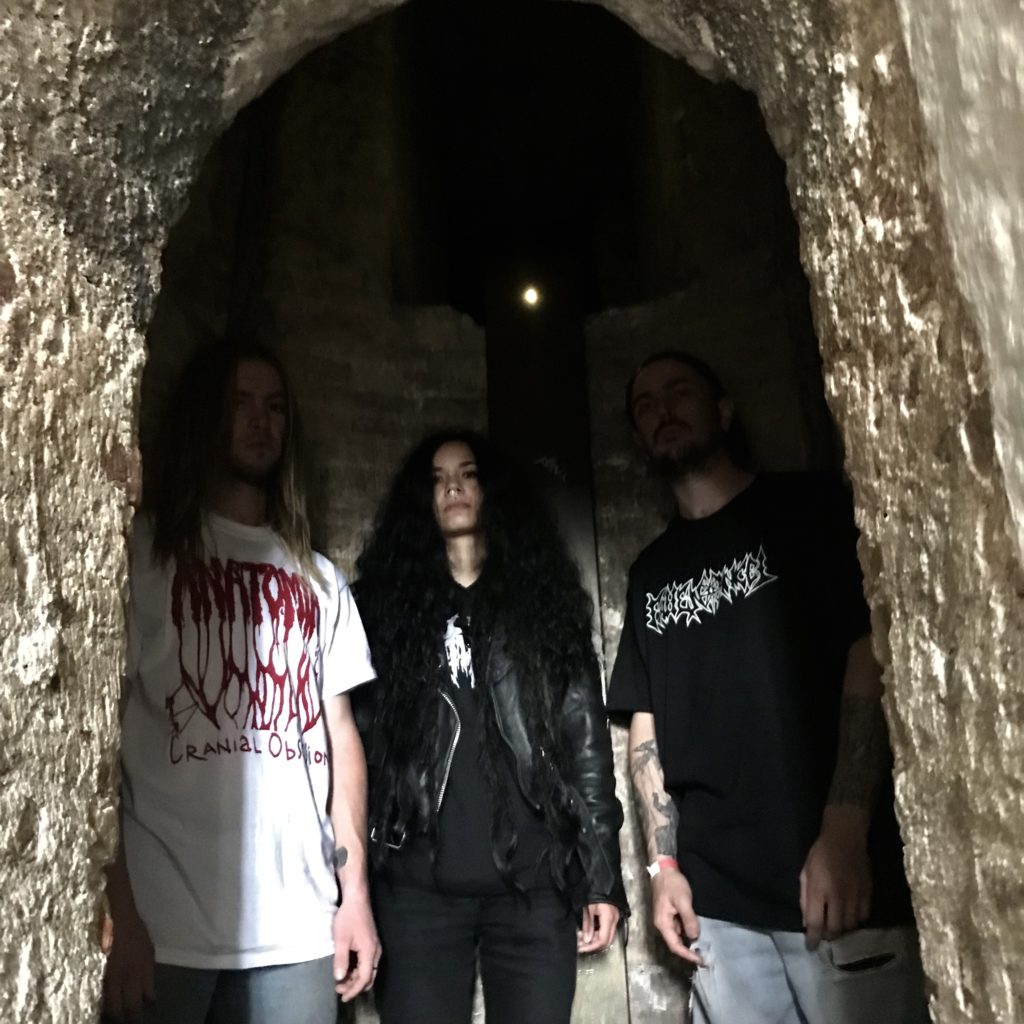 [photo by Crystal Seth]
"Consumed Periphery," the new single from cult Pacific Northwest US death metal outfit FETID, is now streaming through 20 Buck Spin, alongside preorders for the band's horrifying debut LP, Steeping Corporeal Mess. FETID has also begun announcing tour dates in support of the new album.
Recorded, mixed, and mastered by Greg Wilkinson (Necrot, Vastum, Ulthar) and wrapped in grim artwork by Daniel Hermosilla, FETID's Steeping Corporeal Mess promises to be one of the most decimating LP's of the death metal genre this year. All one needs to know is that from the opening of "Reeking Within" to the closing moments of "Draped In What Was," FETID consumes from the inside out, tearing through flesh, liquifying and engulfing the entire host body into formless horror. "Feel it breathe, feel your fear, the time is now, they are here…" Fans of Undergang, Autopsy, Cerebral Rot, Rottrevore, Morpheus Descends, and Infester, this is for you.
Decimate all in earshot with FETID's "Consumed Periphery" via YouTube HERE, Bandcamp HERE, and through all other digital providers.
Steeping Corporeal Mess will see release via 20 Buck Spin on LP, CD, and digital platforms June 7th. Find preorders at the label webshop HERE and Bandcamp where "Reeking Within" is also streaming HERE.
Watch for additional audio premieres to be issued in the weeks ahead.
Following tours in the US and Australia and having performed at Kill Town Death Fest in Denmark, FETID has confirmed their performance at this year's installment of Brooklyn-based Stardust VII on July 4th and 5th alongside The Ruins Of Beverast, Dead Congregaion, Witch Vomit, Lord Mantis, Daeva, and more. This is directly followed by Metal Threat in Chicago July 6th and 7th also with Witch Vomit as well as Deceased, Cardiac Arrest, Mausoleum, and others. A full US tour is in the works for late summer with labelmates Cerebral Rot. Watch for new tour dates to be revealed in the weeks ahead.
FETID Tour Dates:
7/04-05/2019 Saint Vitus Bar – Brooklyn, NY @ Stardust VII [info]
7/06-07/2019 Reggies – Chicago, IL @ Metal Threat [info]
While home to fertile forests, soaring peaks, and copious precipitation, the Pacific Northwest lately has also become a breeding ground for something more nefarious, more grotesque, more… FETID.
Since 2016, FETID has steadily swelled like a venereal boil upon death metal's infected anatomy. The band's Sentient Pile Of Amorphous Rot demo introduced the mustiest corners of the globe to the band's abhorrent peculiarities. Now, having sliced into the furthest reaches of some unfortunate's intestinal mucosa they've ripped out a Steeping Corporeal Mess of festering death metal barbarity.
https://www.facebook.com/fetid.death
http://www.20buckspin.com
https://listen.20buckspin.com
http://www.facebook.com/20buckspin
http://www.twitter.com/20buckspinlabel