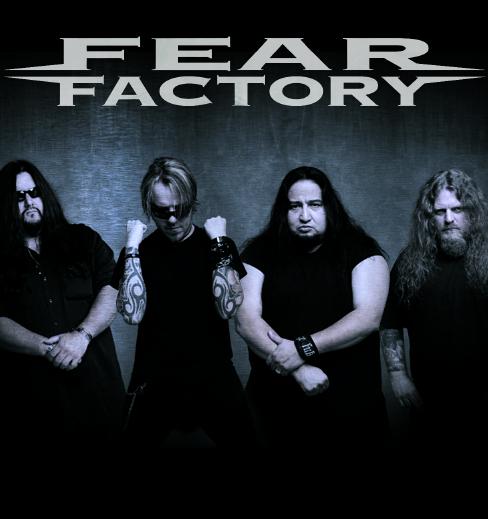 FEAR FACTORY are set to kick off the second leg of their American Fear Campaign tour on May 14 at The Rialto Theater in Tucson, Arizona. The tour, also featuring Prong and Thy Will Be Done, will visit 20 cities before it concludes at The Trocadero Theater in Philadelphia. Continuing to tour in support of their latest release, Mechanize, the tour introduces the album's third single, the controversial album closer "Final Exit." Check the band's official MySpace page for confirmed tour dates: http://www.myspace.com/fearfactory
After a successful performance at Revolver Magazine's Golden God Awards in Los Angeles on April 8, scheduled for television broadcast via VH1 on May 22, FEAR FACTORY flew to Oslo, Norway for an eight-date run of shows with Metallica. The band, like many others, are resorting to travel by land and sea with more than 20,000 flights canceled on the European continent last week due to the volcanic activity happening in Iceland. Guitarist Dino Cazares notes, "it took us over 24 hours to get from Oslo to Riga in Latvia with Metallica and their crew of 50-plus people on a charter bus and ferry. All flights were canceled because of the volcanic ash in the air." Vocalist Burton C. Bell adds, "we took a ferry from Oslo to get to Latvia. It was the Metallica party boat; good times. We are basically taking buses and trains everywhere so if you can catch us, catch us."
"Final Exit" follows the success of earlier metal radio singles "Powershifter" and "Fear Campaign." Now playing via three of AOL Radio's online music channels, FEAR FACTORY have done two special edits of the 8:11 minute song. Rhys Fulber with Cazares and Bell realized the edits while the band was touring the US in late March. The song has already received specialty airplay via Active Rock stations KUPD in Phoenix, Arizona and KEYJ in Abilene, Texas.
Lyrically "Final Exit" draws attention to the much criticized and sensitive issue of self deliverance as introduced in the 1992 book by Derek Humphry, founder of the Hemlock Society and past president of the World Federation of Right to Die Societies. Bell explains, "Dino and I have created the edits to condense the song into a time specific for radio. We are very happy fans are loving the song for it is one that touches upon the importance of the freedom of choice and personal liberty that all human beings should be allowed. The song hopefully will create awareness for the support group Final Exit Network," the song's namesake. Passionately Bell continues, "the right to life extends beyond life itself. If the medical community cannot, and will not find a cure due to cost effectiveness, then humanity needs the choice of a dignified, self deliverance from continual, painful treatments from debilitating disease. We have been contacted by many fans who connect with this song on many levels, and with 'Final Exit' being played on the radio, we hope others will also become aware, understand, and enjoy this song."
Released on February 9, Mechanize features the highly reported reconciliation of vocalist Burton C. Bell with original guitarist Dino Cazares. Along with bassist Byron Stroud (Strapping Young Lad) and journeyman drummer Gene Hoglan (Dethlok, Strapping Young Lad), the album also welcomes back the involvement of keyboardist/producer Rhys Fulber (Front Line Assembly). BraveWords.com says, "combining just the right elements of their own past, present and future, with Mechanize, FEAR FACTORY have achieved instant excitement and an immediate adrenaline boost. In a word: essential." The band premiered the album's first video, "Fear Campaign," while hosting MTV2/Headbanger's Ball on February 8. The video is currently in rotation nationwide on over 100 different broadcast and internet outlets. It is available for viewing at Candlelight's official YouTube channel [http://www.youtube.com/user/candlelightusa]. The deluxe edition of Mechanize is now sold out with only limited copies remaining available at various retailers and Candlelight's official webstore located at http://www.candlelightrecordsusa.com/store. FEAR FACTORY will again have a limited number of deluxe editions for sale at their merchandise booth.
http://www.myspace.com/fearfactory
http://fearfactorymusic.com