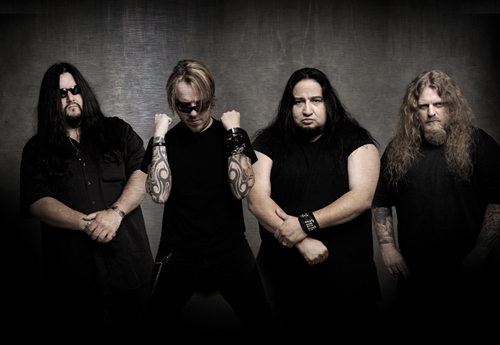 Candlelight Records confirms three more in-store/meet-and-greets as part of FEAR FACTORY's ongoing Fear Campaign American Tour 2010. All four members of the band will be available to meet with fans at Magnolia Thunderpussy in Columbus, Ohio on May 30, Digital Ferret Records in Philadelphia on June 6, and Vintage Vinyl Records in Fords, New Jersey on June 10.
FEAR FACTORY, currently on tour supporting their latest album Mechanize, had a brief scare earlier this week when their tour bus nearly went off road while in route to Boise, Idaho. Luckily no one was injured and the band made their show at Knitting Factory Concert House without much delay. Guitarist Dino Cazares says, "we were on our way to Boise for a day off when about 8:45am our bus driver fell asleep at the wheel. He swerved to the opposite side of the road. Most of us woke up when we felt the bus on the rumble strips and then the dirt. He woke up in time to swerve back onto our side of the road and pull over." Continuing he notes, "thank god there was no on coming cars or 18-wheelers on the road. Everyone is fine just a little nervous."
The second leg of FEAR FACTORY's Fear Campaign American Tour continues the band's ongoing promotion and the worldwide momentum surrounding the quartet's eighth studio album, Mechanize. Released February 9, the album has received amazing fan and media acclaim. The record is approaching 90,000 sales worldwide and continues to see significant weekly sales. The North American dates, now expanded to run through the end of July, follows the band's recent eight-day European tour supporting Metallica, and their successful performance at Revolver Magazine's Golden God Awards scheduled for television broadcast this Saturday via VH1.
FEAR FACTORY's latest radio single, "Final Exit" made impact this week at hard rock/metal stations nationwide. The song is expected to follow the success of earlier singles "Powershifter" and "Fear Campaign." As earlier reported, the band have done two special edits of the 8:11 minute song with hopes to position the song for breakout play on the country's larger Active Rock stations. Vocalist Burton C. Bell noted, "Dino and I have created the edits to condense the song into a time specific for radio. We are very happy fans are loving the song for it is one that touches upon the importance of the freedom of choice and personal liberty that all human beings should be allowed."
FEAR FACTORY with Prong, Silent Civilian, Thy Will Be Done
5/21/2010 Club Sound @ In the Venue – Salt Lake City UT
5/22/2010 Marquis Theatre – Denver CO
5/24/2010 Pop's – Sauget IL
5/26/2010 The Machine Shop – Flint MI
5/27/2010 The Intersection – Grand Rapids MI
5/28/2010 Headliner's Music Hall – Louisville KY
5/29/2010 The Rave – Milwaukee WI (live webcast!)
5/30/2010 Al Rosa Villa – Columbus OH (in store: Magnolia Thunderpussy, address below)
6/01/2010 The Norva, Norfolk VA
6/02/2010 Jesters' Pub – Fayetteville NC
6/03/2010 Jaxx – W. Springfield VA
6/04/2010 The Palladium – Worcester MA
6/05/2010 Webster Theater – Hartford CT
6/06/2010 Trocadero – Philadelphia (in store: Digital Ferret, address below)

FEAR FACTORY with All That Remains, Silent Civilian, Thy Will Be Done
6/08/2010 Higher Ground – S. Burlington VT
6/09/2010 Port City Music Hall – Portland ME
6/10/2010 Starland Ballroom – Sayreville NJ (in store: Vintage Vinyl, address below)
6/11/2010 Northern Lights – Clifton Park NY
6/12/2010 The Town Ballroom – Buffalo NY
FEAR FACTORY with Silent Civilian, Thy Will Be Done
6/15/2010 Mr. Small's Theatre – Millvale PA
FEAR FACTORY with 36 Crazyfists, After the Burial, Divine Heresy, Baptized in Blood
7/07/2010 House of Blues – W. Hollywood CA
7/09/2010 Roseland Theatre – Portland OR
7/10/2010 Studio Seven – Seattle WA
7/11/2010 Commodore Ballroom – Vancouver BC
7/13/2010 Flames Central – Calgary AB
7/14/2010 The Starlite Room – Edmonton AB
7/15/2010 Riddell Centre – Regina SK
7/16/2010 The Garrick Centre – Winnipeg MB
7/17/2010 The Rock – Maplewood MN
7/19/2010 People's Court – Des Moines IA
7/20/2010 Metro – Chicago IL
7/21/2010 Harpo's – Detroit MI
7/23/2010 Opera House – Toronto ON
7/24/2010 Parterre Parc Jean Drapeau/Heavy MTL Festival (no tour package)
7/25/2010 Fillmore NY @ Irving Plaza – New York NY
7/26/2010 Recher Theatre – Towson MD
7/27/2010 Crocodile Rock – Allentown PA
Instore address information:
Magnolia Thunderpussy: 3pm, 1155 N. High St., Columbus OH 43201. Phone 614-421-1512
Digital Ferret: 5pm, 732 S. 4th St., Philadelphia PA 19147. Phone 215-925-9259
Vintage Vinyl Records: 5pm, 51 Lafayette Rd., Fords NJ 08863. Phone 732-225-7717

http://www.candlelightrecordsusa.com