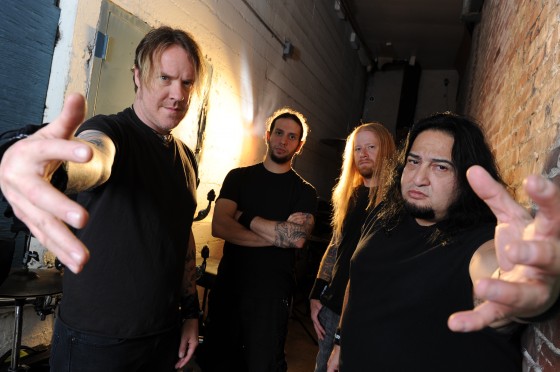 FEAR FACTORY will embark on their first full headlining tour in support of 2012's conceptual mega-album The Industrialist. Performances begin next week, with the tour set to visit 38 cities throughout the US and Canada. The tour represents the first live dates by the band on American soil in nearly a year. The World Industrialist tour will feature support from Hate Eternal and Kobra and The Lotus.
Speaking with Full Metal Jackie, vocalist Burton C. Bell describes The Industrialist as, "a very deliberate album and one that came about very naturally to us. There is something so tight about the album. Focus is the one thing that is on this record that doesn't really appear on any of our other records. The focus of the music, the sounds, the aggression and the concept. Everything had its purpose and we knew exactly what we were doing and what we had to do."
The Industrialist wraps itself around a tale written by vocalist Burton C. Bell. While the "story" was spelt out more expansively in the deluxe book edition of the album (which also featured two additional songs), the plot is rooted both in forward-thinking science fiction and contemporary events. Prior to its June 5, 2012 release, excitement was already building for the album – the second from the reunited nucleus of Bell and guitarist Dino Cazares. "There isn't a record that I'm looking forward to more than The Industrialist," said Revolver editor Brandon Geist. "North America is chompin' at the bit to get an ear full of new Fear Factory," added Sirius/XM Metal Director Jose Mangin. "Recharger," the album's lead single premiered on April 24 and within 24 hours had over 100,000 listens.
Produced by Rhys Fulber (Front Line Assembly), and mixed by Greg Reely (Paradise Lost/Machine Head), The Industrialist features additional tracking by Logan Mader (Gojira/Divine Heresy) and artwork by Anthony Clarkson (Devin Townsend). It is FEAR FACTORY at its most confident and passionate; the band bringing every sonic weapon in its arsenal to the fore. Revisiting and refining the sweeping melodies and unforgettable songwriting that will forever distinguish FEAR FACTORY from all others, the sound and creative storyline of The Industrialist immediately carved itself a spot on the short list of Best Metal Albums of 2012. The album debuted on the Billboard Top 40 for its initial release week. The record maintained the Top position on CMJ's Hard Rock chart for three consecutive weeks. It was a resident of the Top 10 for eight weeks and ended 2012 on their Top Year chart at position seven.
The World Industrialist Tour will find FEAR FACTORY performing fan favorites plus select songs from The Industrialist and 2010's Mechanize. Tickets are on sale now via Ticketmaster and all venue box offices. The video for "The Industrialist," directed by James Zahn, can be viewed as well as a special tour video by Dino Cazares can be viewed HERE.
FEAR FACTORYw/ Hate Eternal, Kobra and The Lotus:
4/14/2013 The Black Sheep – Colorado Springs, CO
4/15/2013 Summit Music Hall – Denver, CO
4/17/2013 The Riot Room – Kansas City, MO
4/18/2013 The Rave – Milwaukee, WI
4/19/2013 Mojoes – Joliet, IL
4/20/2013 Club Fever – South Bend, IN
4/21/2013 Diamond Pub & Billiards – Louisville, KY
4/22/2013 Rapids Theatre – Niagara Falls, NY
4/24/2013 Opera House – Toronto, ON
4/26/2013 McGuffy's House of Rock – Dayton, OH
4/27/2013 The Machine Shop – Flint, MI
4/28/2013 Montage Music Hall – Rochester, NY
4/29/2013 The Junkyard – Nashua, NH
5/01/2013 The Webster Theatre – Hartford, CT
5/02/2013 The Gramercy Theatre – New York, NY
5/03/2013 Revolution – Amityville, NY
5/04/2013 Mojo 13 – Wilmington, DE
5/05/2013 Sound Stage Baltimore – Baltimore, MD
5/07/2013 NV Nightclub – Knoxville, TN
5/08/2013 Amos South End – Charlotte, NC
5/09/2013 Brewsters Roc Bar – Jacksonville, FL
5/10/2013 Culture Room – Ft Lauderdale, FL
5/11/2013 The Haven Lounge – Winter Park, FL
5/12/2013 Brass Mug – Tampa, FL
5/14/2013 Trees – Dallas, TX
5/15/2013 Backstage Live – San Antonio, TX
5/16/2013 Scout Bar – Houston, TX
5/17/2013 The Station – Broussard, LA
5/18/2013 Riverside Warehouse – Shreveport, LA
5/19/2013 The Chameleon Room – Oklahoma City, OK
5/21/2013 Fubar – St. Louis, MO
5/22/2013 Station 4 – St. Paul, MN
5/28/2013 Club 9one9 – Victoria, BC
5/30/2013 Studio Seven – Seattle, WA
5/31/2013 Hawthorne Theatre – Portland, OR
6/04/2013 DNA Lounge – San Francisco CA
6/06/2013 Marquee Theatre – Tempe, AZ
6/07/2013 LVCS – Las Vegas, NV
6/08/2013 The Roxy – West Hollywood, CA

FEAR FACTORY will return to Europe in August; the band set to appear at this year's installments of Wacken Open Air, Dynamo, and Summer Breeze, among others. The band recently announced their addition to the 70000 Tons of Metal cruise sent to leave Miami on January 27, 2014.
"The Industrialist checks in at 200 proof." – Decibel
"The Industrialist adds some explosive new ammunition to the band's cache." – The PRP
"The comeback continues for Fear Factory with a solid follow-up to Mechanize" – Lambgoat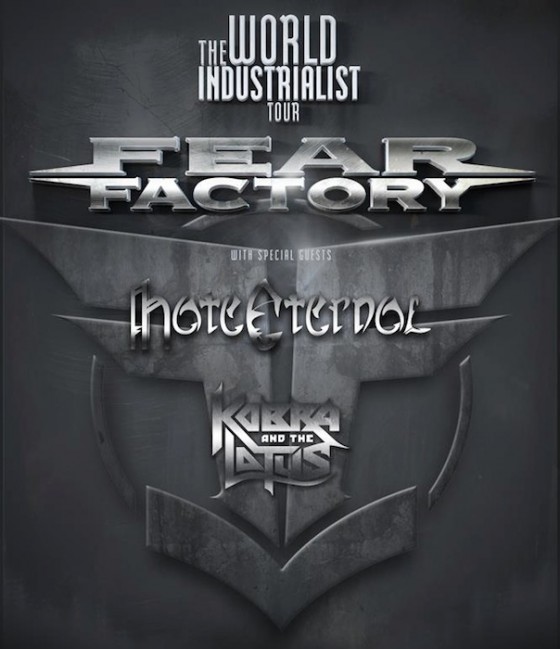 http://www.fearfactory.com
https://www.facebook.com/fearfactory
http://candlelightrecordsusa.com