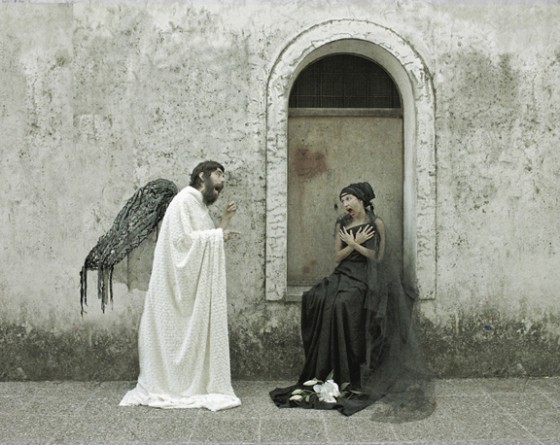 FATHER MURPHY is the sound of the Catholic sense of Guilt; a downward spiral aiming at the bottom of the hollow, and then digging even deeper. Spawned near Venice and boasting three albums and a plethora of EPs and limited releases, the grim duo — Rev. Freddie Murphy (vocals, guitar) and Chiara Lee (vocals, keyboards, percussions) — have, over the years, shapeshifted into one of Italy's most mysterious and enigmatic musical exports, part of the community that esteemed music critic, Simon Reynolds, dubbed the new "Italian occult psychedelia."
Evolving from twisted psychedelic pop into a far darker sonic exploration, FATHER MURPHY manifests foreboding songs that crawl and twist and hiss like that old biblical serpent; their off-kilter, traumatic creations not only earning the critical accolades of media both statside and abroad but winning over the adoration of Julian Cope, Carla Bozulich, Deerhoof, Michael Gira (Swans) and so many others.
Next month, FATHER MURPHY will take their abrasive hymns to North America on an epic voayage that will commence in Brooklyn, New York on May 7th and draw to a ceremonial close on June 19th in Jersey City, New Jersey where they will appear live on WFMU. The band will be touring in support of their latest EP, Pain Is On Our Side Now, released via Aagoo Records earlier this year. The followup to 2012's Anyway, Your Children Will Deny It, which found FATHER MURPHY's amalgamation of noise and pop instincts colliding with echoes of Henry Cow, Jacula and far-out contemporary classical music, was recorded by the band and mixed and produced by Greg Saunier from Deerhoof. A concept album that centers itself on failure, Pain Is On Our Side Now offers listeners four tracks, each playable on their own merit but with the additional option of synchronized playback for tracks one and three, or two and four, conjoining into two new tracks.
Gushes Terrorizer of the release, "The oddball psychedelic chamber pop the Italian duo exhale will creep you out with drones, lullabies and anguished vocals all competing for front-runner spot in your next nightmare. Perfect." Adds Drowned In Sound, "There's a significant sense of grandeur to this release, it's an horrific sense of grandeur, but an impressive one regardless. Pain Is On Our Side Now is a fascinating listen. It's an unapologetic venture into head music and contains some powerful compositions. It's steeped in a sense of reverence, but one that looks below, rather than expecting anything from above."
It's only when you reach the bottom that you feel you can still dig.
FATHER MURPHY North American Tour 2014:
5/07/2014 Grand Victory – Brooklyn, NY
5/08/2014 Ortlieb's Tavern – Philadelphia, PA
5/11/2014 Bar Banditos – Richmond, VA
5/14/2014 Mothlight – Asheville, NC
5/15/2014 Caledonia – Athens, GA
5/16/2014 Eyedrum – Atlanta, GA
5/18/2014 Mango's – Houston, TX
5/23/2014 Spirit Abuse – Albuquerque, NM
5/24/2014 Flycatcher – Tucson, AZ
5/26/2014 The Handbag Factory – Los Angeles, CA
5/27/2014 Night Light – Oakland, CA
5/28/2014 Hemlock Tavern – San Francisco, CA
5/29/2014 Bat Cave – Arcata, CA
5/30/2014 The East End – Portland, OR
5/31/2014 Northern – Olympia, WA
6/01/2014 Lofi – Seattle, WA
6/03/2014 Neurolux – Boise, ID
6/05/2014 Hi Dive – Denver, CO
6/07/2014 Reckless Records Showcase – Chicago, IL
6/08/2014 Joyful Noise Performing Space – Indianapolis, IN
6/09/2014 Now That's Class – Cleveland, OH
6/10/2014 Meddlesome Lab – Rochester, NY
6/12/2014 Boston Hassle – Boston, MA
6/13/2014 House Show – Providence, RI
6/14/2014 Feeding Tube Records – Northampton, MA
6/15/2014 The Urban Farm Fermentory – Portland, ME
6/16/2014 Suoni per il popolo Festival – Montreal, QC
6/18/2014 Death By Audio – Brooklyn, NY
6/19/2014 Live on WFMU – Jersey City, NJ
"My experience with FATHER MURPHY is to, when the performance or recording begins to unwind, I become wrapped in a concept so well-explored and urgent that it feels like a window into many minds all at once. In a matter of moments FATHER MURPHY immerses the audience in adventure and also stoic confrontation. The idiosyncratic craftsmanship of the sound, the impact of exploring themes concepts to the point of obsession make whatever they are delivering – albums, concerts, artwork or commissioned performances, carry the audience past analyzing and straight into absorbing the experience carefully brought to light and presented by FATHER MURPHY." — Carla Bozulich
"The EP's new single, 'Bones Got Dry,' is soaked in abrasive noise, and terrifyingly dark textures, and strays pretty far from anything resembling a conventional pop song." – Brooklyn Vegan on "Bones Got Dry"
"The Italian rock renaissance of the 21st century – at least in some corners – continues with the work of FATHER MURPHY, as aggressively outré as early Jennifer Gentle, say, but with their own distinct style, twisted stop-start chants and clatter instead of bizarrely winsome sparkles… FATHER MURPHY are well on their way to establishing their own solid reputation for an intriguing listen." — All Music Guide
"…woozy and ominous, dreamy and dense, a glorious deathlike dirge…" – Aquarius Records
http://www.facebook.com/fathermurphyband?fref=ts
http://www.aagoo.com