French noise rock specialists, Solar Flare Records, have confirmed the impending Winter release of the new LP from long-running NYC-based power trio, FASHION WEEK. Entitled Prêt-à -Porter the album will be unveiled on digital and vinyl formats on February 23rd.
FASHION WEEK was formed by singer/guitarist Joshua Lozano and bassist Oscar Rodriguez in Brooklyn, New York in 1987, and over the years went through a succession of drummers, the longest-lasting being Carl Eklof, who joined the band in 1990, after the disbanding of DC hardcore icons, Shout. In the late '80s, FASHION WEEK established itself as part of the New York noise scene, releasing its first album, Clorox, through the independent record label Under Pop in 1989. The band eventually came to develop a sound that relied on dynamic contrasts, often between pummeling verses and loud, catchy choruses. After signing to major label David Muffin Records, the band found unexpected success with "Smells Like Old Spice", the first single from the band's second album Fuhgeddaboudit, released in 1991. The sudden success widely popularized alternative rock as a whole, and as the band's frontman Lozano found himself referred to in the media as the "spokesman of a generation", with FASHION WEEK being considered the "flagship band" of Generation X. The band's third studio album, In Uterus, was released in 1993, and challenged the group's audience, featuring an abrasive, less-mainstream sound.
FASHION WEEK's brief run ended following the death of Josh Lozano in 1994, but various posthumous releases have been issued since, overseen by Rodriguez, Eklof, and Lozano's widow, Catherine Lust. Since its debut, the band has sold over 25 million albums in the United States alone, and over 50 million worldwide. Eklof went on to form the highly acclaimed Food Fighters, and Rodriguez has pursued a career in politics, and wedding crashing.
FASHION WEEK is Josh Lozano (Jarboe, Cobalt, Family), Carl Eklof (Victory at Sea, Lidia Stone, Inswarm) and Oscar Albis Rodriguez (A Great Big World, No Way, Nakatomi Plaza).
Prêt-à -Porter Track Listing:
01. Fendi Bender
02. Chorusace
03. Meek Is Miznabble
04. Summer Line
05. Fur Free Friday
06. Klosstrophobia
07. "FASHION"=~S/(\$)/COLLAPSE/GSO;
08. Haute Topic
Preceding the release of Prêt-à -Porter, FASHION WEEK will slash through the Southeastern US on a nine-city run with Austin-based Sky Acre. Additional live actions and further info on Prêt-à -Porter will be released in the coming days.
FASHION WEEK Southeast Tour 2015 w/ Sky Acre:
2/06/2015 Beerland – Austin, TX
2/07/2015 Chekcpoint Charlie's – New Orleans, LA
2/08/2015 Gene's Lounge – Pensacola, FL
2/09/2015 Caledonia – Athens, GA
2/10/2015 Copper Top – Huntsville, AL
2/11/2015 Eisenhouser – Murfeesboro, TN
2/12/2015 Springwater – Nashville, TN
2/13/2015 M.F. Metal Music – Little Rock, AR
2/15/2015 The Yeti – Tulsa, OK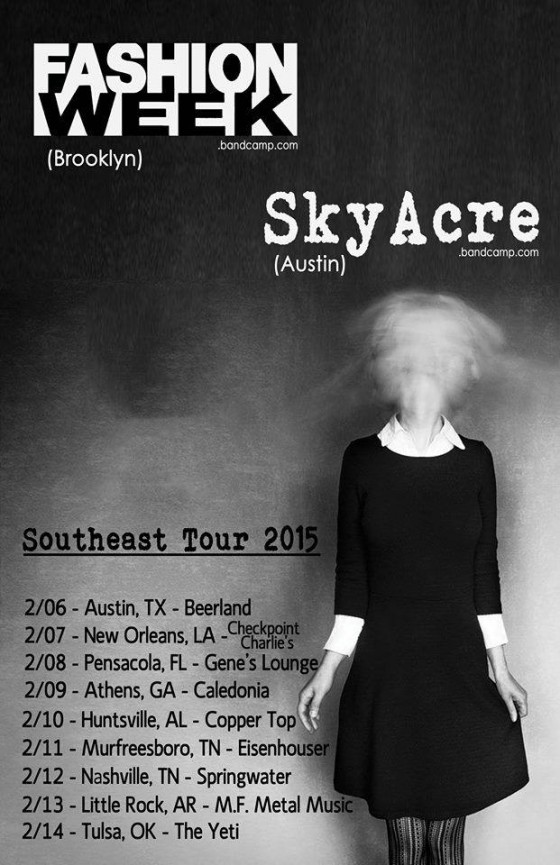 http://www.facebook.com/FashionWeekBand
http://fashionweek.bandcamp.com
http://www.solarflarerds.com
http://facebook.com/solarflarerecords
http://solarflarerds.bigcartel.com