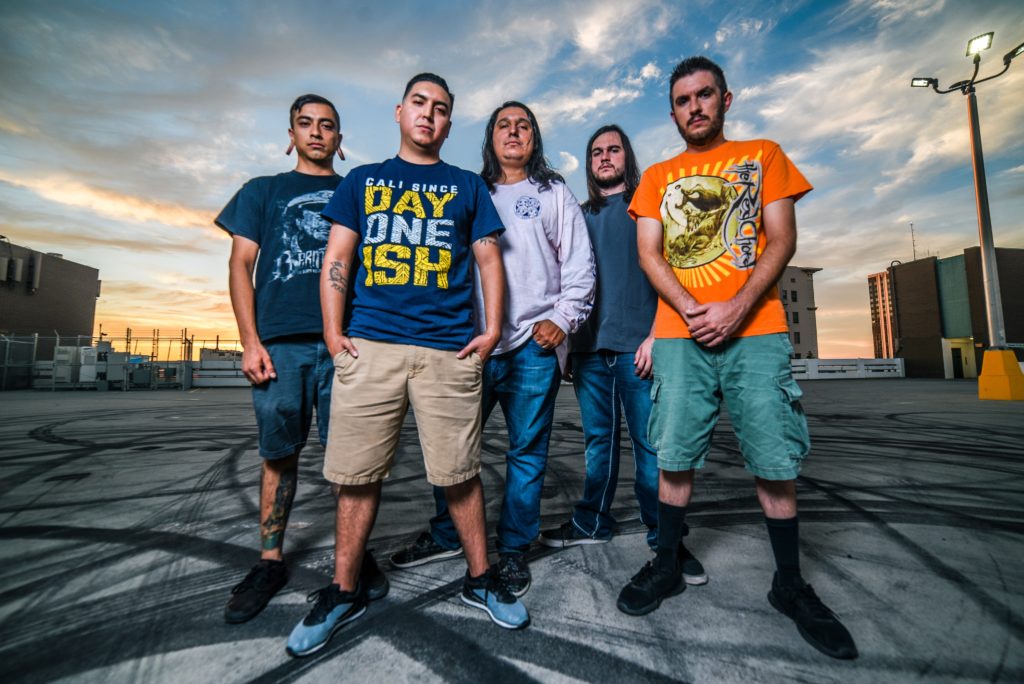 [photo by Cat Eye View Photography]
Decibel Magazine is now streaming the new single from Fresno, California-based metallic hardcore outfit, FAROOQ, as their Heat album nears release through Glacier Recordings. The new track, "Stone Cold Steve Hawking," features a guest appearance by Sworn Vengeance vocalist Ryan Encinas.
FAROOQ vocalist Daniel Dominguez III offers, "'Stone Cold Steve Hawking' is a song about how billions of years from now the sun will begin to burn helium after it runs out of the hydrogen fuel at its core, turning it into a red giant star. Its expansion will consume the planets Venus and Mercury and reach Earth. Once this happens, it will be as if Earth and its inhabitants never existed. I draw a parallel between the biblical 'Son' who some believe died so that man may live with its sin, and the Sun that will die and wipe everything out in its path. I use the biblical and religious imagery to explain my feelings on how mainstream religion has killed and ruined so many cultures out of nowhere. The song overall is about how no matter what side people subscribe to, there will be a point where we we'll all be equal victims to the Red Giant; that will be so powerful, that nothing we ever imagined will be able to compare, and nothing we ever had as a planet will be able to survive."
Decibel posts of the song, "If the song title wasn't enough to entice you, the California-based outfit blend metal, hardcore and some outside influences that practically begs for mosh calls and mic grabs."
Unleash FAROOQ's "Stone Cold Steve Hawking" featuring Sworn Vengeance vocalist Ryan Encinas at Decibel RIGHT HERE.
Glacier Recordings will issue Heat on CD and digital formats August 24th; find preorders at the label website HERE and stream the previously-released "Owning It" HERE.
Watch for additional audio samples from Heat to be issued in the days ahead.
FAROOQ will advance the release of Heat on a West Coast tour with support from Aberrance. The Heat 2018 Tour begins in the band's hometown of Fresno on August 2nd and runs through the 12th. Additional tour dates are to be expected.
FAROOQ – Heat 2018 Tour w/ Aberrance:
8/02/2018 Full Circle Brewing Co – Fresno, CA [no Aberrance]
8/03/2018 The Spirit – Oroville, CA
8/04/2018 3rd Street Pub – Bend, OR
8/05/2018 The Pin – Spokane, WA
8/06/2018 Old School Records – Kalispell, MT
8/07/2018 The Garage – Pocatello, ID
8/08/2018 Moe's BBQ – Denver, CO
8/09/2018 The Underground – Salt Lake City, UT
8/10/2018 Double Down Saloon – Las Vegas, NV
8/11/2018 The Britisher – Lancaster, CA
8/12/2018 Café Nela – Los Angeles, CA
FAROOQ's musical style forms from a way of writing that chops up and blends together multiple music genre influences by incorporating sounds from the hardcore, metal, punk, rock, hip hop, and rap communities to create an artistic vision that goes against the prototypical hardcore and metal band grain. Lyrically, each song is carefully crafted and presents a sincere take on social, cultural, and world issues. When these elements are thrown in together, the band melds together to form their own unique brand of hardcore and metal. Even though the group has grown from a vast category of bands and musical influences, FAROOQ maintains to this day a truly organic and home-grown sound all on its own. They continue to grow and expand on their musical capabilities throughout their discography while sticking to their musical core and beliefs. Heat proves to be another successful chapter in the FAROOQ story line.
FAROOQ joined Glacier Recordings in early 2018 as the label's debut and premier artist, the label founded by Keith Welch (Glacier Eater, Sworn Vengeance, Murder Practice). The band converged on the legendary Sharkbite Studios in Oakland, California in late April 2018 to record with Zack Ohren (Fallujah, Suffocation, Light This City), where they created a monster of a third album, titled Heat. With ten tracks, the album features guest vocals on "Stone Cold Steve Hawking" by Ryan Encinas of Sworn Vengeance, guest vocals on "E-Male" by Shane Tunney of Lowlife, and a guest guitar solo on "One Nation Under" by Ryan Hansen of Light This City.
Drawing heavily from bands such as The Red Chord, Between The Buried And Me, Hatebreed, Dying Fetus, Despised Icon, Pantera, Every Time I Die, Chon, and Polyphia, FAROOQ.has had the honor of sharing the stage with the likes of Every Time I Die, Sworn Enemy, Knocked Loose, Lionheart, The Acacia Strain, Oceano, Rings Of Saturn, Winds Of Plague, Xibalba, Alpha & Omega, Rotting Out, Sworn Vengeance, Hoods, Drowning, Shai Hulud, and many others.
https://www.instagram.com/farooqmosh
https://www.facebook.com/farooqmosh
https://farooqmosh.bandcamp.com
http://www.glacierrecordings.com
https://www.facebook.com/glacierrecordings