Following their successful Summer Slaughter takeover, atmospheric death metal faction, FALLUJAH, will embark upon a short but punishing run of Pacific Northwest dates next month.
Slated to commence on October 9th in Eugene, Oregon, and accompanied by Canadian tech death metaler wizards, Archspire, the band will level nine cities, with the journey drawing to a close October 19th in Santa Cruz, California. The tour marks FALLUJAH's first appearance on British Columbia's Vancouver Island and serves as a precursor to the band's forthcoming European invasion later this year with Dying Fetus, Goatwhore and Malevolence.
FALLUJAH w/ Archspire:
10/09/14 The Black Forest – Eugene, OR
10/11/14 Studio Seven – Seattle, WA
10/12/14 Logan's Pub – Victoria, BC
10/13/14 The Globe – Nanaimo, BC
10/14/14 Funky Winkerbeans – Vancouver, BC
10/16/14 Slabtown – Portland, OR
10/17/14 D Street Neighborhood Center – Arcata, CA
10/18/14 Red House – Walnut Creek, CA
10/19/14 Catalyst Atrium – Santa Cruz, CA
w/ Dying Fetus, Goatwhore, Malevolence:
11/08/2014 Fonck – Liege, BE
11/09/2014 Turock – Essen, DE
11/10/2014 11er – Frankfurt, DE
11/11/2014 Beatclub – Dessau, DE
11/12/2014 Meet Factory – Prague, CZ
11/13/2014 Rockfabrik – Ludwigsburg, DE
11/14/2014 Lido – Berlin, DE
11/15/2014 Dynamo – Eindhoven, NL
11/16/2014 Exhaus – Trier, DE
11/17/2014 Audio – Brighton, GB
11/18/2014 Clwb Ifor – Bach Cardiff, GB
11/19/2014 Cathouse – Glasgow, GB
11/20/2014 Voodoo Lounge – Dublin, IE
11/21/2014 Sound Control – Manchester, GB
11/22/2014 Slade Rooms – Wolverhampton, GB
11/23/2014 Garage – London, GB
11/24/2014 Divan Du Monde – Paris, FR
11/25/2014 La Dynamo – Toulouse, FR
11/26/2014 Escenario – Santander, ES
11/27/2014 Hard Club – Porto, PT
11/28/2014 Penélope – Madrid, ES
11/29/2014 Estraperlo – Club Badalona, ES
11/30/2014 Paloma – Nimes, FR
12/01/2014 Le Tremplin – Clermont-Ferrand, FR
12/02/2014 Kiff – Aarau, CH
12/03/2014 Circolo Colony – Brescia, IT
12/04/2014 Backstage – München, DE
12/05/2014 Blue Hell – Budapest, HU
12/06/2014 Gala Hala – Ljubljana, SI
12/07/2014 Flying Circus – Cluj-Napoca, RO
12/08/2014 Jet Rock – Sofia, BG
12/09/2014 Club Rockstadt – Brasov, RO
12/10/2014 Collosseum – Kosice, SI
12/11/2014 Viper Room – Wien, AT
12/12/2014 Rockfabrik – Nürnberg, DE
12/13/2014 Voxhall – Aarhus, DK
12/14/2014 John Dee – Oslo, NO
12/16/2014 Nosturi – Helsinki, FI
12/18/2014 Debaser Medis – Stockholm, SE
12/19/2014 Kaiserkeller, Große Freiheit – Hamburg, DE
FALLUJAH continues to tour in support of their critically-adored The Flesh Prevails full-length, released early this Summer via Unique Leader Records. The Flesh Prevails debuted at #115 on Billboard's Top 200 chart, #39 on Billboard's Rock chart, #15 on the Hard Rock chart and #24 on the Independent chart upon its first week of release, and serves as the label's first ever charting release.
"If FALLUJAH doesn't come out of the touring cycle for this record the biggest band in their genre, there is something seriously wrong with the world." – Metal Injection
"An adventurous journey that combines war with peace… a finesse-laden warpath that firmly puts FALLUJAH on the map." – The PRP
"…fucking amazing…" – the Monolith
"Their space is the backdrop for a parade of awesome celestial events… Harmonized death metal riffing and fleet leads twirl around each other like planets in orbital ballet. Dexterous blasting sends comets hurtling all over the place. Stars collapse and explode within the universe of synthetics that swaddle each song. It's a huge sonic palette that FALLUJAH uses, all harnessed perfectly by tech-death mixmaster Zack Ohren." – Decibel
"It's an unabashed, psychotic, unregulated experiment of the wanton fusion of two separate strains of noise. It succeeds via the best bits of both and creating something uniquely greater than a simple summation. It animates the inorganic. It is architectural artwork. And with all its impressiveness, it feels true and pinpointed and ecstatic." – MetalSucks
The Flesh Prevails is out now via Unique Leader Records. Order your copy today at THIS LOCATION.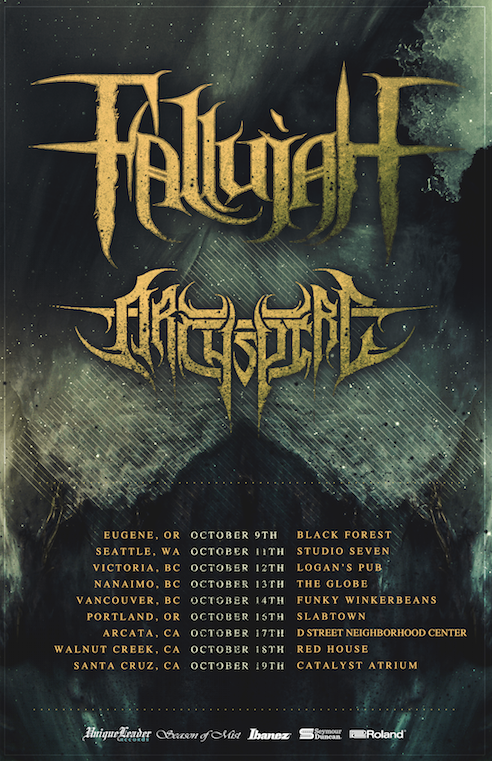 http://fallujah.bandcamp.com
http://www.facebook.com/fallujahofficial
http://www.youtube.com/user/FallujahBand
http://www.uniqueleader.com
http://www.facebook.com/UniqueLeaderRecords
http://www.twitter.com/UniqueLeaderRec
http://www.youtube.com/uniqueleaderrecords