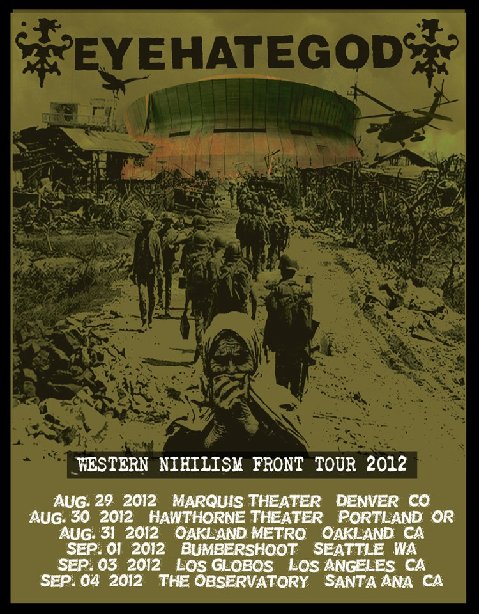 New Orleans' sons of southern discomfort and sonic deviance, EYEHATEGOD, are set to obliterate the West Coast this week. Dubbed the Western Nihilism Front Tour 2012, the decadence will commence tomorrow in Denver and systematically lay waste to Denver, Portland, Oakland, Seattle, Los Angeles and Santa Ana.
In related news, new track "New Orleans Is The New Vietnam" will make its recorded debut in 7″ form via A389 Recordings. Check out a snippet of the track below:
Please your orders HERE.
EYEHATEGOD Western Nihilism Front Tour 2012:
8/29/2012 Marquis Theater – Denver, CO
8/30/2012 Hawthorne Theater – Portland, OR
8/31/2012 Oakland Metro – Oakland, CA
9/01/2012 Bumbershoot – Seattle, WA
9/03/2012 Los Globos – Los Angeles, CA
9/04/2012 The Observatory – Santa Ana, CA
http://www.eyehategod.ee
https://www.facebook.com/OfficialEyeHateGod
http://www.MikeIX.com