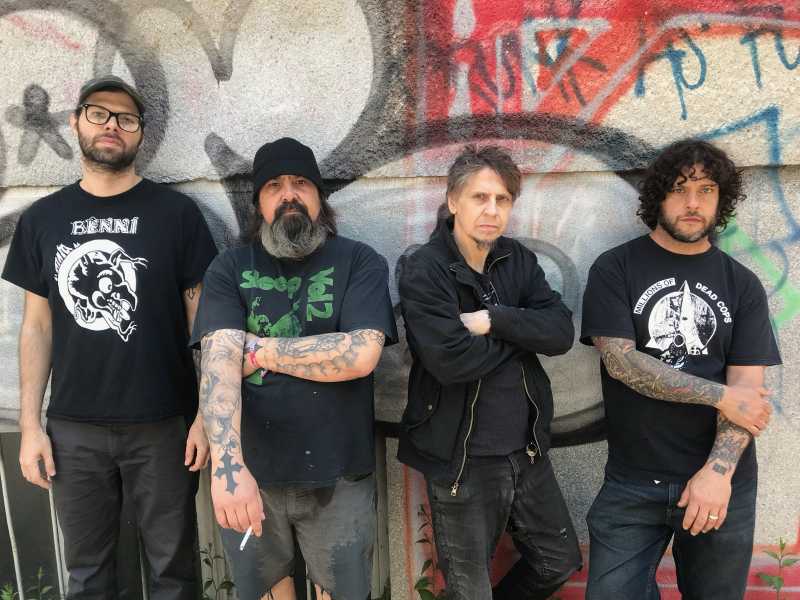 The road hounds in EYEHATEGOD will continue their 2019 4 Strikes… From The Elementary To The Penitentiary live takeover this week. The band's latest journey begins March 29th in Houston, Texas, and will rampage its way through sixteen US cities, concluding April 13th on their home turf of New Orleans, Louisiana. Support will be provided by doom icons The Obsessed and punk rock veterans Antiseen on select dates.
The following month, EYEHATEGOD will deafen nineteen more locales from May 7th in Hamden, Connecticut and through May 25th in Lafayette, Louisiana with Negative Approach and Sheer Terror as well as Phobia, Disassociate, and Fuck You Pay Me on select shows. See all confirmed dates below.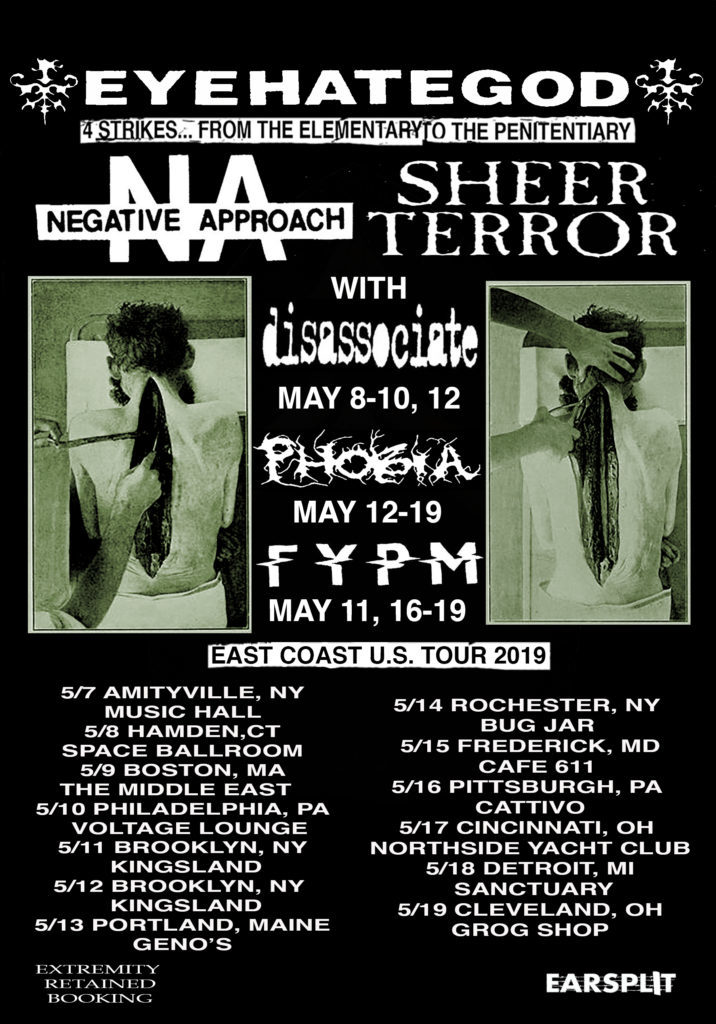 EYEHATEGOD – 4 Strikes… From The Elementary To The Penitentiary Tour
w/ The Obsessed:
3/29/2019 Warehouse Live – Houston, TX
3/30/2019 Lost Well – Austin, TX
3/31/2019 Gas Monkey – Dallas, TX
4/01/2019 89th Street – Oklahoma City, OK
4/02/2019 Fubar – Saint Louis, MO
4/03/2019 Sidetracks – Huntsville, AL
w/ The Obsessed, Antiseen:
4/04/2019 The Earl – Atlanta, GA
4/05/2019 The Tap Room – Nashville, TN
4/06/2019 Ground Zero – Spartanburg, SC
4/07/2019 Cosmic Charlies – Lexington, KY
4/08/2019 The Riff House – Chesapeake, VA
4/09/2019 506 – Chapel Hill, NC
4/10/2019 Nighthawks – Jacksonville, FL
4/11/2019 Crowbar – Ybor City, FL
4/12/2019 Gramps – Miami, FL * EHG + The Obsessed Only
4/13/2019 Howlin' Wolf – New Orleans, LA
End Tour
w/ Negative Approach, Sheer Terror:
5/07/2019 Amityville Music Hall – Amityville, NY
w/ Negative Approach, Sheer Terror, Disassociate:
5/08/2019 Space Ballroom – Hamden, CT
5/09/2019 Middle East Restaurant And Nightclub – Cambridge, MA
5/10/2019 Voltage Lounge – Philadelphia, PA
5/11/2019 The Kingsland – Brooklyn, NY w/ Fuck You Pay Me (no Disassociate) * SOLD OUT
5/12/2019 The Kingsland – Brooklyn, NY w/ Phobia
w/ Negative Approach, Sheer Terror, Phobia:
5/13/2019 Geno's Rock Club – Portland, ME
5/14/2019 Big Jar – Rochester, NY
5/15/2019 Café 611 – Frederick, MD
w/ Negative Approach, Sheer Terror, Phobia, Fuck You Pay Me:
5/16/2019 Cattivo – Pittsburgh, PA
5/17/2019 Northside Yacht Club – Cincinnati, OH
5/18/2019 Sanctuary – Detroit, MI
5/19/2019 Grog Shop – Cleveland Heights, OH
w/ Phobia:
5/20/2019 Black Circle – Indianapolis, IN
5/21/2019 X-Ray Arcade – Milwaukee, WI
5/22/2019 Vaudeville Mews – Des Moines, IA
5/23/2019 Riot Room – Kansas City, MO
5/24/2019 Vino's Pizza-Pub-Brewery – Little Rock, AR
5/25/2019 Freetown Boom Boom – Lafayette, LA
In a review of their New York City performance at Brooklyn Bazaar last year, Rolling Stone crowned EYEHATEGOD, "one of America's great live bands," further and accurately elaborating, "There are certain bands who are very good at playing heavy rock or metal music. They're tight, intense, professional; they project just the right air of macho authority. You might catch them in a club, nod your head and shoot 'not bad' looks to your friends during their set, and spring for a T-shirt at the merch table afterward. Then there are other bands, a very small handful, who, through some alchemical combination of execution and attitude, transcend their subgenre completely and connect with the primal root of rock & roll, offering showgoers a hint of that sacred, 'What in the fuck is happening right now?' wildness that's been the hallmark of great American artists from Howlin' Wolf to Jerry Lee Lewis and the Stooges. EYEHATEGOD are one of these bands."
EYEHATEGOD's self-titled full-length is out now in North America via Housecore Records. For physical orders, go HERE. For digital orders, go HERE.
http://www.eyehategod.ee
http://www.facebook.com/OfficialEyeHateGod
http://www.thehousecorerecords.com
http://www.thehousecorestore.com
http://www.facebook.com/housecorerecords